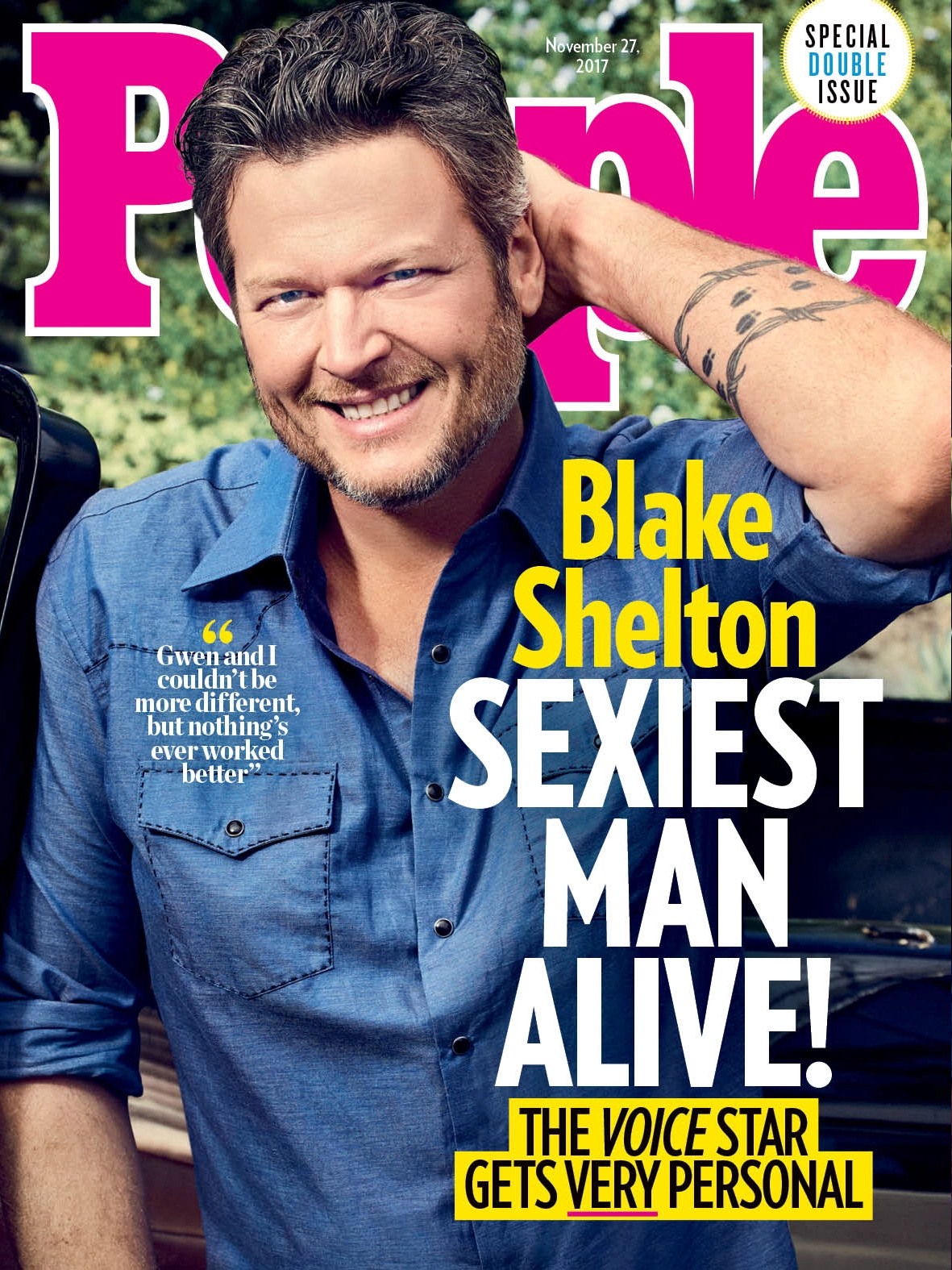 Well, here you go. As foretold by Gossip Cop, Blake Shelton has been named People Magazine's 2017 Sexiest Man Alive. The cover is pretty good, if you're into him. I like that they included at least one of his tattoos. You can see People's full SMA package here. You can also see the slideshow here of the other sexiest men of 2017, which includes: the 'This is Us' dudes, Zac Efron (??), Kumail Nanjiani, 50 Cent, Luis Fonsi, Ben Platt, Armie Hammer (I'm into that) and Ryan Gosling. No Chadwick Boseman or Michael Bae Jordan or Idris Elba. No Juan Martin del Potro or even Roger Federer!! Boo. Here are some highlights from Blake's SMA interview:
On being chosen for SMA: "That y'all must be running out of people. Like, Wow, we're down to somebody who is somewhat symmetrical."

Gwen Stefani convinced him to go for it: "She goes, 'Listen to me, you're going to regret this for the rest of your life if you don't take this gift and just live in the moment."

Why he's really accepting the honor: "I can't wait to shove this up Adam's ass. As proud as I am and honored that you guys asked me, that's really the only thing I care about."

His awkward phase: "I think to describe myself as a child, one word comes to mind. And that's fat. People say I haven't changed since before I made it. And I'm still fat today. That's proof!"

He likes junk food & fast food: "It could be 2 o'clock in the afternoon before I eat and then I realize I'm starving, so then it's a bag of Cheetos. And there's a Sonic in town, they got jalapeno poppers. And then I'm not hungry again until 10 o'clock, well what's in there? Fishsticks. And like a big pickle, those pickles that come in its own package with juice? It is really bad."

He'll be enjoying this for the rest of his life: "It's going to be used in every conversation, whether it's at The Voice, or at the feed in Tishomingo, Oklahoma, or in a conversation with a doctor. When [people] would say to Adam, 'Mr. Sexy,' you'd always see him go, 'Well, awwww…' If you say that to me, it's going to be, 'You're damn right, I'm Mr. Sexy! I've been ugly my whole life, if I can be sexy for a year, I'm taking it. I'm taking it."
Personally, I think this is the way to handle it – Blake isn't taking it too seriously, but he's having fun with it. It's a stupid honor for most men and if they had given it to a "serious" actor, the actor would have felt awkward trying to shill for their own sexiness. As I said yesterday, I'm not buying what Blake is selling – I'm not his target audience in the least – but I understand why People Mag chose him. And there are probably millions of American women (and some men) who genuinely think he's sexy. Excuse me while I Google photos of "shirtless Juan Martin del Potro" and "shirtless Michael B. Jordan."
Cover courtesy of People, additional photo courtesy of Getty.