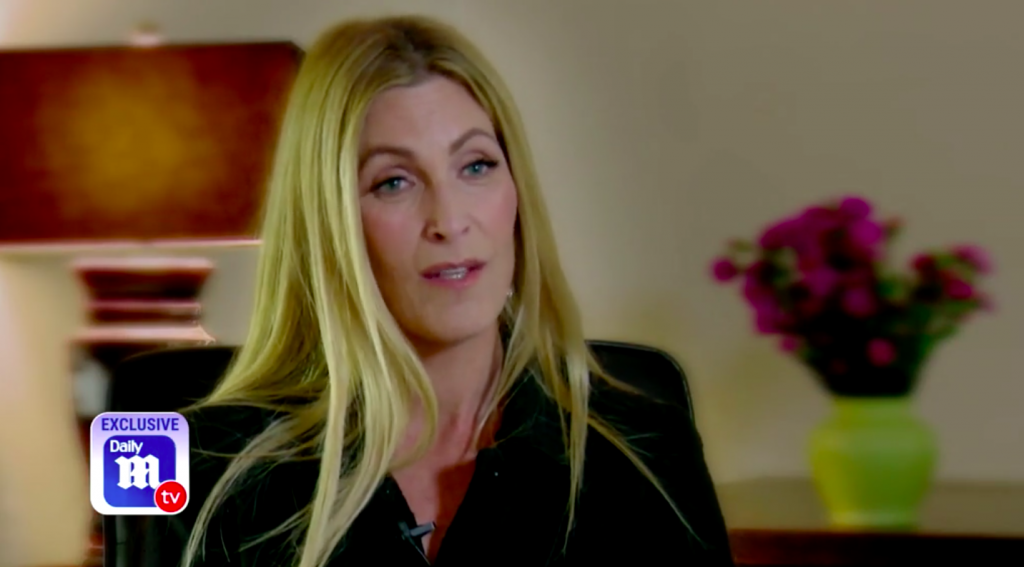 This interview came out a week ago and I'm sorry for missing it. I think the general public is just over Tori Spelling and Dean McDermott's drama but I still enjoying reading and reporting on it so bear with me (if you feel like it, no pressure). Dean McDermott's ex, Mary Jo Eustace, did an interview with Daily Mail TV in which she revealed that Dean told her about a year and a half ago that he regrets marrying Tori Spelling. Remember that Dean cheated on Mary Jo with Tori and left her abruptly almost immediately after Dean and Mary Jo had adopted a baby together. (Go here to read that story if you're not familiar with it.) Well unsurprisingly, Dean realizes his life is a sh-tshow now and he wishes he did things different.
Given the fact that Tori and Dean's youngest child was born this March, their fifth, the timeline in which Mary Jo claims Dean told her he regretted marrying Tori would have put Tori as newly pregnant or scheming to get pregnant again. I phrase it that way because Dean has said that he thought they were "in the clear" with babies after the last one, and because he sought a vasectomy several years ago but Tori shot that down, claiming they didn't have the money for the procedure. This last baby was Tori's idea.
Mary Jo probably spoke with Daily Mail TV because she's fed up with trying to get Dean to appear in court to face charges for non-payment of child support for their now 18 year-old son. He owes years of back child and spousal support totaling $100,000. Apparently Mary Jo has been trying to serve Dean with papers but he's dodging the process server. Dean and Tori are deep in debt, their accounts were drained by the IRS and they're being sued by several creditors for unpaid loans and credit cards. Mary Jo tells the DM that she already gave Dean a break on child support but that he's so delinquent now she had to take him to court. She also said, unsurprisingly, that Tori kicked her son Jack out of her home and told him he needed to support himself. Here's more of what she told Daily Mail TV and you can see the video on their site.
I'm disgusted and I'm humiliated. So many women who go through this situation where they can't get the child support and it profoundly affects their lives. So I was really strong about it and I just kept heading back to the courtroom.

To my knowledge Dean is not working. You see the lavish lifestyle. Candy Spelling is paying for everything. There's no impetuous to get a job. Th financial problems are crazy out of control spending.

Dean told her it was a mistake marrying Tori
A year and a half ago he confessed to me that he'd made a mistake and he wondered what his life would be like if he'd have stayed of me. He said 'Do I love Tori? Yeah, but I've thrown my life away.' And that 150% true and it was the most bizarre conversation ever.

When my son went to university he didn't get any financial support from his father. The one thing that his dad was going to do for him was pay his rent. He bounced his rent. My son has had his bank account cleaned out twice by debt collectors.

Tori told Jack he's a grown man and he can support himself
Jack [18] got in touch with touch with Tori because he didn't have money for Uber. She said 'We're at a McDonalds right now and I can barely afford the kids. You're a grown man you can support yourself.' Also Tori threw Jack out of the house, she's been a horror show.

Now that we're going back to court for a second time for contempt of court it's jail time. People say 'do you want him to go to jail?' That's not the intent behind this it's just to get him to honor his commitment. It's not up to me, it's up to Dean to pay.
That sounds about right and it's consistent with what we've heard about Dean to date. He may have just been being a manipulative ass though and making up sh-t to try to get out of paying child support. Meanwhile Tori is auctioning off her clothes on Poshmark, which is a good start for her. She needs to sell off a lot more of her stuff, she's a hoarder and we've heard that she pays thousands a month just to store all her stuff. This is a decent way for her to make some cash actually. She could also downsize her family's lifestyle, but she's made it clear that she's all about having a huge home, throwing lavish parties and going on luxury vacations. I'm not even embellishing any of this, she's either said these things directly and/or it's all on her Instagram.