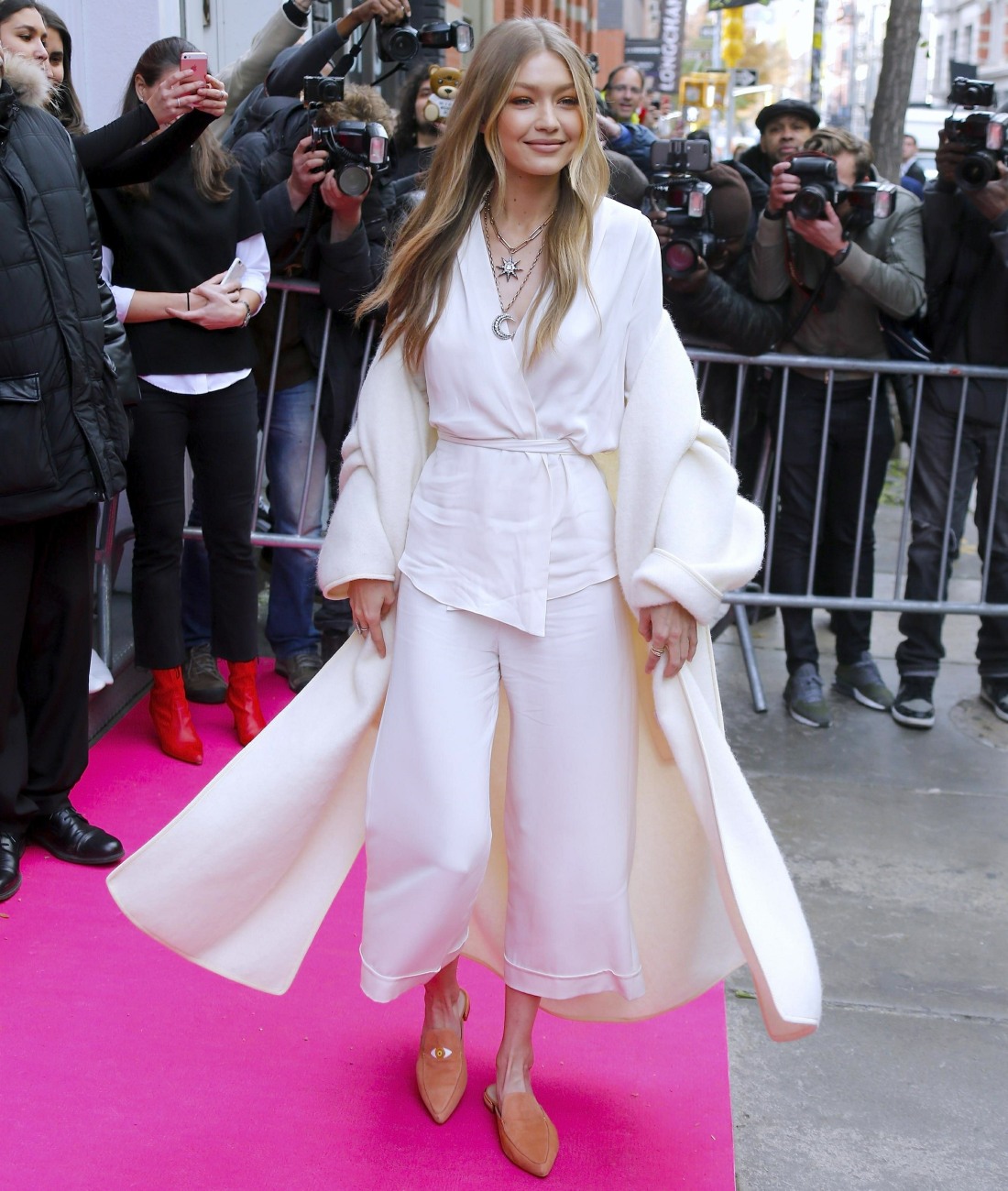 Here are some photos of Gigi Hadid out and about this week in New York. I wouldn't wear these light, breezy, white outfits in a New York November, but what do I know? Gigi is Gigi, and she's going to wear whatever she wants. Gigi was due to walk the runway at the big Victoria's Secret show, which takes place in Shanghai this year. As always, the show was supposed to be pretaped and then aired on television, because who doesn't love a TV show devoted to lingerie modeling? Well, Gigi had pulled out of the show. She was one of the biggest "names," so this is bad. Here's Gigi's brief statement:
I'm so bummed I won't be able to make it to China this year. Love my VS family, and will be with all my girls in spirit!! Can't wait to tune in with everyone to see the beautiful show I know it will be, and already can't wait for next year! x

— Gigi Hadid (@GiGiHadid) November 16, 2017
So what's going on? Gigi didn't want to clomp her way through Shanghai? Or was it truly out of her hands? Apparently, the Shanghai show is full of crazy drama and it hasn't even gotten started yet. The People's Republic of China has refused to give visas to several models, like Ukrainian model Dasha Khlystun, and Russian models Irina Sharipova, Julia Belyakova and Kate Grigorieva. VS is apparently dealing with some extreme limitations on media coverage too:
Page Six has learned that the annual Victoria's Secret Fashion Show — which is due to be held in Shanghai in just two weeks and will feature models including Adriana Lima, Alessandra Ambrosio and Karlie Kloss, among others — is turning into an international media crisis.

We're told fashion bloggers booked to cover the glitzy event are canceling their trips because the Chinese government won't give them visas; TV producers are grappling with bureaucrats over permission to shoot outside the Mercedes-Benz Arena, where it's being held ("If you're going to China, you want to show that you are in China!" fumed an insider); and Victoria's Secret staffers in China can't send out press releases because they have to be approved by government officials.

"It's just a nightmare for all the media trying to cover [the show]," said a jet-setting insider. "These TV companies are spending a fortune on it, and they don't even know what they can shoot when they get there."

We're told that producers charged with coordinating the coverage for various outlets are "on the verge of nervous breakdowns." The show — which will be broadcast on CBS — had been mostly held in the US since 2001, but the undie company has had a run of unfortunate luck in the past few years since moving overseas. Last year's show was also troublesome, because Victoria's Secret had the misfortune of trying to organize the show in Paris in the wake of both the Paris terror attack and Kim Kardashian's high-profile jewelry robbery.

For that event, every journalist covering the event had to submit to background checks and provide government ID, and security was so tight that cars dropping off VIP guests were only allowed to stop momentarily outside the venue, so celebrities had to circle the block before being dropped off.
Such a mess. Did no one at VS ever stop and think, "Hey, should we learn a little bit about Shanghai and the People's Republic of China before we try to invite a million Westerners in to cover a lingerie show?" I guess not. If the VS show has to happen, maybe do it in a city that is more welcoming to foreign models. I'm trying to think of one… like, Toronto, maybe? But Toronto doesn't sound as sessy as Shanghai.
Also: there's a solid possibility that Gigi withdrew from the show because of her own history of being stupid. Earlier this year, Gigi got in trouble – justifiably – for making a racist, anti-Asian gesture on camera. When she announced her appearance at the Shanghai show, Chinese commenters flooded her social media to tell her that she is not welcome in Shanghai. Sounds about right.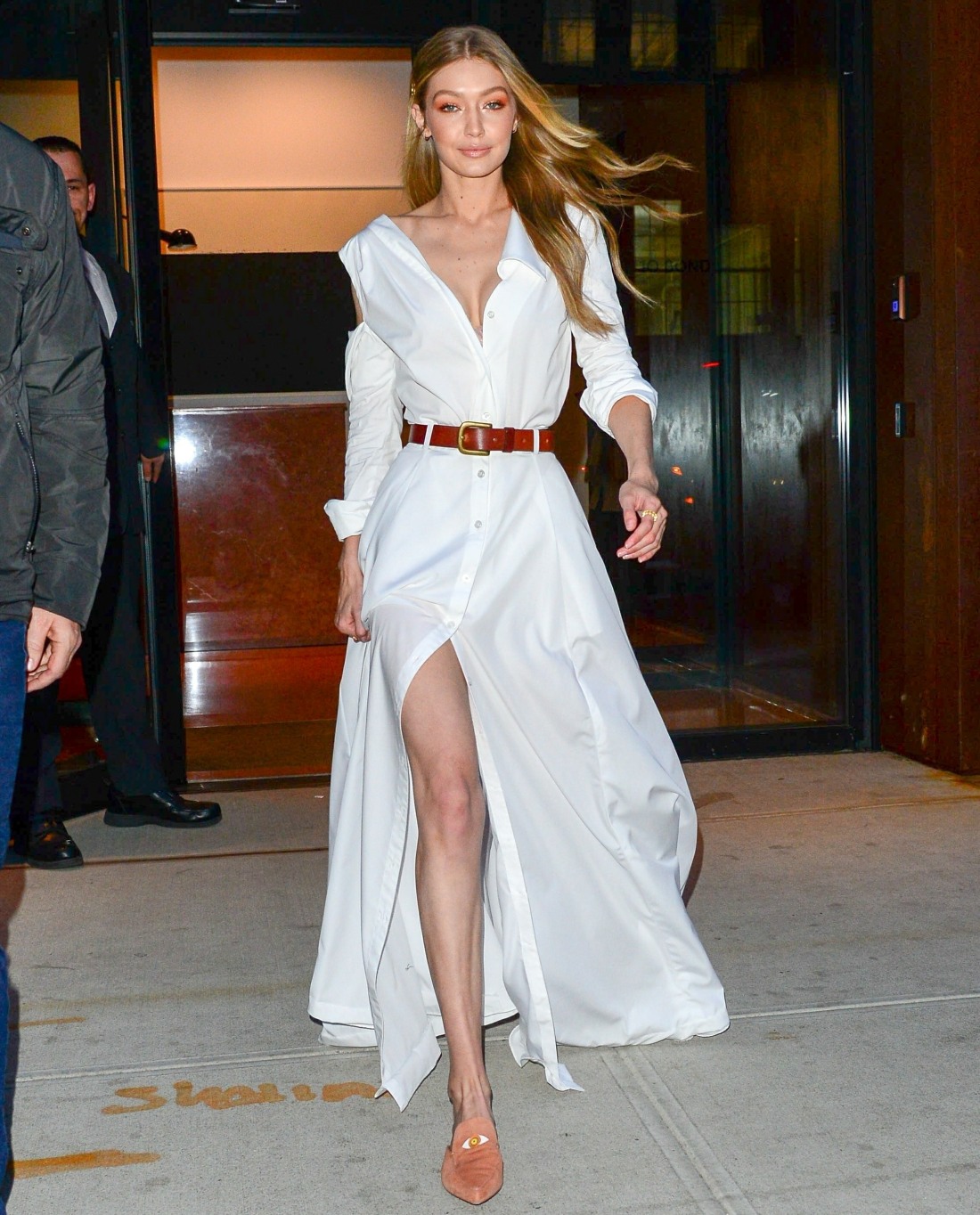 Photos courtesy of Backgrid.