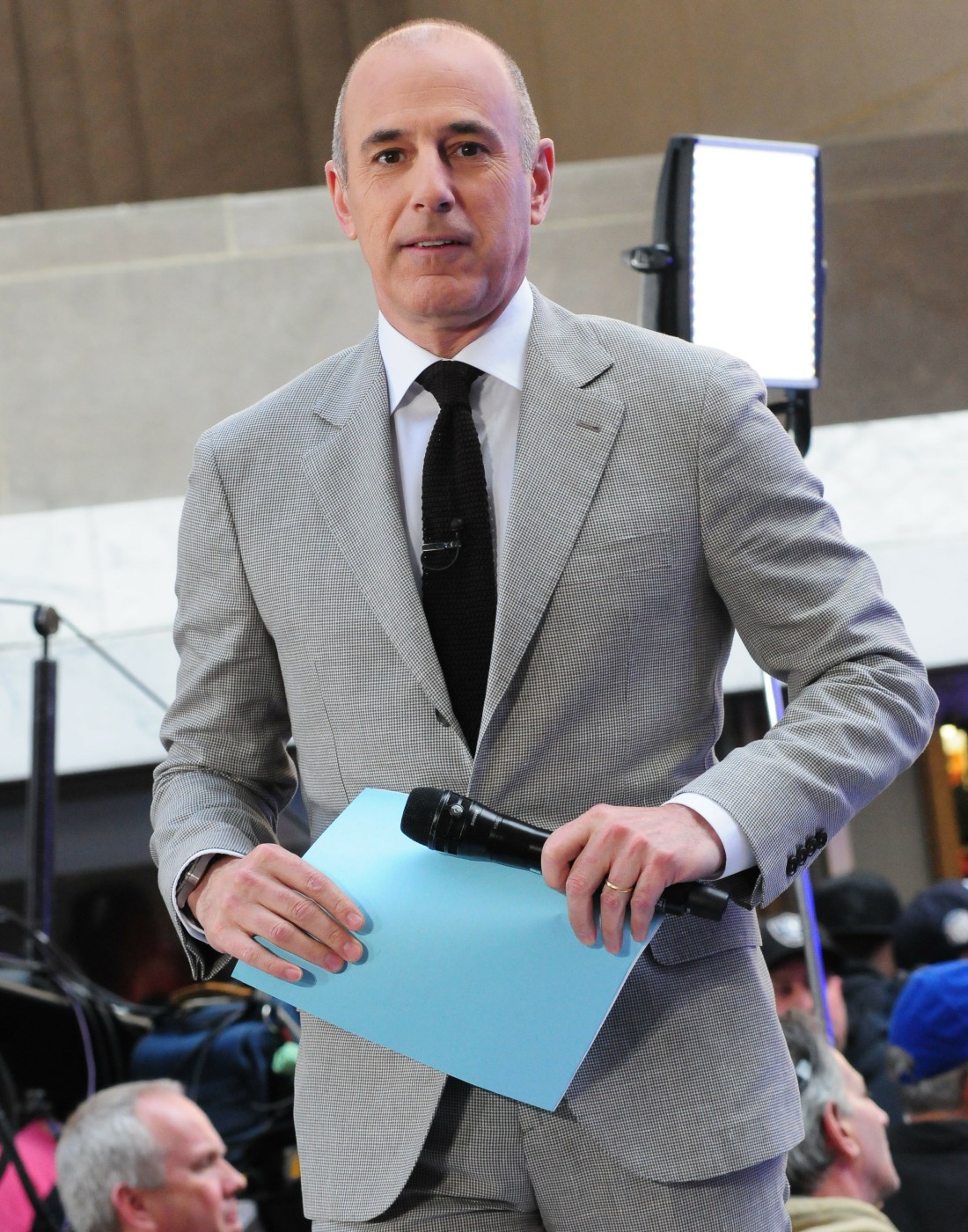 I covered the Variety article on Matt Lauer in a separate post – go here to see. NBC was clearly playing dumb when they claimed that this week was the first time ever that they heard about Matt Lauer's conduct with NBC employees. Even if they were somehow unaware for YEARS of his conduct first-hand from simply working with him, NBC was aware that both Variety and the New York Times had been working on exposés for months. So, here's more info: the first woman to come forward told NBC executives that Lauer harassed and assaulted her at the Sochi Olympics when she was just an intern. He sent her sexts and lewd photos, which she kept and showed to NBC. She also has a high-powered attorney, but apparently she only asked that NBC fire Lauer, and she's not suing NBC… yet. After this young woman came forward, two more women went to NBC (and the New York Times) with their accusations against Lauer. This one account made me sick:
A married NBC staffer claimed she woke up in Matt Lauer's office with her pants halfway down her legs after having sex with the anchor until she passed out. The woman told The New York Times that the longtime Today Show host's assistant had to take her to see a nurse after the alleged encounter in 2001.

The former employee, who was in her 40s at the time, said Lauer first made advances towards her while covering a story away from their New York headquarters in the late 1990s. She described moving away from him during a car journey to the airport because he was sitting 'uncomfortably close', to which he apparently replied: 'You're no fun'.

Then, in 2001, she claims the married Lauer summoned her to his office at 30 Rock in New York to discuss work. She says he then used a button under his desk to lock the door and then told her to unbutton her blouse. She said the veteran broadcaster then stepped out from behind his desk, pulled out a chair, bent her over, and started having sex with her until she fell unconscious.

The woman told The Times she woke up a while later on the floor of his office with her pants halfway down her legs, prompting his assistant to take her to seek medical attention.
This victim says that she "felt helpless because she didn't want to lose her job" and she didn't report it to management because she thought/knew nothing would come of it because of Lauer's status at NBC. You can read her full account here in the New York Times. Early this morning, Lauer finally released a public statement on his termination and the accusations against him. Here you go:
"There are no words to express my sorrow and regret for the pain I have caused others by words and actions. To the people I have hurt, I am truly sorry. As I am writing this I realize the depth of the damage and disappointment I have left behind at home and at NBC. Some of what is being said about me is untrue or mischaracterized, but there is enough truth in these stories to make me feel embarrassed and ashamed. I regret that my shame is now shared by the people I cherish dearly. Repairing the damage will take a lot of time and soul searching and I'm committed to beginning that effort. It is now my full time job. The last two days have forced me to take a very hard look at my own troubling flaws. It's been humbling. I am blessed to be surrounded by the people I love. I thank them for their patience and grace."
"Some of what is being said about me is untrue or mischaracterized, but there is enough truth in these stories to make me feel embarrassed and ashamed." F-k your embarrassment. F–k your shame. Imagine the shame and embarrassment the women have felt for literally decades as you used your perch to humiliate, abuse and assault them. And now you're saying that they're probably lying about a lot of it too. A–hole.
One more gross thing – here's Lauer harassing Meredith Vieira in October 2006, telling her: "Keep bending over like that. It's a nice view."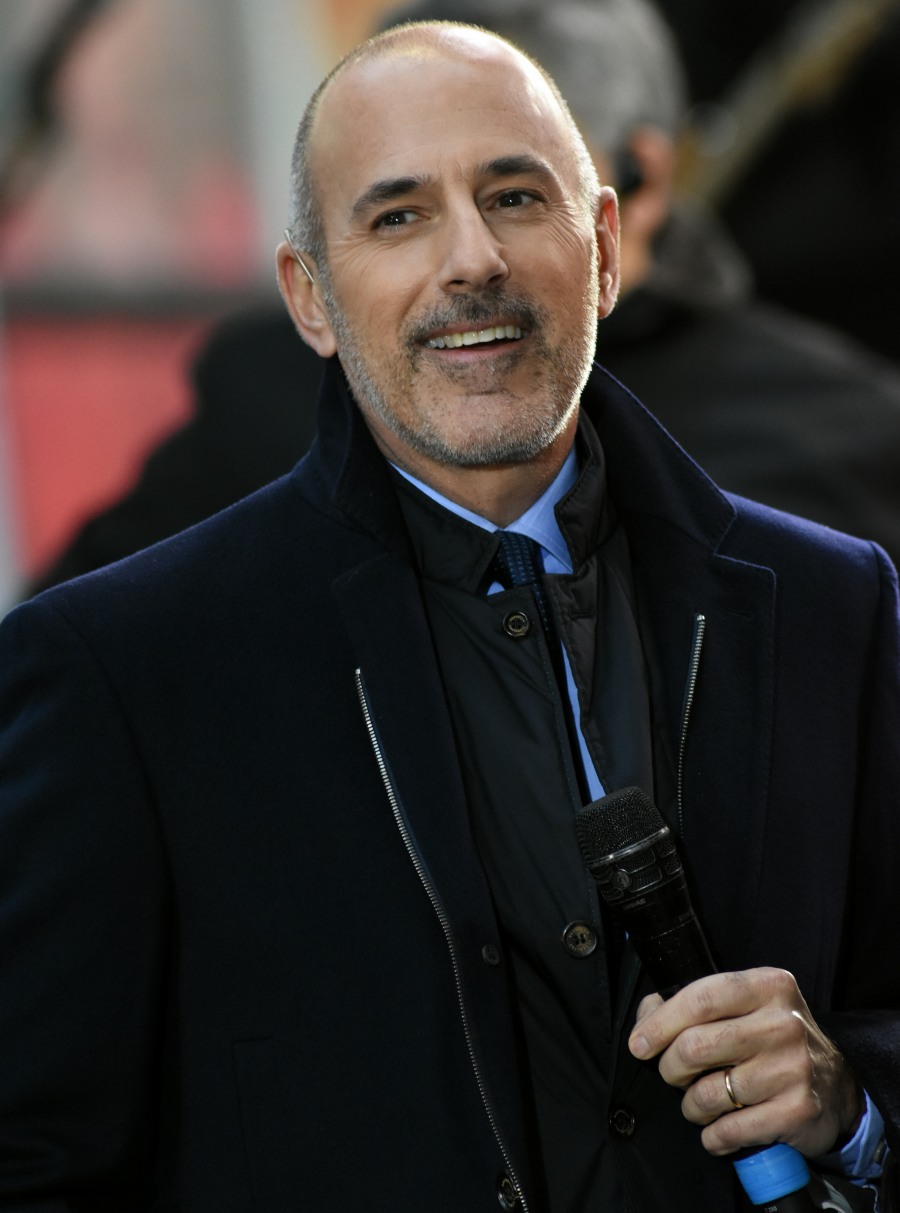 Photos courtesy of WENN.