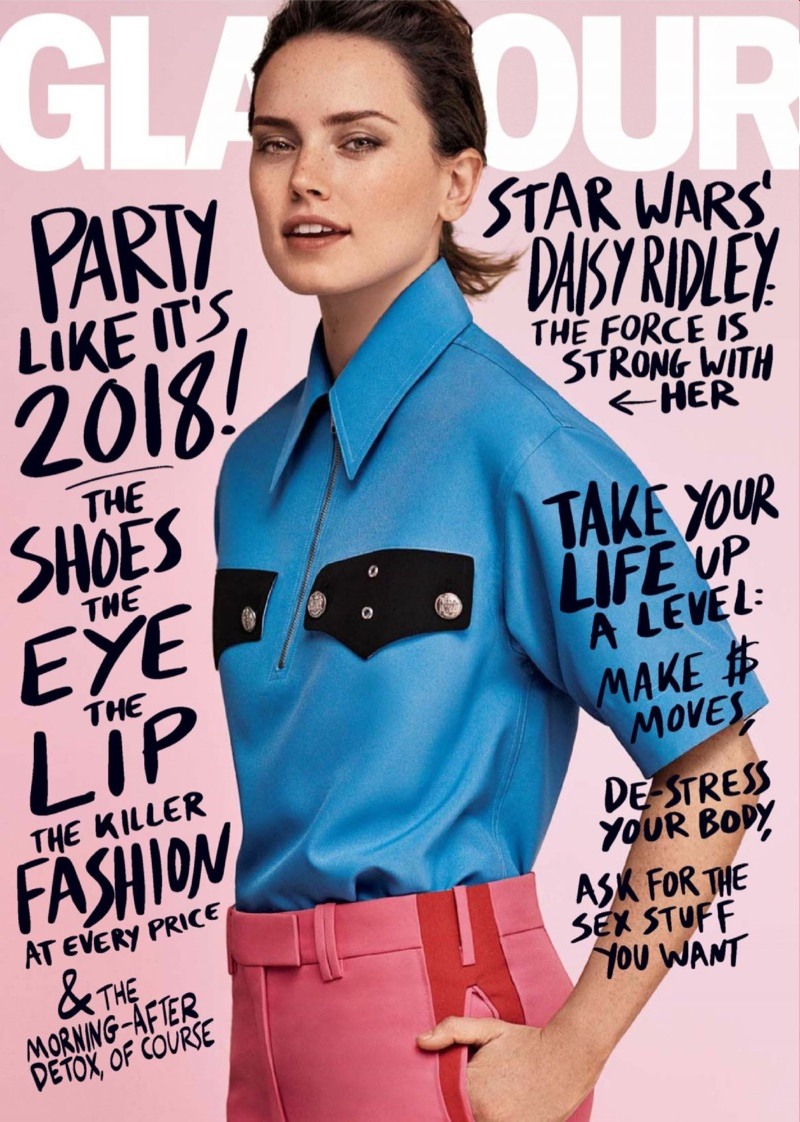 I sometimes worry about Daisy Ridley. I worry that she's not built for global fame and super-stardom. That's not a criticism – I'm not built for global fame either. It would drive me crazy. It would drive most of us crazy. It's driving Daisy crazy, it's clear enough from her interviews. I know it's weird to feel sorry for a movie star, but seriously, I hope she takes some time for self-care in between events in her whirlwind schedule. Daisy covers the January issue of Glamour to promote The Last Jedi, and the bulk of the interview is about how she's still trying to navigate everything that's being thrown at her, and all of the expectations she now has on her shoulders. You can read the full piece here. Some highlights:
The stress: "I had problems with my gut last year. I was so stressed, my gut wall literally had holes in it." But it wasn't the meetings with executives, the screaming fans, or the endless photo ops that did it. "It was what everybody kept saying to me: 'Your life is going to change. Are you ready?' I was like, 'How can I be ready? I don't know what's coming.'"

Feminism & Rey: "As a twenty-first-century person who grew up in a household where no one was held back because of their gender, I didn't get what the fuss was at first. The reaction to Rey was so insane that it shocked me. I was like, "Of course a female character should be doing whatever she wants." But then people were coming up to me and saying, "My kid has never had anything to dress up as." I was like, "Oh!" If I can be in something that makes a girl or boy think, Sure, I can fight a big baddie and win—that's amazing…. There is a sense of responsibility there.

Toys for boys & toys for girls: "There's a problem, across the board, with how kids are subliminally taught to think about these things. I had a meeting with the marketing people at Disney, and they were like, "So we're going to have this toy in the girls' aisle, this toy in the boys' aisle." I was like, "Why the f-ck is there a girls' aisle and a boys' aisle?" Sometimes I find myself feeling nervous in certain situations, and that's because somewhere along the line, I watched something or listened to something or saw a toy, and it f-cking changed the way I think.

Social media: "I find it really difficult. I was on Instagram, trying to do that whole thing, and people weren't very nice. I posted a thing about gun regulations, because I was at an event in tribute to the Orlando shooting at Pulse [where 49 people were killed and over 50 were wounded]. People weren't nice about how I looked. And I was like, "I'm out." Simple as that. That is not what I signed up for…Everyone said, "It's because she talked about gun safety," but it wasn't. If I want to talk about gun safety, I will talk about gun safety. And I didn't sign up for people to go, "You're amazing!" But I didn't sign up for them to say things like "Your skin is sh-t," either…so I took down the post, and then I deleted my account.

Whether social media is occupational hazard for an actor: "I think, unfortunately, it is. But it's not good for me, personally. I'm just not equipped for it. I'm super sensitive—not too sensitive—but I really feel things. Also there is also a sense that I'm asked who I'm dating a lot more than John [Boyega] is. I don't answer, because I have things in my life that are private. There is certainly a personal thing of, "Will people think I'm ungrateful?" Someone literally said to me, "So-and-so didn't answer questions about that, and they came across really cold." But I have to come first, because if I am not healthy—I was struggling with anxiety last year—if I'm not mentally healthy, or I'm depleted from sharing so much, I won't have anything left for when people approach me.

She thinks social media is unhealthy overall: "The more I read about teenage anxiety, the more I think it's highly unhealthy for people's mental health. It's such a weird thing for young people to look at distorted images of things they should be."
There's been a lot of talk in recent years about two of the subjects she's discussing: people who are empaths and whether social media is actually one of the most destructive forces for younger people. Regarding Daisy's sensitivity and her self-described "super sensitive" nature, I was reading about "highly sensitive people" versus empaths. I think Daisy falls somewhere along the empath line, and I think her current job is probably some kind of hell for her. As for social media – so many Millennials are talking about that these days, how social media is destructive and it's contributing to a mental health crisis. There's something there.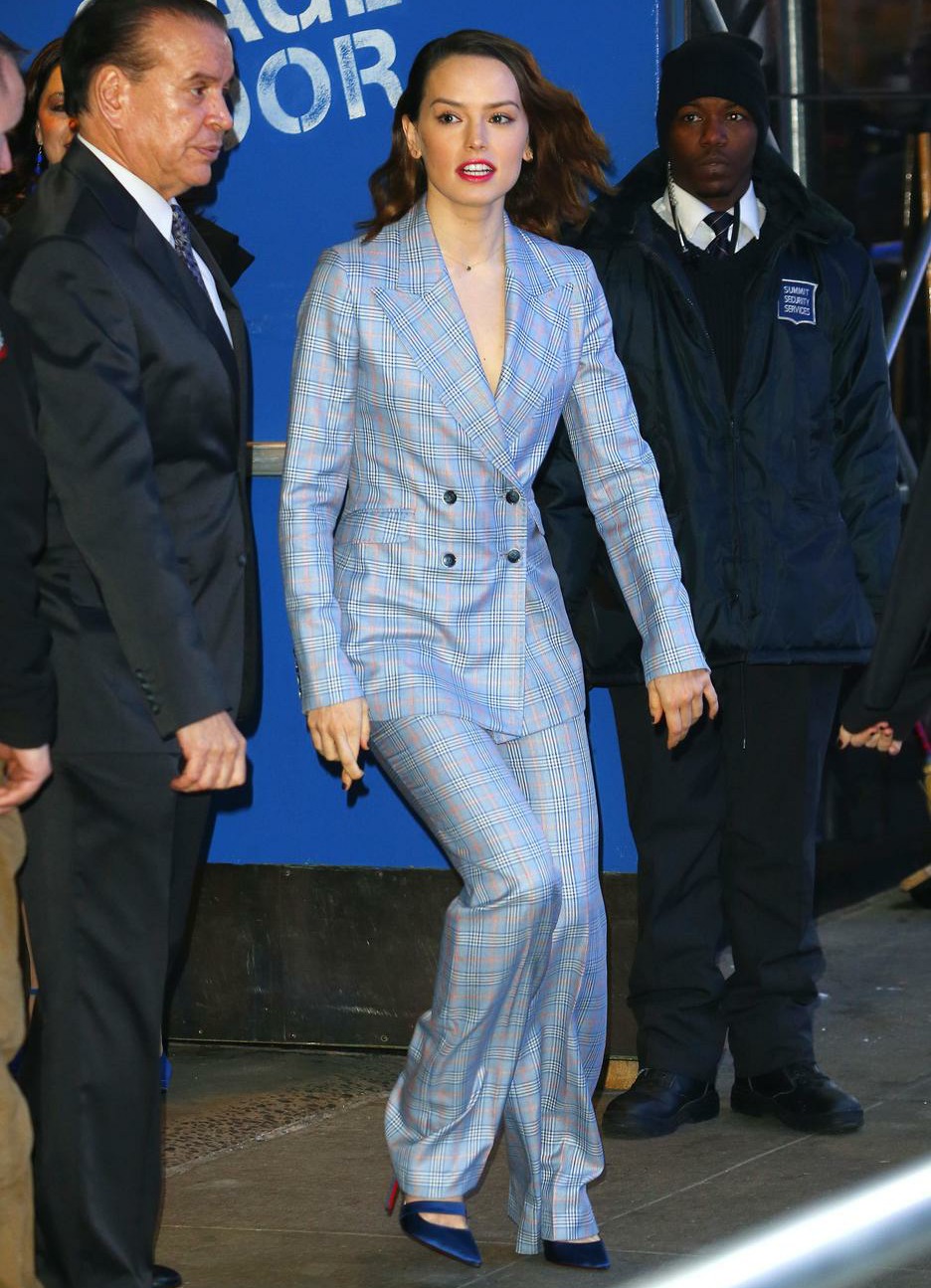 Cover courtesy of Glamour, additional photos courtesy of Pacific Coast News.