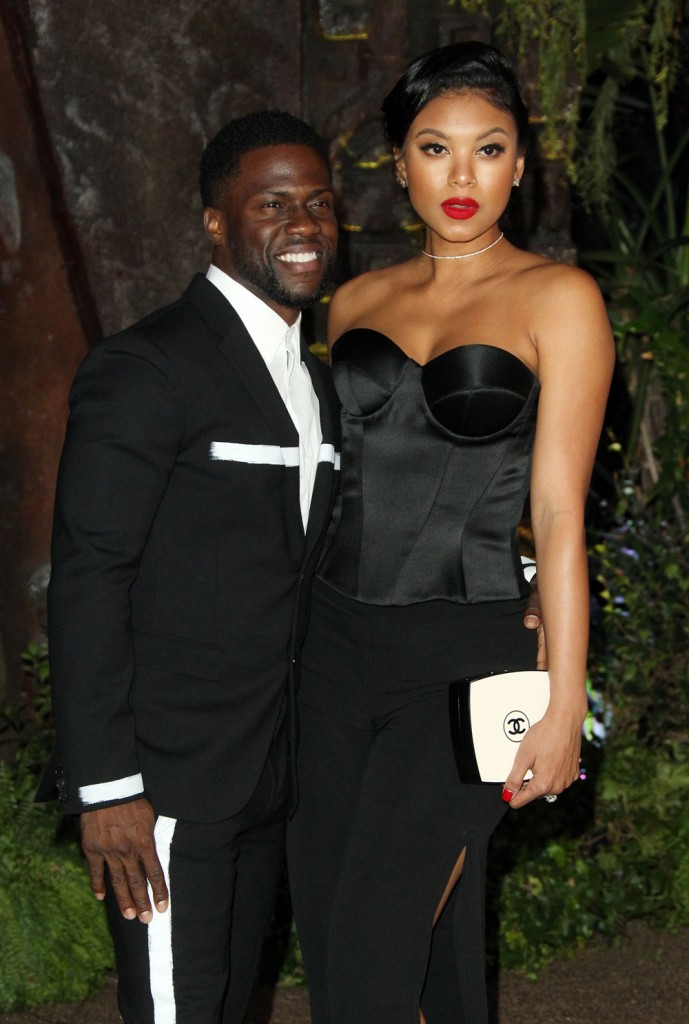 Kevin Hart had a brief interview on the red carpet for Jumanji and he managed to give a quote that he's now defending. He talked to Mario Lopez and his daughter Gia, 7. Incidentally, I don't think it's a good idea to have a seven year-old interviewing celebrities at premieres. It's nice to bring your kid to work once in a while and it looks like she only asked a couple of questions, but I hope they don't make it a regular thing.
Gia asked Kevin if he'd been naughty or nice this year and that was kind of a loaded question in that Kevin is known as a cheating cheater who got caught this year. He said he's trying to be good but he made himself sound like a victim because of course he did. I was originally going to title this story: "Kevin Hart: 'It was a tough year but I'm doing better'" however I guess you could also interpret that as him saying he's trying to be a better man, given the question. Anyway Kevin also admitted he didn't change diapers because newborns are fragile and need their moms or something. (Kevin and his wife, Eniko Parrish, welcomed son Kenzo Kash Hart in late November.) It sounded like he couldn't be bothered, but then he got heat for that and later backtracked. More on that in a moment. Here's what he initially said, and you can see the video on ExtraTV.com.
Gia: What do you want Santa to bring you this year, have you been naughty or nice?
Kevin: Have I been naughty or nice? That's definitely a tough question for old Kevin Hart right now. It was a tough year for me. I had some bumps in the road but the good thing is you take steps backwards to take great steps forwards so now, I've recovered from some not nice times, now what I basically want is just for Santa to know that I'm doing good and I'm doing better, just to know that I'm a good guy.

Mario: Is it true that you have never changed a diaper?
Kevin: On no, not on my new baby. Not on Kenzo. My old babies I did and I had tough times doing it. A newborn is very tough, they're fragile, they need a mother's touch, that's not a father's time, so I said, '… don't tag me in till me and the baby are on terms of 'Stop!' and he can listen to that; I don't want to deal with that new, new.'
Then Kevin tweeted this and some follow up responses, claiming he was just being sarcastic. A nice thing happened on Twitter though, the guy who initially called Kevin out for not changing diapers actually deleted his first tweet which Kevin responded to and then apologized to him. I don't think the guy needed to apologize, but it's nice seeing strangers be kind to each other online, especially on Twitter.
Real men also can tell when people are joking or being sarcastic. People are truly ignorant. Here is some reality for you… Kevin Hart is a "Comedian"….All I can do is laugh at the stuff that people take off and run with. https://t.co/oaEjWvoE4n

— Kevin Hart (@KevinHart4real) December 13, 2017
Right back atcha man….We just bonded like 2 grown men should. Have an amazing day at work sir. All love….Sending you a fist bump from afar lol https://t.co/pn1tHrL8TL

— Kevin Hart (@KevinHart4real) December 13, 2017
Your right man…I didn't know joking about changing diapers was a world issue. Before you say…"It's ok Kevin, just be careful next time" you should know that this is also Sarcasm. SMDH https://t.co/YkCi66wUwO

— Kevin Hart (@KevinHart4real) December 13, 2017
Yeah no, watch the video. If he was joking he would have clarified that during the original interview or he would have gone into less detail. He was admitting he doesn't change diapers and even trying to justify it, like he would screw it up anyway as it's tricky when his son is so little. In regard to his tweets, of course it's not a world issue, but celebrities often use this excuse when they're called out for the things they say and do. A lot of dads don't change diapers, especially insanely rich people like Kevin who have staff for that, but just own up to it or ignore the complaints instead of calling it a joke. That's how Kevin deals with a lot of criticism, by claiming it's a joke or he was misinterpreted. He's got to be a peach to live with, I doubt he admits to much, but his wife doesn't seem to mind. She went into it with eyes wide open and she wants people to know that she's doing fine.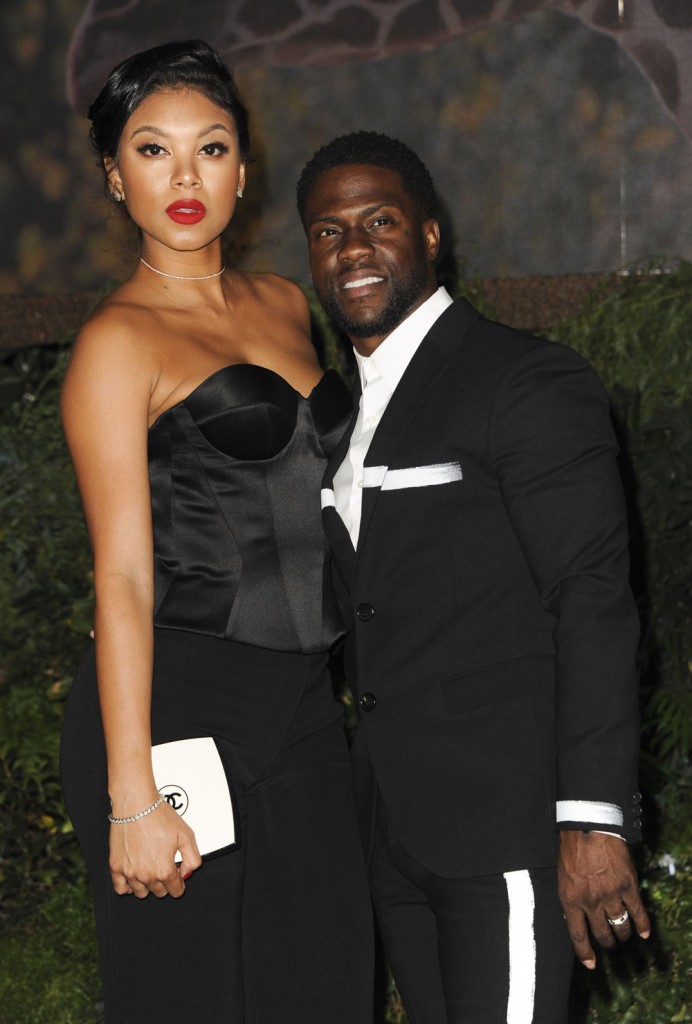 I would change this adorable baby's diaper any day!
Photos credit: WENN and Instagram/Eniko Parrish