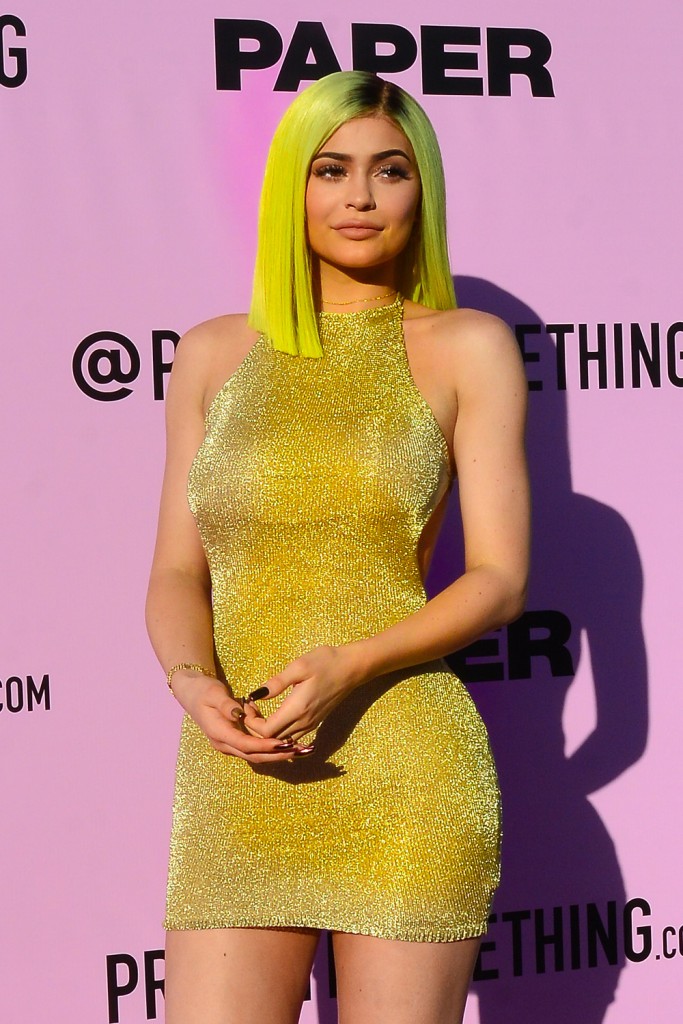 It seems that, for the second year in a row, people who asked Santa for Kylie cosmetics might find their stockings a bit lighter than anticipated. Last year, the makeup maven's website and pop-up shop sold out of everything quicker than a Rudolph-led sleigh and, this year, Kylie's taking her stuff to the streets in a customized truck.
The 20-year-old mom-to-be, who recently received WWD's Beauty Newsmaker Award, introduced Los Angeles beauty addicts to the Kylie Truck, which made its debut at LA shopping landmark The Grove on Friday afternoon. Over 100 fans were treated to cupcakes and lip kit swatches as they waited for their opportunity to get their hands on this year's Kylie Cosmetics holiday collection, as well as her signature lip kits, lipsticks, lip liners, kylighters (ugh, really with that name?), and eyeshadow palettes. Those not into makeup could shop accessories, including panties, socks, and hats. Kylie, who was not making an appearance with the truck, shared a photo of the truck on Instagram the day before its launch, adding the caption, "welcome the @kylietruck to the @kyliecosmetics family! First stop .. @TheGroveLA TOMORROW."
On Sunday, the truck showed up at Saks in Beverly Hills. Shoppers at the truck were limited to purchasing a mere ten of each item, so if you really want some Kylie cosmetics, you might want to check eBay.
@KylieJenner omfg from a cosmetic line to a pop up store & rn officially a kylie truck ,, you're just 20 baby & already enhancing so well 😻💜 im crying of happiness 😭😭 (wipe my golden tears ky) 🤧 pic.twitter.com/wllfIrxjvT

— e s h a (@heartedkylie) December 8, 2017
See you soon!! @saks Beverly Hills, 11am pic.twitter.com/kirLw4Oijq

— Kylie Truck (@KylieTruck) December 10, 2017
You have to have Beverly Hills-worthy income to purchase Kylie's new cosmetics brushes. The 16-piece set is part of Kylie's new Silver Series collection, which also includes lipsticks and concealers. The brushes, which will be available on Wednesday, can be yours for $360. No surprise, fans were a bit miffed when seeing the price tag, and let their displeasure be known on Twitter.
So I've decided this brush set is ridiculous and I haven't even spent $350 on all my makeup together. Thanks but I'll buy food with that money instead

— Haley (@HaleyB1029) December 10, 2017
Kylie responded to the criticism on Saturday, tweeting, "I have developed for you guys the most amazing luxury brushes ever. I am very excited! Real brushes don't compare to synthetic brushes. Different performance/quality/everything. I am 100% down to do an entire synthetic line in the future which will ultimately be cheaper." It didn't help.
Sorry girl but that's just waaaay to expensive! There are so many other brands that make quality brushes for affordable prices.

— Jessica Cosand (@jessicasbtspot) December 10, 2017
Kylie then responded with screenshots of other high-end cosmetic brushes and stated, "I always fight for the lowest price on all my products. Here are some other real brush lines for reference."
I always fight for the lowest price on all my products. Here are some other real brush lines for reference pic.twitter.com/mOxwmFJJcM

— Kylie Jenner (@KylieJenner) December 10, 2017
Again, this didn't really help, and fans let Kylie know.
Man she thinks she deserves that "15 + year in the industry, renowned, known for amazing quality, years of experience" coin but been serving nothing but average since she been into makeup.

— Mar ☀️ (@ftdotmarsss) December 10, 2017
I get your point Kylie but all of these brands are extremely credible in the make up industry. You literally only came out with a little bit of brushes before and now you wanna drop this? Uh- uh doesn't work that way pic.twitter.com/duEEIyt3Sr

— 👵🏽JannelC🎅🏽 (@JannelCosplays) December 10, 2017
I have never, and I never will, pay $360 for brushes, and, as we've discussed on this site before, Kylie's stuff is just plain overpriced. I guess you've got to give her marketing people kudos, because people are still lining up to spend their money on it. I'm glad some of her fans are being vocal, although I'm sure it won't budge that price point. I'll stick with my NYX, at least I know I can get a year's worth of their cosmetics for the price of a lip kit or two.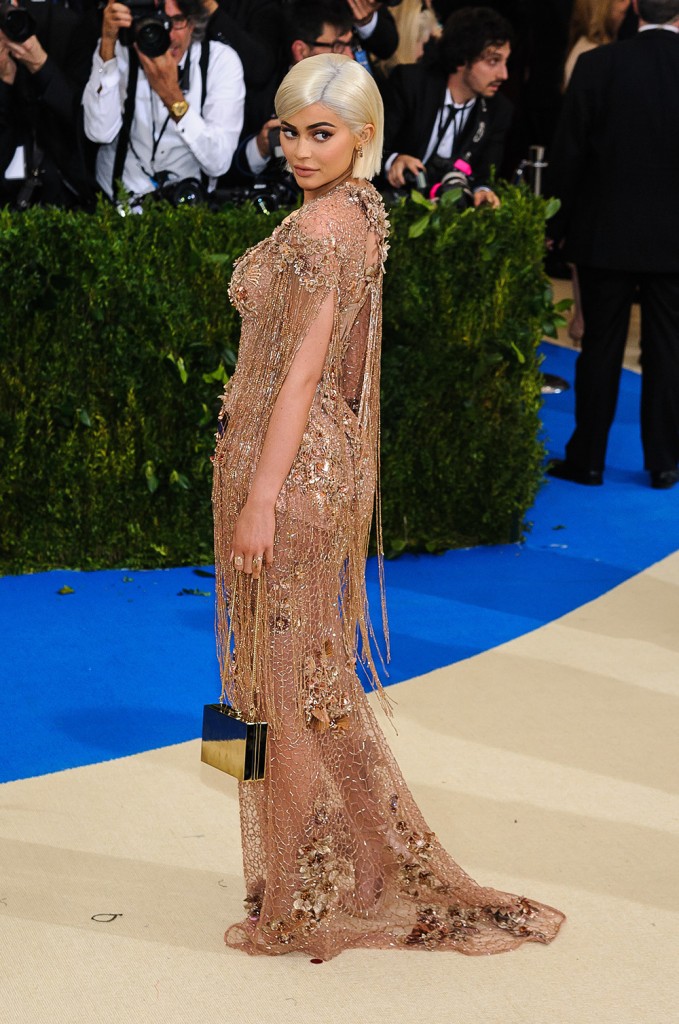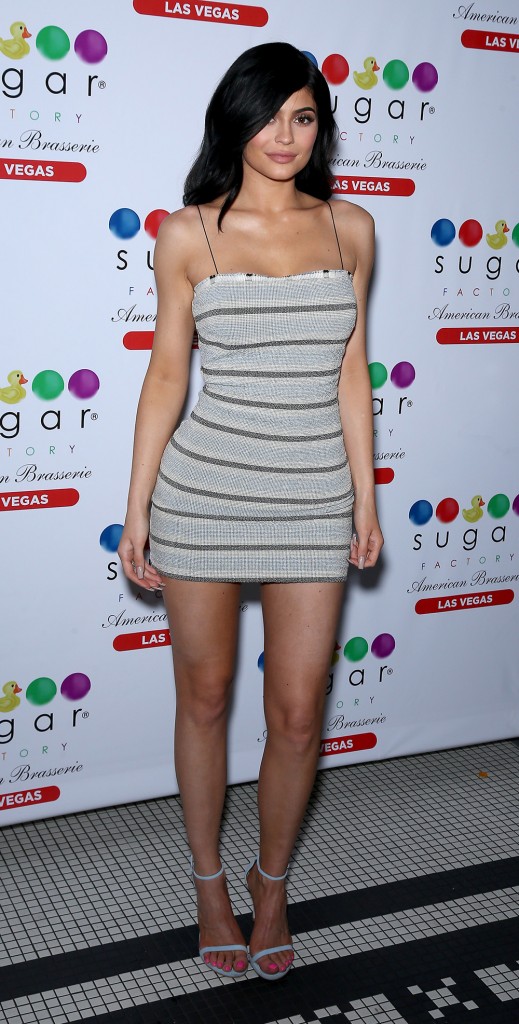 Photos: Getty Images, WENN.com