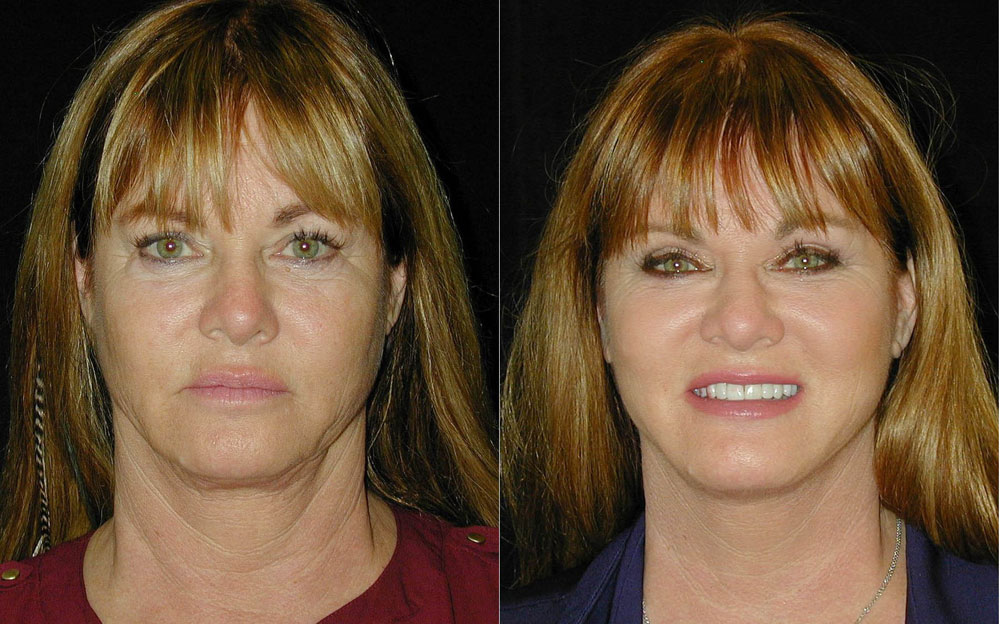 Although we rarely pay attention to the various real housewives until they're suing each other, and/or it's a slow news week, I like to cover it when they admit to plastic surgery. They're a specific type of semi-famous person, the type who will own up to more than just some botox or fillers. (And those women often claim to only have done it once despite the evidence to the contrary. There are exceptions of course, like Jane Fonda, but they're rare.) So that's why I'm covering Jeana Keough, formerly of RHOC, admitting she had a facelift after she left the show. She shared before and after photos, which are above, and let the process be filmed for People Live. Here's what she told People and there's a brief video on her site.
When Jeana Keough left the Real Housewife of Orange County in 2009, she says everything was going great in her life. Her three kids were happy, and her business was booming — but she wasn't loving the way she looked.

"I went through menopause, I had gained weight, I looked terrible and I didn't date for years," says Keough, 62.

Eventually, she'd had enough of feeling miserable. She got back into shape, but was then left with excess skin on her neck that she didn't like.

The real estate agent decided to get a facelift with renowned plastic surgeon Dr. T.Y. Steven Ip in Newport Beach — and filmed the entire procedure for a PeopleTV special.

"I want to look 15 years younger because I like guys that are 15 years younger," she jokingly says of to go under the knife.

The procedure went smoothly and after a total six-week recovery, Keough was ready to reveal "the new me" to her girlfriends.

"I don't know how they'll feel about it, but I think I look great," she admits. "And that's all the really matters."
At the risk of sounding like an a-hole, I think she did look better before, but she looked "older" and now she looks younger-ish but puffy and tight. She did it for herself and she likes it though so that's what matters. In a few months it will probably settle and not be so noticeable, which I've seen with people I know who have had facelifts. I don't think she looked 62 before though, she looked younger back then too. Her neck looks great though. Also, the more I see these photos of women looking dramatically different, the more I'm resolved to just embrace whatever is going on with my face as I age. F-k it.
This photo below is from October, I think before she got her facelift:
Embed from Getty Images
This is from 2016:
Embed from Getty Images
Header photo credit: Dr TY Steven Ip. Other photos credit: Getty