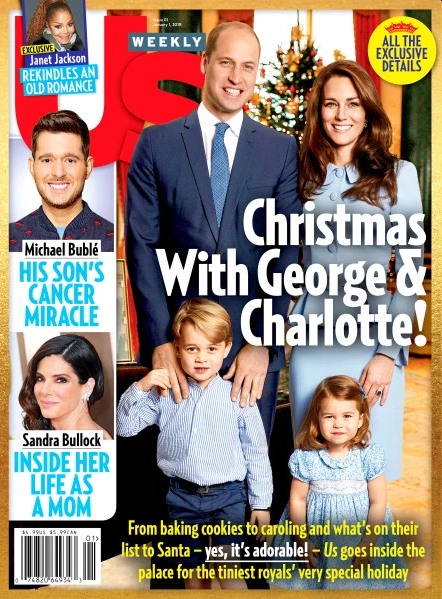 This Us Weekly cover made me realize why the Cambridges were keen to use such a nothingburger white backdrop for their cold, efficient Christmas image. The white backdrop was like a greenscreen, and now you can put the Keens in any setting! Us Weekly superimposed the family in front of a Christmas-y backdrop for their cover. We can recycle this image for Valentine's Day using a red-hearts backdrop. Anyway, Us Weekly does have some "news" in their cover story, and since Us Weekly invokes the word "keen," I believe all of it!!
On his second day in Finland, Prince William scheduled a meeting with a key VIP. Winding through the streets of Helsinki during the late November trip, the future king approached Santa Claus with a crucial delivery: a list from 4-year-old son Prince George. Explaining the tiny heir was "extremely keen" to see him, William noted that the tot's sole ask was for a police car to play with. "He hasn't written down many requests, so I think one is probably OK," said the royal, adding his eldest has "been a good boy." Just as Mum and Dad raised him. With the holidays approaching, William and wife Duchess Kate, both 35, have taken pains to ensure George and his 2-year-old sister Princess Charlotte — third and fourth in line for the British throne respectively — aren't royally spoiled.

"They're both extremely careful," a Middleton family friend says in the new issue of Us Weekly. "While they will get some toys — a dollhouse is "a strong contender" for Charlotte, says the friend, while George "is obsessed with anything on wheels, BMX bikes, skateboards and toy cars" — many of the presents sent in from fans around the world are quietly donated to toy banks and other children's organizations, says the family friend. "Receiving that many gifts wouldn't have a good effect on the kids," explains the friend, who notes William and Kate stress that the children not be overindulged. "It's their worst nightmare."

Rather, their dream Christmas focuses on family playtime and having fun together, says the friend: "I think William and Kate love Christmas just as much as George and Charlotte. For them, it's about coming together and enjoying the holiday."

In the Cambridge household, Christmas arrives early, in the first week of December. That's when a fresh fir is delivered to Kensington Palace's Apartment 1A. Together as a family, they trim the tree using ornaments "that have belonged to both sides of the family for many years," says the family friend. "Kate loves a traditional tree. It looks rather special by the time it's finished."

After making the 115-mile trip north to Anmer Hall in mid-December, the foursome repeat the process. At their 10-bedroom estate "the kids help with decorations," says a royal insider. And with Charlotte growing older — the palace announced December 18 that she will start lessons at Wilcocks Nursery School near Kensington Palace in January — says the insider, "she's been able to get a lot more involved."

Also in on the process: the kids' beloved nanny Maria Borrallo. The pro "prepares cookies and baked treats with Kate and the children," says a source. After all, there's a special guest to prep for this year. On Christmas Eve, Uncle Harry and his bride-to-be, Meghan Markle will arrive at the 18th-century Georgian manor for a three-day stay.

"It will be the first time Meghan has stayed with them," says the family friend, "and everyone is rather looking forward to it. It's going to be a bigger Christmas than usual."
I do find several things interesting – one, there's been zero talk of the extended Middleton family decamping to Anmer Hall this year. In previous years, when the Cambridges did the "Windsor Christmas" thing at Sandringham, Kate's family came and stayed and the Cambridges split their time between both sides of family. With Meghan Markle's arrival, there's been no talk of that. Which is interesting, right? Suddenly Kate wants to look more… self-sufficient. That being said, I bet Carole would love to get a closer look at Meghan, so now I can't stop thinking about Carole literally crashing the gates for a "surprise" visit on Christmas Eve.
As for Will & Kate "quietly donating" the toys that they're sent for George and Charlotte… well, I get that. But I also know that designers and jewelers funnel clothes and jewelry to Kate through her family, and she keeps all of that stuff. Why does Kate get to keep all of those gifts and her children don't get to keep theirs? Using Keen Logic, shouldn't we worry about Will and Kate getting too spoiled? TOO LATE!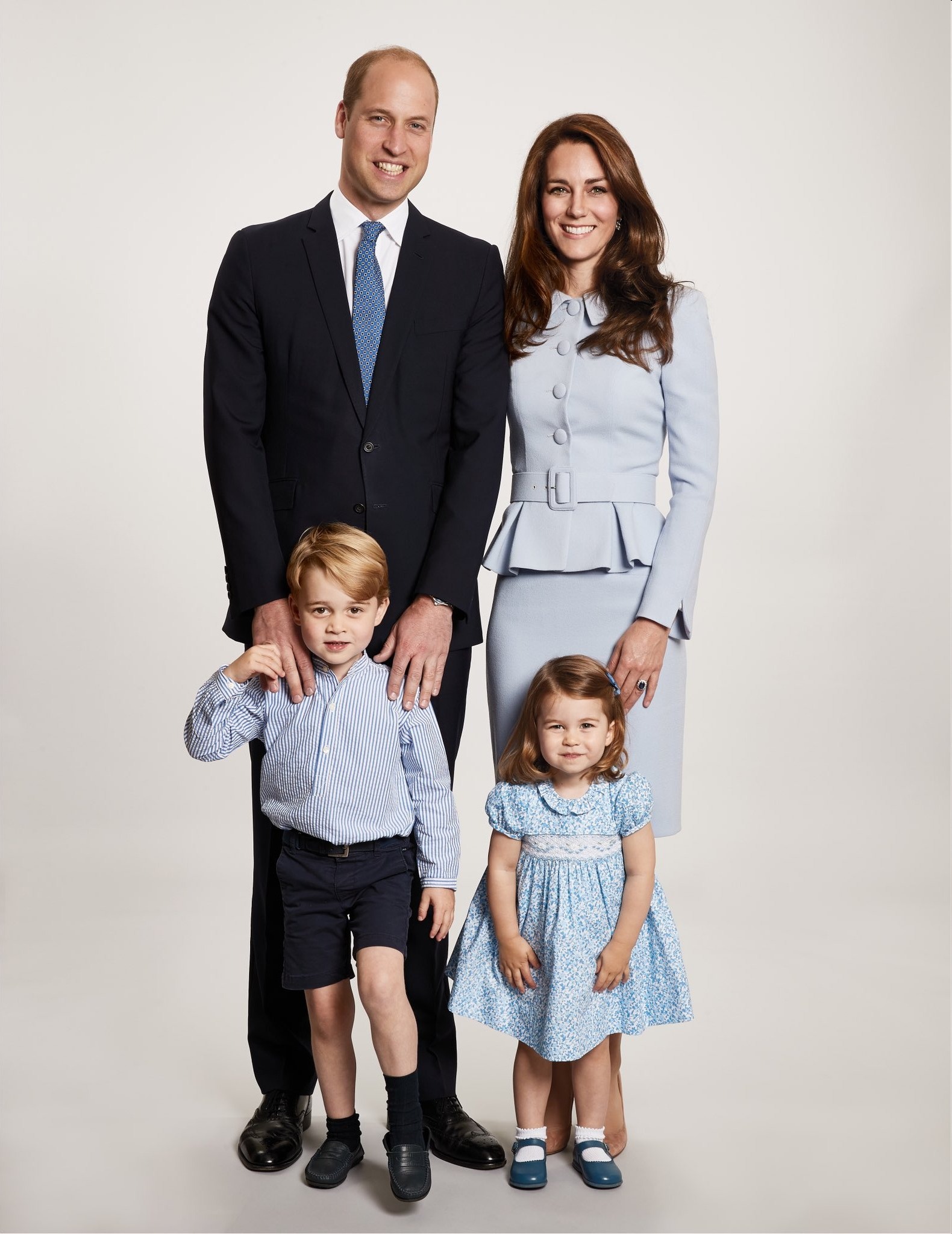 Cover courtesy of Us Weekly, photo courtesy of Kensington Palace.