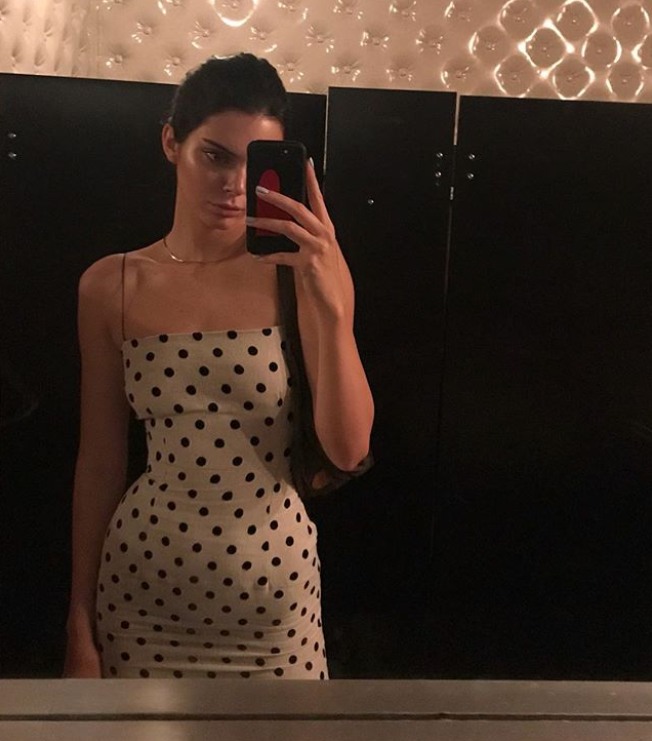 At some point in 2017, I could no longer differentiate between Kendall Jenner and Emily Ratajkowski. Like, that's the look Kendall has been going for lately: Budget Ratajkowski. Kendall's new, fake lips threw off her face for the bulk of 2017, and now there are rumors that 2018 is going to bring Kendall another Kardashian pregnancy. Kendall posted the above Instagram over the New Year's holiday weekend, and if you look closely (or not so closely), you'll see why people were "freaking out" about this selfie. Kendall has a very small tummy. Therefore, people thought she might be pregnant, just like Kylie Jenner and Khloe Kardashian. She tried to correct the record:
i just like bagels ok!!! https://t.co/4IxM9ECLOs

— Kendall (@KendallJenner) December 31, 2017
I honestly don't think she's pregnant, you guys. I think she was probably wearing one of those "waist trainers" or corsets under her dress and it gave her the appearance of a smaller waist and a more pronounced hourglass figure. *shrug*
Meanwhile, did you know that Kendall will no longer update her subscription app? I guess we should feel sorry for all of those people who paid money to hear Kendall's thoughts on anything, because now how will they function in society?
Kendall Jenner has been sharing her life with fans for over a decade on the Keeping Up with the Kardashians. She also keeps things candid on social media and her app. But the 22-year-old supermodel just announced that she would be scaling back on her digital presence and will no longer be updating her app in the new year.

In a message on her website, KendallJ.com, Kendall explained her decision to fans: "As I look ahead to the next year, my goals and priorities are changing. I've had an incredible 2+ years connecting with all of you, but I've made the difficult decision to no longer update my app in 2018. I hope you've enjoyed this journey as much as I have, and I'm looking forward to sharing the next chapter with you. Love, Kendall."

The model used her app as an outlet to share highlights from her modeling career, her favorite street style looks and a peek inside her beauty routine. Kendall app hiatus comes after one of the most successful years in her career. She was crowned the world's highest-paid model, according to Forbes, with earnings of $22 million. And she's the most followed model on Instagram with 85.7 million followers.
Just my opinion: all of those Kardashian-Jenner-branded apps were scams anyway, even Kim's. They give away tons of content for free on social media and through their reality show, and the apps were just gigantic cash-grabs. It seems like the apps have outlived their usefulness anyway.
Also: her lips, my God.
Photos courtesy of Kendall's Instagram, Backgrid.