This exclusive #TheXFiles sneak peek teases the first glimpse of William! https://t.co/IBXKNlWeLb pic.twitter.com/yL2bKz1PUv

— TV Guide (@TVGuide) January 2, 2018

The first episode of the new second revival season of the X-Files airs tonight on Fox at 8pm. I'm such a superfan I'm going to watch it live. Admittedly I only watched the last season one time through and there were a few episodes I just did not enjoy. (Lauren Ambrose was miscast, I think.) I'll keep tuning in though, and I have a lot of friends who will be watching too. Star Gillian Anderson (Scully) has been open about having to fight for pay equity prior to joining the X-Files reboot. She said she was initially only offered half the pay of what her co-star, David Duchovny (Mulder), received for the reboot. She found this shocking because she worked so hard in the past to be paid fairly and to have Scully have a key role. Ultimately she received equitable pay for the reboot. Anderson has also spoken out about the fact that only two out of 207 of the original X-Files series were directed by women. The reboot doesn't have much gender diversity either. The current season has an all male writing and directing team (although they're not all white), and only one episode last year has co-writing credits that include women. Regardless Anderson isn't sticking around to see if anything changes on the X-Files. In an interview with TV Insider, she again reiterated the point that she's not coming back after this current season. I'm going to excerpt Digital Spy's coverage of Anderson's interview, as the original piece in TV Insider has a lot of spoilers for this upcoming season. Check out TV Insider if you would like to learn more about what's in store for the X-Files and there's more in The Boston Herald. It sounds promising actually but I'm not going to reveal more.
With the launch of the new episodes only days away, Gillian is doubling down by telling TV Insider that she is now truly hanging up her FBI badge in order to devote more time to other projects, like American Gods and potentially even more of The Fall.

"I've said from the beginning, this is it for me," she said. "I was a bit surprised by people's [shocked] reaction to my announcement… because my understanding was that this was a single season."

This sad turn of events brings to mind the latter years of the original X-Files, which broke up the Mulder and Scully team thanks to David Duchovny quitting as a series regular.

Does the departure of Scully mean that The X-Files will be put to rest once again after the 11th season? At least according to creator Chris Carter, probably not.

"There are a lot more X-Files stories to tell," Chris Carter has teased. "Whether we get to tell them is a question mark. The truth is out there."
I'm glad DS reminded us that the original X-Files tried to carry on without Mulder, because I would have forgotten about that. A quick glance at wiki reminds me that Robert Patrick (Doggett) tried to step in as a replacement for Mulder in the eighth season, while Mulder appeared in just a few episodes for the eighth and ninth/final season, with the X-Files first ending in May, 2002. This is also when Annabeth Gish came in, and although I liked her quite a bit the show kind of lost the plot. (There was also the Lone Gunmen spinoff in the first part of 2001, remember that?) I'm sure Carter wants to continue churning out this show, he hasn't branched out from the X-Files and it's his baby, but it really can't exist without Anderson as Scully and was hanging by a thread when Duchovny was absent. Also, do you remember the movies? The first one, Fight The Future (1998), was mediocre and the second one, I Want To Believe (2008), was just laughable. It's a shame because with good writers and a strong director it could have been an incredible movie franchise.
This is how it begins… Do you believe? #TheXFiles returns Wednesday, January 3 on FOX. pic.twitter.com/fFhoQmPbJX

— The X-Files (@thexfiles) December 27, 2017
Excited for the return of #TheXFiles ? Need a refresher? Our beginner-friendly binge guide is here to help! https://t.co/2WqfcaMrtY pic.twitter.com/j14jQs3VRA

— Den of Geek News! (@DenofGeekUS) December 28, 2017
Without a doubt, #TheXFiles has left an enormous impact on television. @DavidDuchovny, @GillianA, and Chris Carter speak about the show's role in pop culture! https://t.co/E491myYJtQ#XFilesBinge pic.twitter.com/0f8Eo0ahuX

— Den of Geek News! (@DenofGeekUS) January 2, 2018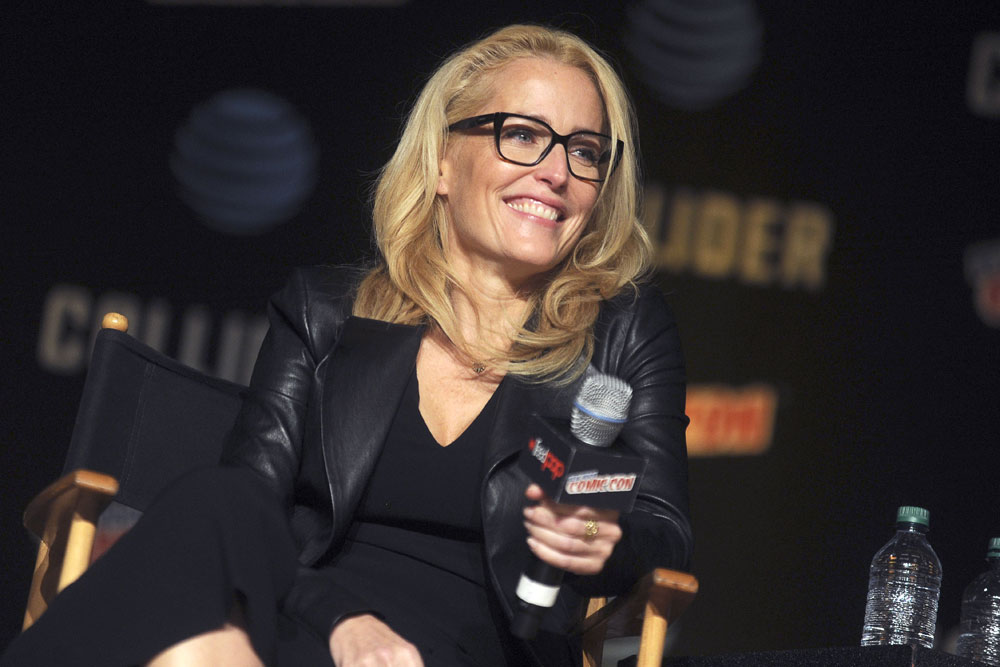 Photos credit: WENN and Twitter/Fox