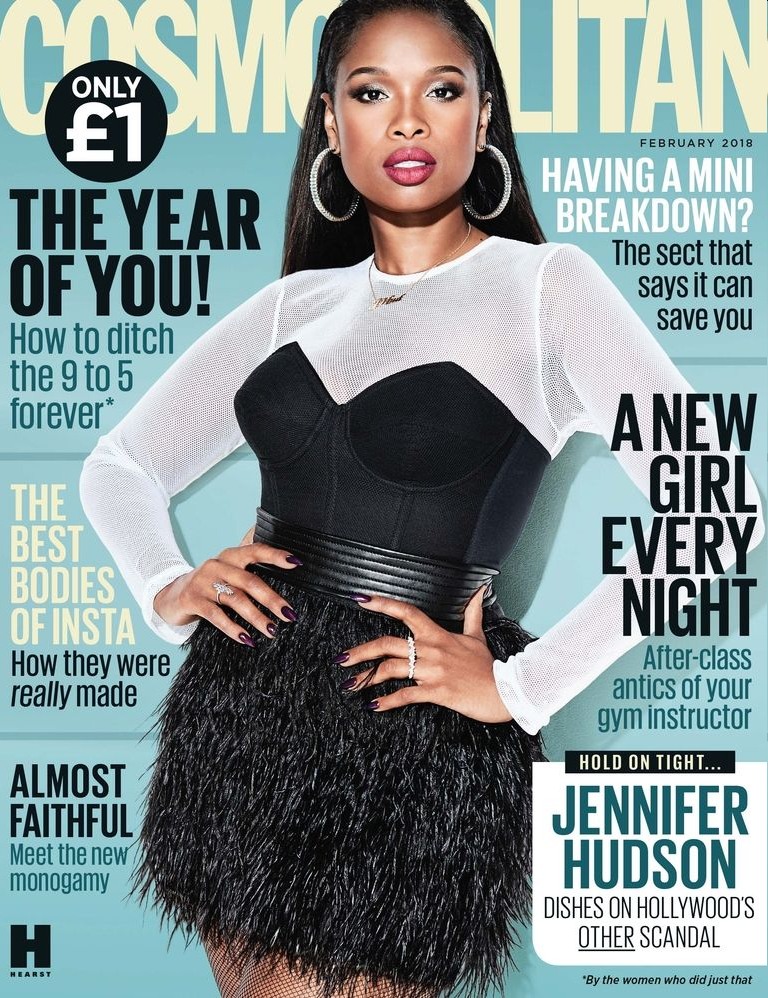 I have such a pet peeve about magazines doing this to women – don't crop them mid-hairline! It's just a few inches, and the cover will look fine if you include their entire face and their entire hairstyle on the cover. Anyway, Jennifer Hudson covers the latest issue of Cosmopolitan UK. She doesn't talk at all about her divorce situation, which is fine with me – I don't need to know her private business at this point, I just hope she's doing well. She did talk to Cosmo about racism and how people treat her in the US. I believe everything she says.
Dealing with prejudice regularly: "There have been several situations where I get on a plane and [the air steward] assumes that I'm [meant to be] in the back of the plane. That happens a lot. I'm like 'No, my seat is up there [in first class], thank you'.

Another story about racism: "People also assume that my home belongs to my white driver, Charles. One time, I was having something moved into my house and they wanted to know where to put it. I said, 'There.' [The removal man] just stood there. When Charles came in, he asked him, 'So where would you like these things?' Charles said, 'She said she wanted it right there. You're talking to the wrong person. Stuff like this happens in your own home! I defy all the odds being African American, living in a wealthy neighbourhood and being a working mom. It's too many foreign things in one person! It's so ignorant. Race is just one of them. I face them all."

On the Weinstein scandal: "I hate that these things have happened, but I'm glad that women are taking a stand for themselves. They should have the right to be able to do that. And no one's power should be able to take over someone else's. That's not cool."
I totally believe stewardesses get snotty with her on a regular basis about sitting in first class. I also believe that story about her driver too. That sounds like it wasn't just a race thing either, it was probably about sexism too – like a dude mover couldn't comprehend that a black woman would tell him where something went, so he better ask the white guy. Anyway… love J-Hud.
Photos courtesy of Getty, cover courtesy of Cosmo UK.