Embed from Getty Images
While I was initially dreading an all-black red carpet at the Golden Globes I was surprised at how gorgeous so many of the dresses were. The single color scheme made the details and unique features of the gowns stand out and it was refreshing actually. I'm not specifically talking about Kelly Clarkson's dress, but this is the first fashion post I'm writing so I'll get that out of the way. We're also not "judging" fashion as much, as Kaiser explained in the recap post. Basically we're trying to be nicer. So I'll just say that I found Kelly's one black, one metallic sleeve Christian Siriano gown quite unique, except that Mary J. Blige had on a gown with one metallic sleeve too. I've seen one sleeve and two-color sleeve dresses of course but the one metallic sleeve is new to me. Both women are working it. I like the princessy details on Kelly's gown, like the sweetheart neckline and full skirt.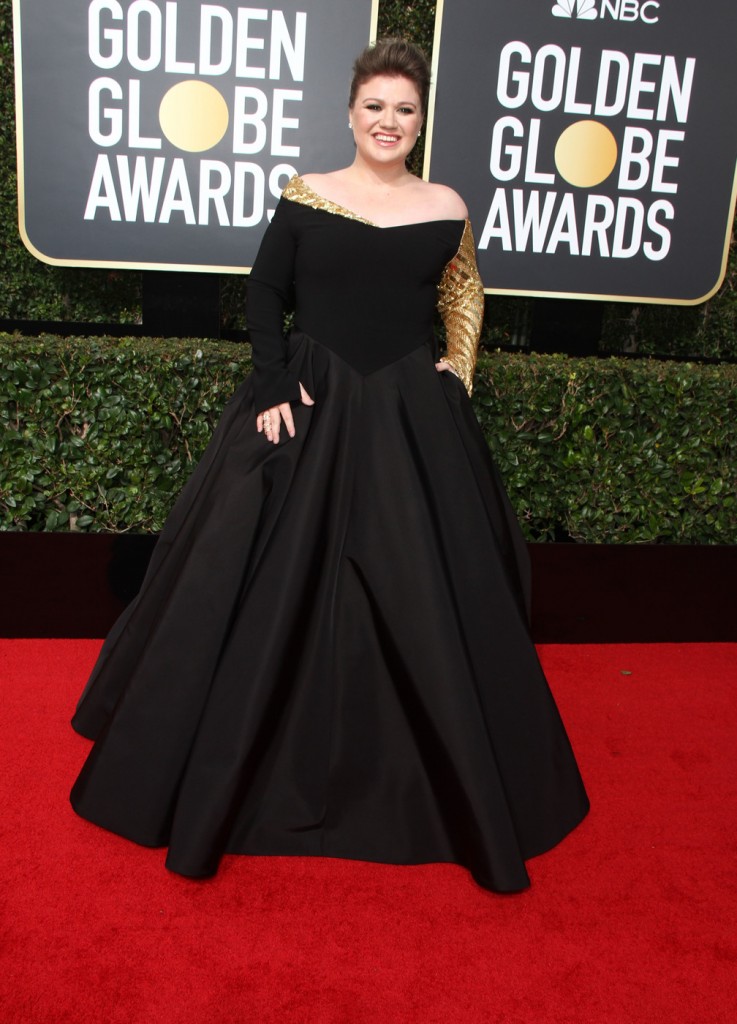 If you didn't see Kelly's freakout on the red carpet over Meryl Streep it could make your day. She's just so overwhelmed to meet her and it's cute.
Kelly Clarkson remains the best #GoldenGlobes pic.twitter.com/oTceeScHCz

— Jarett Wieselman (@JarettSays) January 7, 2018
Here's Mary J. Blige in Alberta Ferretti as mentioned. She was nominated for Supporting Actress for her work in Mudbound (it's available on Netflix now!), which went to Allison Janney for I, Tonya. I didn't notice during the ceremony but the metallic design on that killer velvet dress dress goes down the side in a swoop pattern. Also that single strap leading to the sleeve is such a gorgeous detail. Look at the thin sequin line across the bodice. I could go on.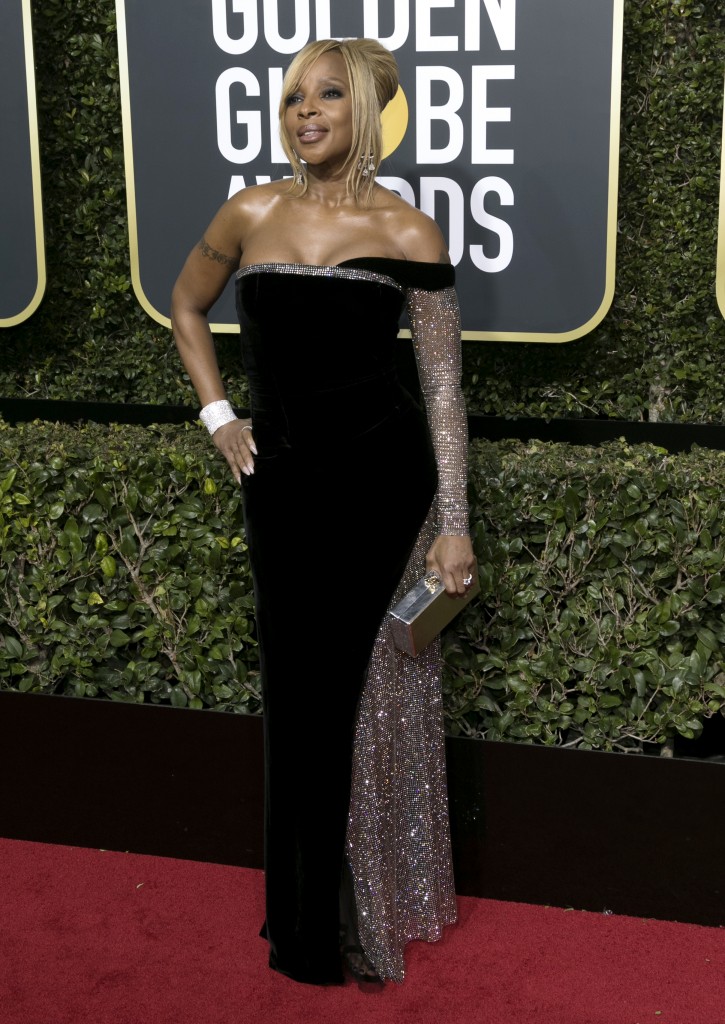 Like Kelly, Christina Hendricks was in Christian Siriano. This gown actually features capri pants under an open skirt. I would have liked to see a full skirt with this instead but I love the velvet drape on the top. We need moar velvet dresses.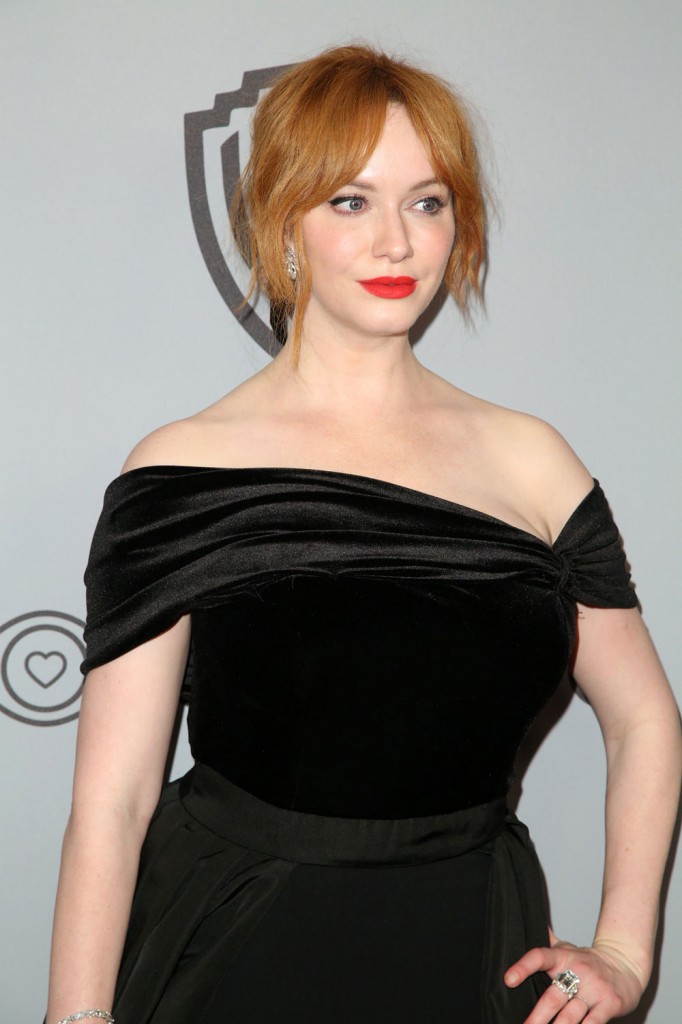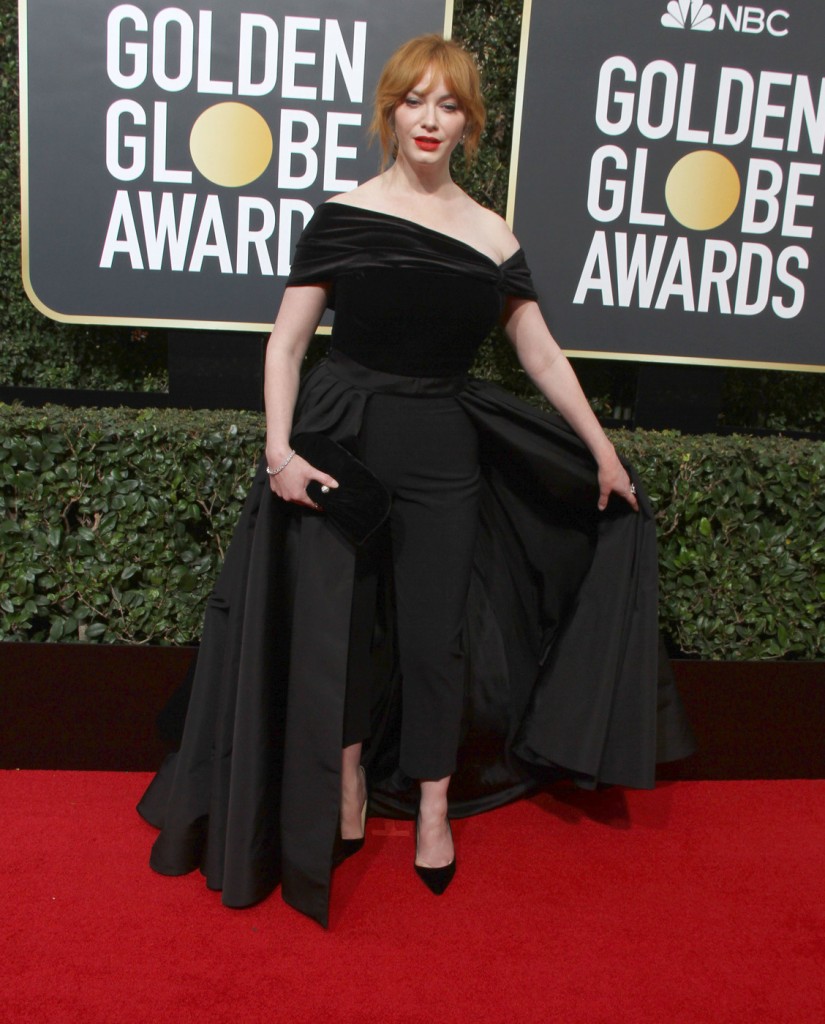 Also in Christian Siriano we have America Ferrera, who just announced she's expecting her first child. I love it when pregnant ladies wear formfitting gowns and this sequin full length scoop neck seemed perfect for the occasion. Plus she wore a tuxedo jacket over it! There were a few striking tuxedo jackets last night. I didn't see this live but I saw a tweet that America called Mariah Carey into the group photo on the red carpet.
You never know who you'll run into on the red carpet. #GoldenGlobes https://t.co/Ywdru7vFpa

— iHeartRadio (@iHeartRadio) January 8, 2018
Here's a cute video of America with Natalie Portman, with whom she walked the red carpet. Kaiser will be covering Natalie separately!
.@AmericaFerrera and #NataliePortman are DONE waiting. ⏱ #TIMESUP #InStyleGlobes #GoldenGlobes pic.twitter.com/sQskbVlYwZ

— InStyle (@InStyle) January 8, 2018
Photos credit: WENN, Getty and Pacific Coast News