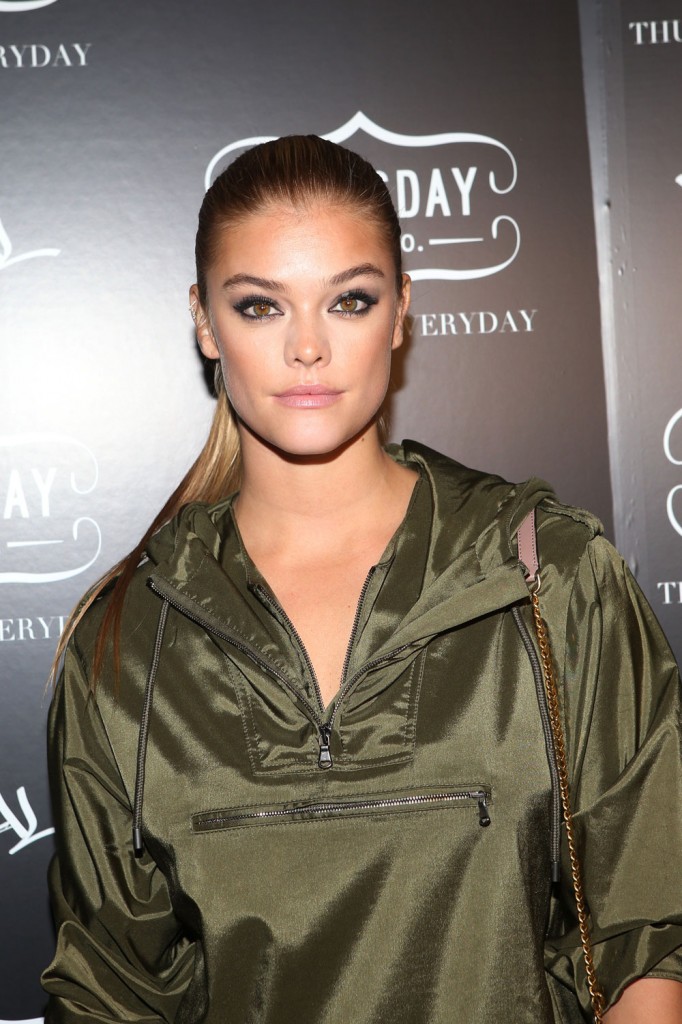 I know Nina Agdal, 25, because she used to date Leonardo DiCaprio until she aged out of the DiCaprio Girlfriend Experience (© Kaiser) early last Spring. I suspect a lot of women date DiCaprio for the name recognition, but I digress. She's known as a Victoria's Secret model and she earned some headlines and likely got some gigs after dating DiCaprio.
Anyway Nina is getting some minor press now because she was pulled from a magazine's planned cover story for not being "in top shape." More on that in a moment. She posted a message to Instagram in which she's looking incredibly fit and is nude from the wait up with an arm over her breasts. (Our advertisers don't like it when we show strategic nudity so you can see that photo on Instagram.) That was the photo that the magazine wouldn't use. I'm just putting some of the text below.
Today, I'm disappointed and appalled at the still very harsh reality of this industry. A few months ago, I agreed to shoot with a creative team I believed in and was excited to collaborate with.

When my agent received an unapologetic email concluding they would not run my cover/story because it "did not reflect well on my talent" and "did not fit their market," the publisher claimed my look deviated from my portfolio and that I did not fit into the (sample size) samples, which is completely false. If anyone has any interest in me, they know I am not an average model body – I have an athletic build and healthy curves.
She went on to write that she has very bad social anxiety and that she took a year off from modeling while dealing with that and the unrealistic body standards in her industry. This was her first experience trying to work again after her time off. She also wrote that she varies from a size 4 to a 6 and that "I am not built as a runway model and have never been stick thin."
Nina was on the Megyn Kelly show yesterday to talk about this. You can see her interview below. I was really impressed with her actually, she explained the situation clearly and convincingly. Venice Magazine (which I've never heard of) the publication which denied her a cover,issued a statement claiming that the issue was about the quality of the photos, however Nina quickly shot that down. Megyn had a copy of the email that Venice mag sent Nina, which read "We would love to revisit the possibility of a printed cover when she is back in top shape."
Here's Venice's statement, which would be convincing on its own but again Nina has the receipts.
We think Nina Agdal is a beautiful and extremely talented model. That is why she was the focus of a ten-page story published in our Winter issue… Regarding the cover, while the images from the shoot were lovely, they did not yield one that we felt worked as the print cover. To clarify our choice, it had nothing to do with how Ms. Agdal looks in a bathing suit – her physique is enviable by any criteria.

We wished to use an image from that shoot for our digital cover (the cover promoted on our website) but her agent declined. Further, when we made the decision to run the feature without the cover, we suggested doing another story with a possible cover for 2018 where Nina would be both model and subject, giving her a platform to discuss her experience, interests and the causes that she champions. This was communicated to her agent in writing.
[From Venice Mag via Today video]
Nina countered that "There is physical proof in an email them saying that I look deviated [sic] from my portfolio, that I did not fit into the sample sizes, that I basically look too big." Megyn got all indignant about it, and so did Nina understandably. Nina said that women can't relate to these very small models and that the sample sizes are tailored to be even smaller than size zero. She knows models who are a size 2 who are told to lose weight for jobs.
While I don't have a lot of sympathy for Nina personally, I came away from her interview championing her cause. She's athletic and enviably fit and yet she's getting pushback for that. She has the kind of figure I would like to see regularly in ads. She told Megyn that when this happened to her she "felt personally attacked. I was like, 'You know what? I can't take this anymore. I got to stand up for all the girls and women out there.' I can't be a part of this big lie and this perception game that's going on. I'm just not going to participate in that anymore." She made the point that these unrealistic body standards are "everywhere" and in every magazine.
Here's Nina's interview. At 4:02 they show the original photo and the retouched photo. Nina also confirmed that she's dating Jack Cook, Christie Brinkley's son, and said that Christie is supportive of her. Megyn is ridiculous throughout this interview and in general, but again I'm on board with Nina's message.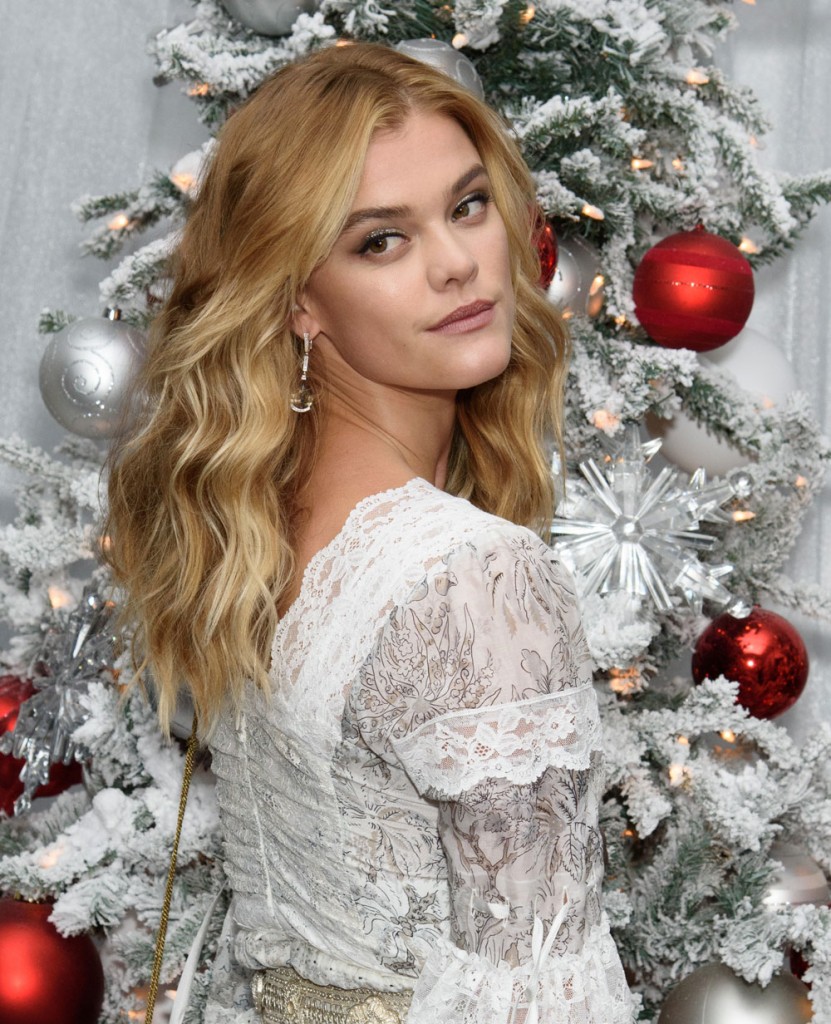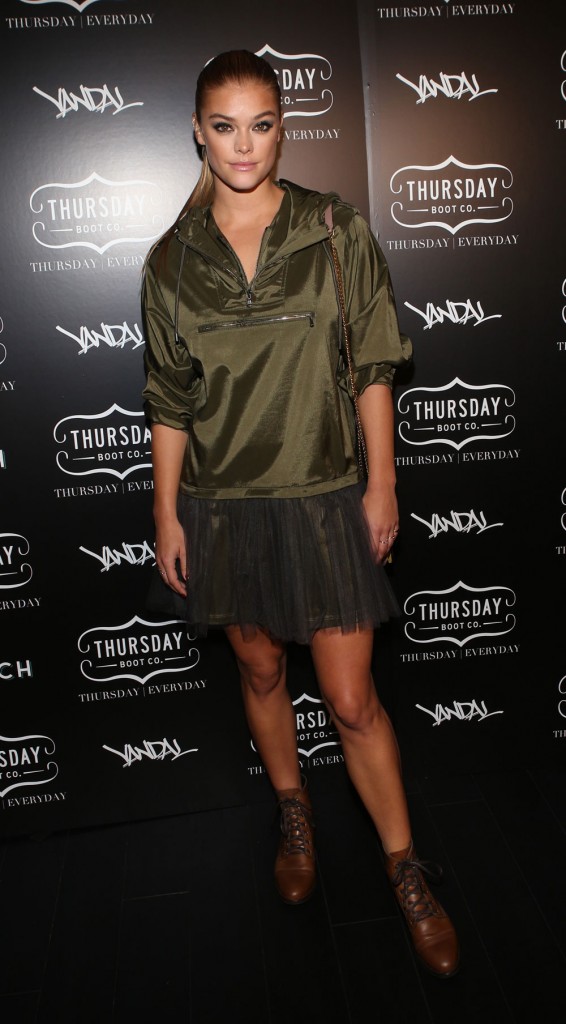 photos credit: WENN and via Instagram/Nina Agdal