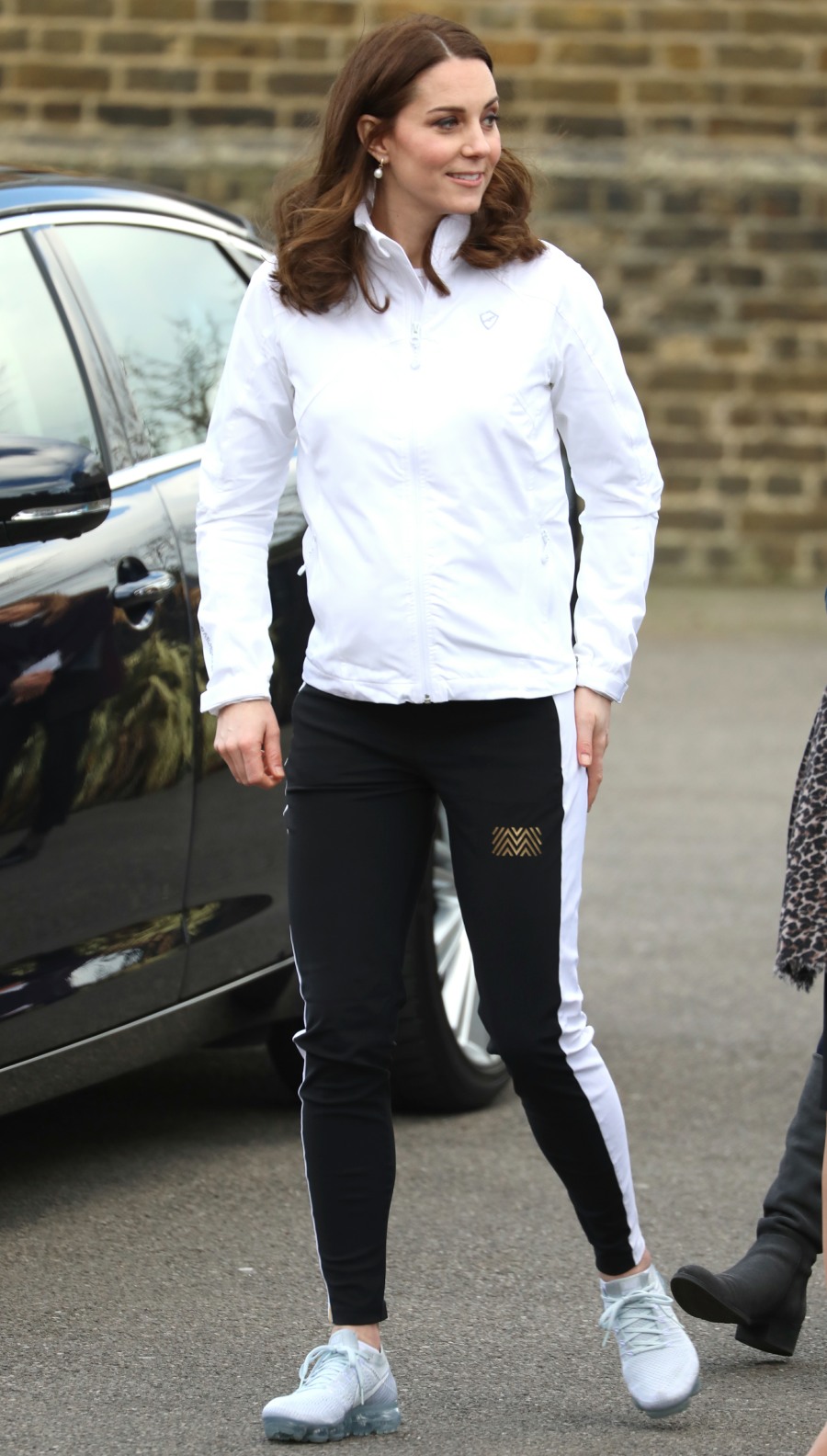 I enjoy it when the Duchess of Cambridge needs to do a costume change in the middle of a day full of events. It warms my heart and makes me believe that perhaps it doesn't take a village to bring together all of the buttons, wiglets and eyeliner in all the land to put Kate back together again. Earlier today, Kate did an event at a hospital where she wore that orange Boden coat with ruffles. She did that event, then possibly went home to Kensington Palace – ?? – for a quick change, then she was back out at the Bond Primary School in Mitcham for another event. This event was sporty! She went to see the work of the Wimbledon Junior Tennis Initiative. Kate was made the new patron/honorary president of the All-England Club last year, so this was for one of her big new patronages.
For her second event of the day, Kate repeated a pair of Monreal London tuxedo track pants. We recently saw those track pants last fall, soon after Kate announced her third pregnancy. They are expensive – £220 – but she's getting multiple appearances out of them and hey, I will take these track pants over jeggings ANY DAY OF THE WEEK. She also repeated a pair of Nike Air Vapor sneakers. The jacket seems to be new-to-us, as in this is the first time (?) she's worn it for an event. It's the Sophia jacket from PlayBrave, and it costs £89. I live in this kind of casualwear/sportswear and I would totally wear this outfit, but not at this price tag. You can get that same jacket cheaper at a million other shops. Same thing with the pants.
I think she should also get in the habit of doing a ponytail for these sporty events, just FYI. But I know I'm nitpicking there. I'm actually a bit pleased that Kate is so very keen to work right now. My cynical side believes that she's accumulating a lot of royal-work numbers right now because she's going to want to take a ton of time off for her maternity leave later this year.
One other nice thing I'll say about her… she's doing better about giving the cameras some better photos. By that I mean, look, she's facing the cameras instead of creating a veil of wiglet to hide her face. I was just complaining about that last week, right? That's the thing with her – she'll learn a lesson, then she'll backslide and make the same mistakes, then she'll have to learn the lesson again.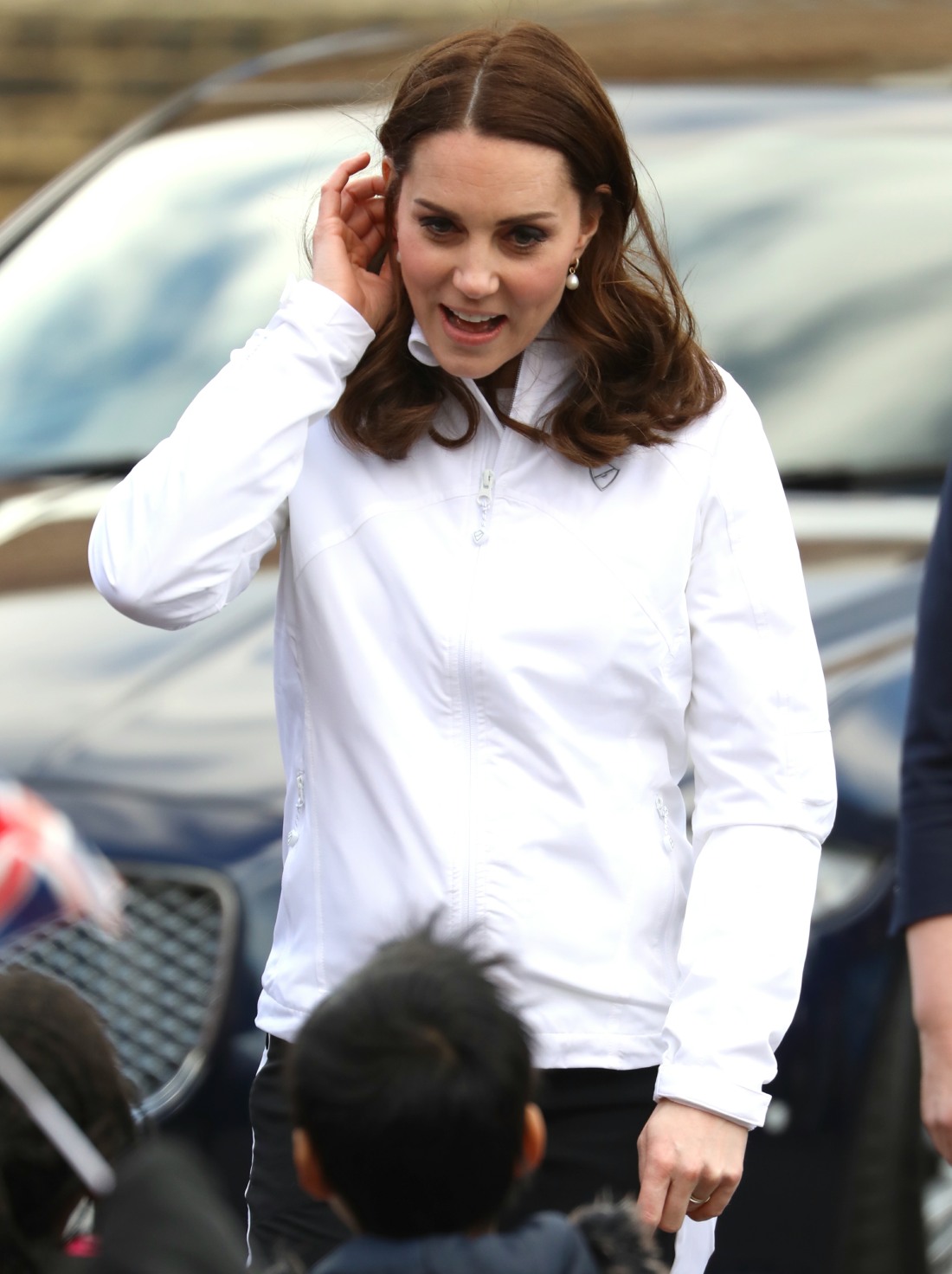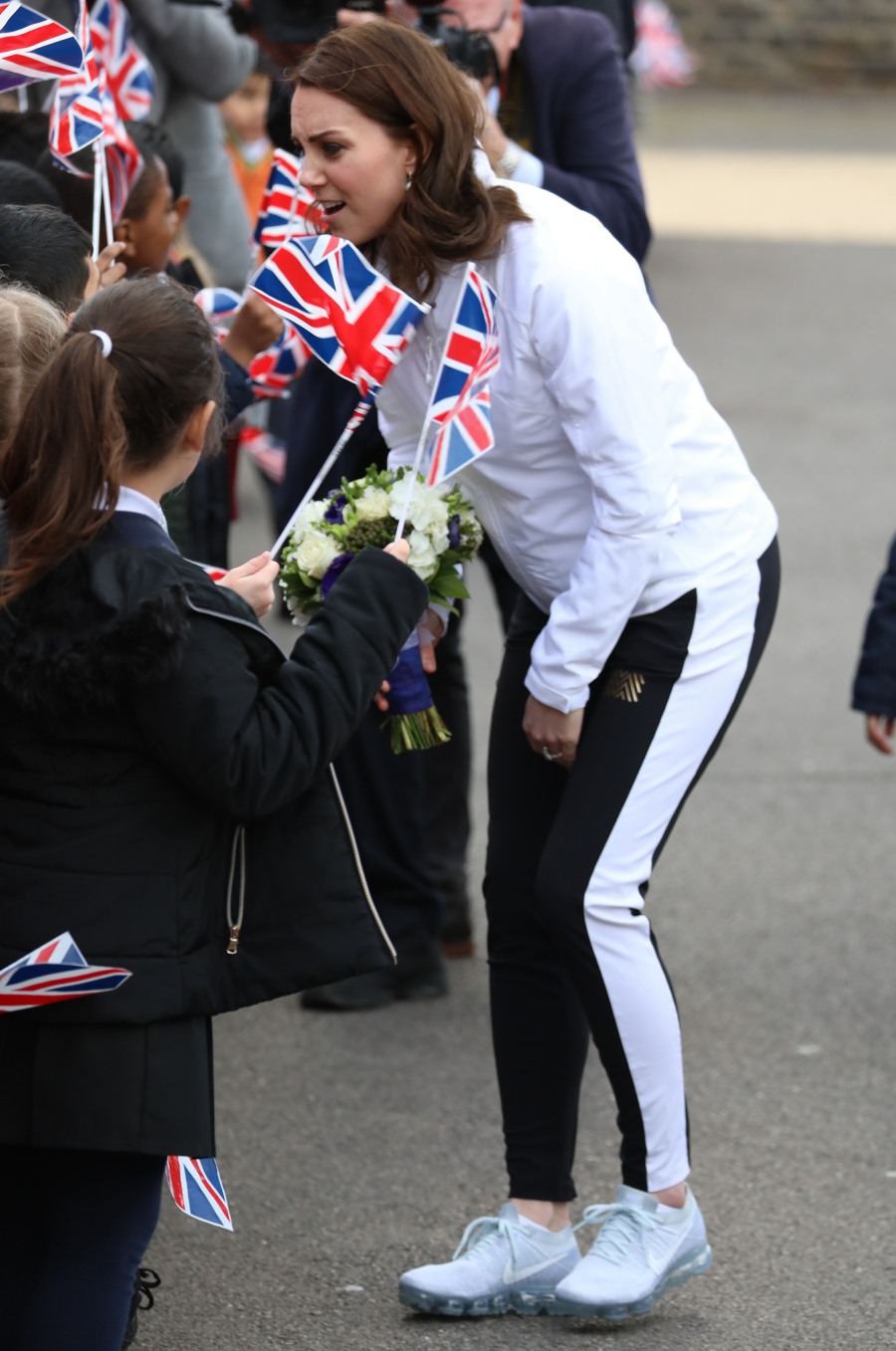 Photos courtesy of WENN.