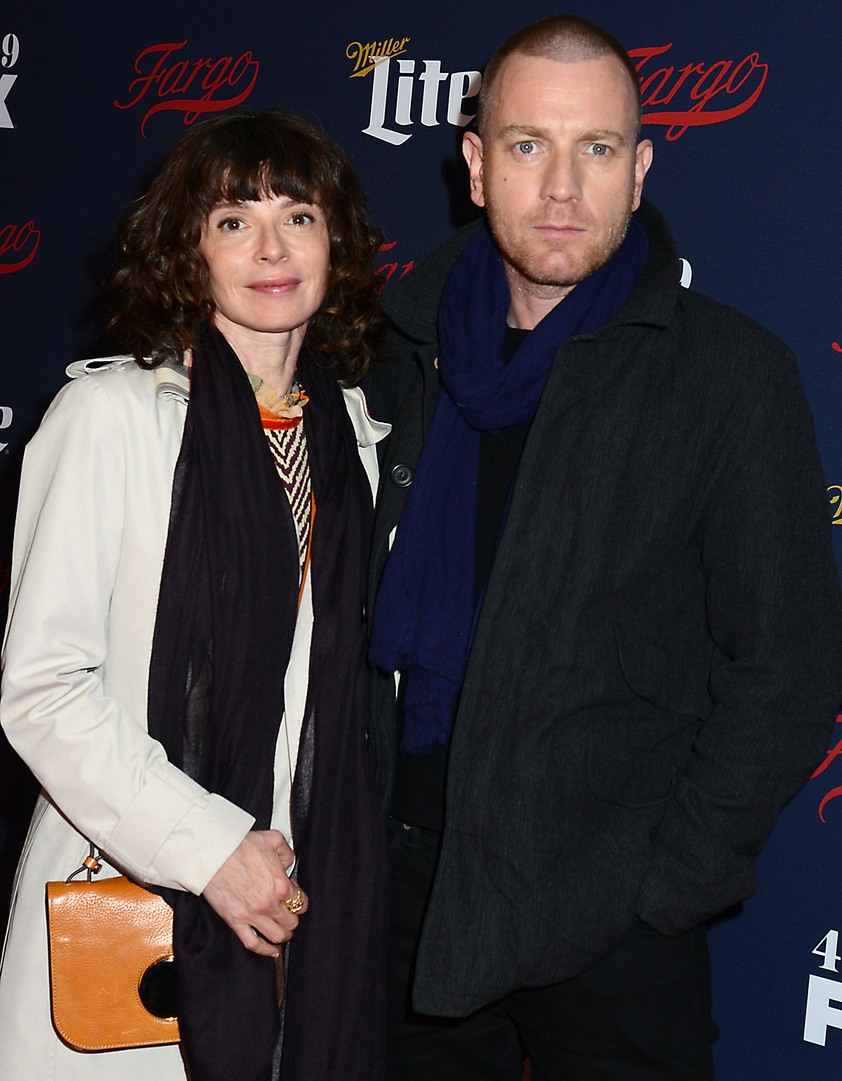 I understand the concept and the reality of open marriages, and God knows, it's none of my business. But I can't help thinking "why even get married if you're just going to have an open marriage?" And say you do get married and you quickly fall into that kind of bohemian, love-the-one-you're-with, both-spouses-getting-some-on-the-side open marriage. Say it works out and you are that rare success story for open marriages. Then why in the world would you leave your wife for a younger costar? Let me guess – you fell in love with her, your younger costar? And eventually you'll want to marry her and have an open marriage with her too. That's what I don't get: why even bother with the paperwork?
Anyway, we learned last fall that Ewan McGregor left his wife of 22 years, Eve Mavrakis. He left her for his Fargo costar, Mary Elizabeth Winstead. When Ewan won his Golden Globe, he thanked them both and maybe we're supposed to believe that everyone is being mature and bohemian and everything is fine. So why even bother to file for divorce, as Ewan just did?
Ewan McGregor has filed for divorce from his wife of 22 years. Ewan cites irreconcilable differences as the reason he wants to end his marriage to Eve Mavrakis. McGregor, repped by attorney Fahi Takesh Hallin, wants joint custody of the couple's 3 minor children. Eve, whose lawyer — disso queen Laura Wasser — filed her answer at the same time, is asking for sole physical custody with visitation going to Ewan.

McGregor says in the docs he's willing to pay spousal support. As for property … our sources say there is no prenup so the assets should be evenly divided. The date of separation is listed as May 28th of last year.

News of Ewan and Eve's split hit in October … with reports saying the two had separated as early as May. The announcement came shortly after pics surfaced of Ewan kissing his "Fargo" co-star, Mary Elizabeth Winstead, at a London cafe.
Eve is generally pretty quiet – she's not one of those celebrity-wives who fashions a secondary career out of being married to someone famous. She doesn't give interviews, is what I'm saying. So it's odd to me that Eve released a statement after the divorce filing, saying: "It's disappointing and upsetting but my main concern is our four children are OK." Says so much with so little. She's basically telling us that this is his call, that he left her, and that this is what HE wants. More evidence: Ewan and Eve's teenage daughter Esther is singing sad songs about betrayal about and to her father. Basically, Eve and the kids don't get why he suddenly had enough of the marriage and family life. It all just feels like… a midlife crisis, right? He's 46 years old. He already has a bunch of motorcycles, so he couldn't scratch the midlife crisis itch that way. So he did this.
Embed from Getty Images
Photos courtesy of Getty, Pacific Coast News.