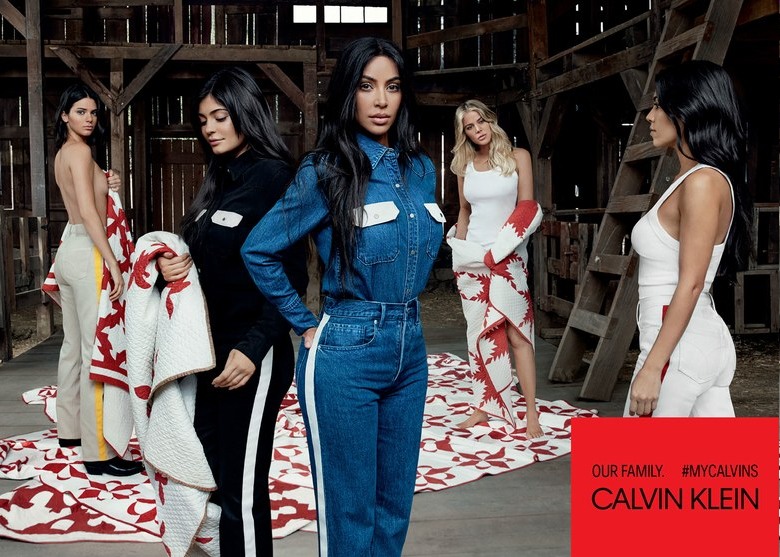 I believe in a lot of dumb conspiracies. Over the weekend, I was still trying to put the pieces together of the Rand Paul-neighbor conspiracy, which surely involves Obama and chemtrails. But one conspiracy that I can't get behind is basically every conspiracy about Kylie Jenner – everything from "she's not really pregnant" to "she was pregnant but she was Kim's gestational carrier" to "it's all for ratings!" Kylie is a dumb kid who didn't use protection, and she got pregnant. It really is that simple. What's slightly surprising is that Kylie has been in hiding ever since the news came out – no selfies of her body, few pap strolls, etc. But now Kylie and her sisters star in the latest Calvin Klein campaign. And so there are new conspiracies about how she's hiding her bump. Again, this isn't a conspiracy – she likely has body dysmorphia and she doesn't want to be seen "looking pregnant."
Designer/CK creative director Raf Simons is doing an "Americana" theme this year and what's more American than the Kardashian-Jenners? Vogue had a lengthy write-up about the Kardashian-Jenners starring in this global ad campaign shot by Willy Vanderperre. Calvin Klein got them in a barn (!!!) and basically these images are terrible. All the sisters look like lifeless mannequins. From Vogue:
That sense of adventure and togetherness was at the crux of the campaign, shot by Willy Vanderperre, at a secret location in Los Angeles. The images portray the sisters posing together in a barn-like setting, and its focus on family unity is what drew the sisters to the idea. "As sisters, we talk to each other all the time," adds Kourtney. "We're definitely a modern family, and Calvin Klein embodies Americana."

The Kardashian-Jenner family are just the latest in Calvin Klein's new family-oriented jeans and underwear campaigns, which have been rolling out on social media since November. The first was a group of artists including Kelela and Dev Hynes picked by Solange Knowles; the second, the A$AP Mob; and the third were Kaia and Presley Gerber. Every campaign was shot in the same rustic local with Calvin Klein's patchwork blankets also featured. The multi-month roll out—and A-list stars—is a new tack for the Calvin Klein brand at large, which previously issued just two big seasonal campaigns.

"Raf had this American vision in a barn with my family," says Kim, with Kendall adding, "Everything we wore, the ranch where we shot it—it was all iconic."

Khloé, who was pregnant while shooting the campaign, hopes the new campaign will ultimately shed light on the family's authentic dynamic. "The bond we share is infectious," she says. "Even though we pick on each other like normal siblings, we are each other's biggest supporters . . . I want people to see unity, loyalty and strength. We're a mix of everything, and I think family is the ultimate American dream."
Are the Kardashian-Jenners really the "ultimate American dream"? They're financially successful and famous, which is what counts in their world. But let's face it: their lives often play out like Kris Jenner literally made a Faustian bargain.
Never Have I Ever with #MyFamily #MyCalvins @CalvinKlein pic.twitter.com/F8eJqXMKZT

— Kim Kardashian West (@KimKardashian) January 22, 2018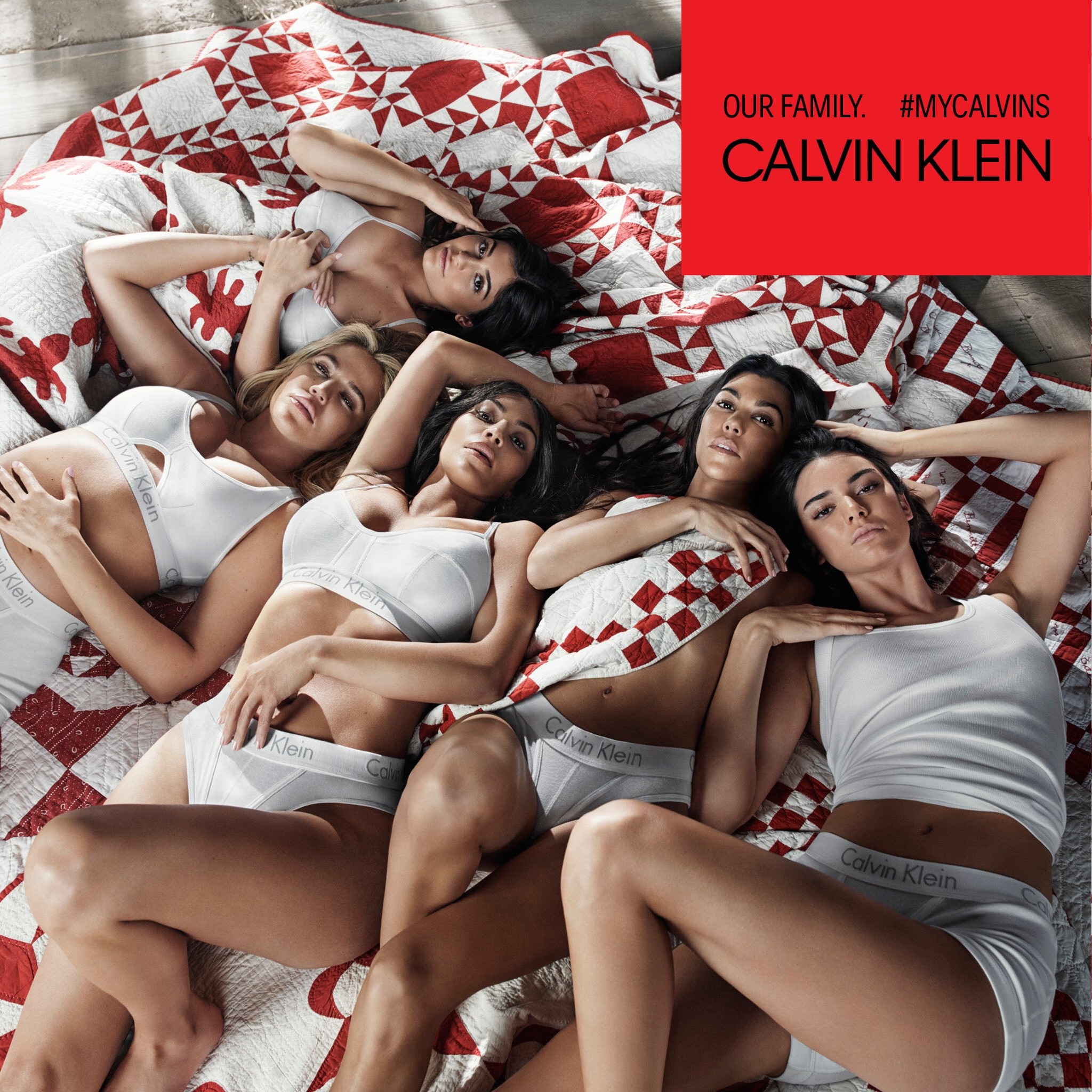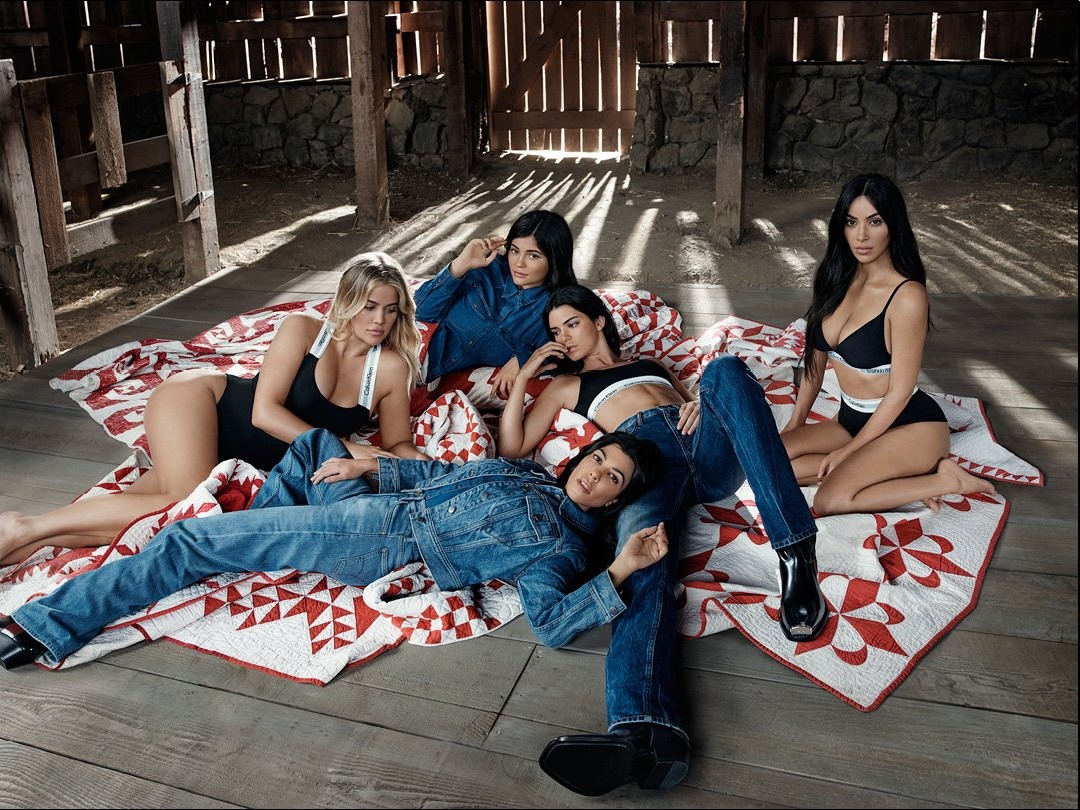 Ad images courtesy of Calvin Klein.