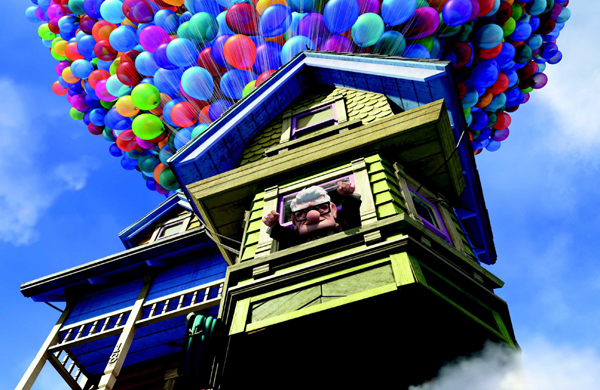 I wish this story was just one of those made-up e-mailed stories that sound too heartwrenching to be true, but it's not and I'm sitting here trying not to cry too hard. A 10 girl year-old dying of vascular cancer wanted to badly see the new animated film Up. A representative from Pixar came to her home in Huntington Beach, CA with the unreleased DVD and some plush figures and gifts to personally screen the movie for her. She was able to see the movie with the help of her mother, who described the scenes to her because her eyes were closed she was in so much pain. Colby Curtin then passed away several hours later with her family by her side:
Colby Curtin, a 10-year-old with a rare form of cancer, was staying alive for one thing – a movie.

From the minute Colby saw the previews to the Disney-Pixar movie Up, she was desperate to see it. Colby had been diagnosed with vascular cancer about three years ago, said her mother, Lisa Curtin, and at the beginning of this month it became apparent that she would die soon and was too ill to be moved to a theater to see the film.

After a family friend made frantic calls to Pixar to help grant Colby her dying wish, Pixar came to the rescue.
The company flew an employee with a DVD of Up, which is only in theaters, to the Curtins' Huntington Beach home on June 10 for a private viewing of the movie.

The animated movie begins with scenes showing the evolution of a relationship between a husband and wife.
After losing his wife in old age, the now grumpy man deals with his loss by attaching thousands of balloons to his house, flying into the sky, and going on an adventure with a little boy.

Colby died about seven hours after seeing the film.

With her daughter's vigil planned for Friday, Lisa Curtin reflected about how grateful she is that Pixar – and "Up" – were a part of her only child's last day.

"When I watched it, I had really no idea about the content of the theme of the movie," said Curtin, 46. "I just know that word 'Up' and all of the balloons and I swear to you, for me it meant that (Colby) was going to go up. Up to heaven."

Pixar officials declined to comment on the story or name the employees involved.
[From OC Register via Fark]
There is more on The OC Register about Colby's last day if you can handle it. It was all a little too much for me and I'll be hugging my kid harder today. Up is not yet out in Germany where I live, but I'll definitely see it with my family when it's available. I heard the director interviewed on NPR's Fresh Air and was very impressed with how he described the film's content and how thoughtfully it was made. Pixar deserves a lot of credit for coming through for Colby and her family and it must mean a lot to them at this difficult time.
Here's a trailer for Up: