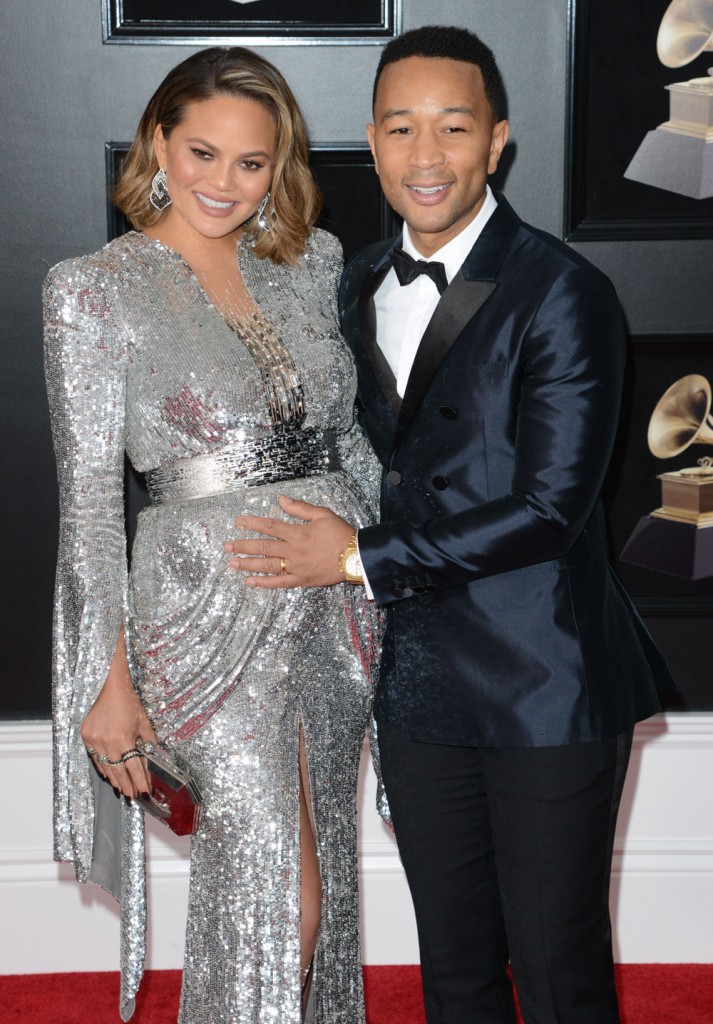 Chrissy Teigen was in a silver metallic Yanina Couture gown at last night's Grammy's with draping that kind of camouflaged her pregnant belly from the front. She kept cradling it, which often looks ridiculous in photos but you can't always tell from certain angles when a woman is pregnant. Chrissy is hyper-aware of her image, so she probably doesn't want photos when she's pregnant to ever be used of her when back to model shape (two months later). Ryan Seacrest asked Chrissy and John Legend about Chrissy's post complaining that their contractors made them go for a day without a toilet. (They were getting their plebe manual toilet taken out and a Japanese toilet/computer bidet put in.) Chrissy is pregnant so she probably needs to go immediately and it must have been a hardship for her to walk a few feet to the next bathroom in their mansion. (I phrased that mean, but it's true.) Chrissy confirmed this to Ryan by saying that she peed herself. That's Chrissy, that's her schtick and I imagine that's how she landed that McDonalds commercial we kept seeing last night where she got burgers for people at a fictional celebrity awards ceremony. I kept thinking that John Legend must have been too expensive to hire for that too because we never see Chrissy at events alone. She wouldn't be going if it wasn't for John, which she knows and admits. Also, she confirmed on social media that she's having a boy. I'm sure we'll hear lots more about that soon. Also, as annoying as Chrissy can be, she's kind of perfect with John and I would be so upset if they ever split.
Chrissy wore Jonathan Simkhai to the Clive Davis party. This is a little tacky with that pattern and those cutouts, but for Chrissy it's not bad.
Here's Hailee Steinfeld in a white Alexandre Vauthier column gown with killer purple boots, also by Vauthier. You know how everyone was freaking out over those $10k YSL crystal boots? I think that these boots are hotter than those. The Fashion Court has a photo of the boots as intended by the designer with that same dress. Gorgeous! Her makeup was lousy though. I kept thinking how beautiful she looked on camera and how much better she would look with more conventional makeup.
Presenter Sarah Silverman looked silly with that giant hair in a black prom dress by Maggie Marilyn with 90s tights and boots. The theme of the night was nostalgia though (Bruno Mars and Cardi did it best!) plus she's a comedian, it works.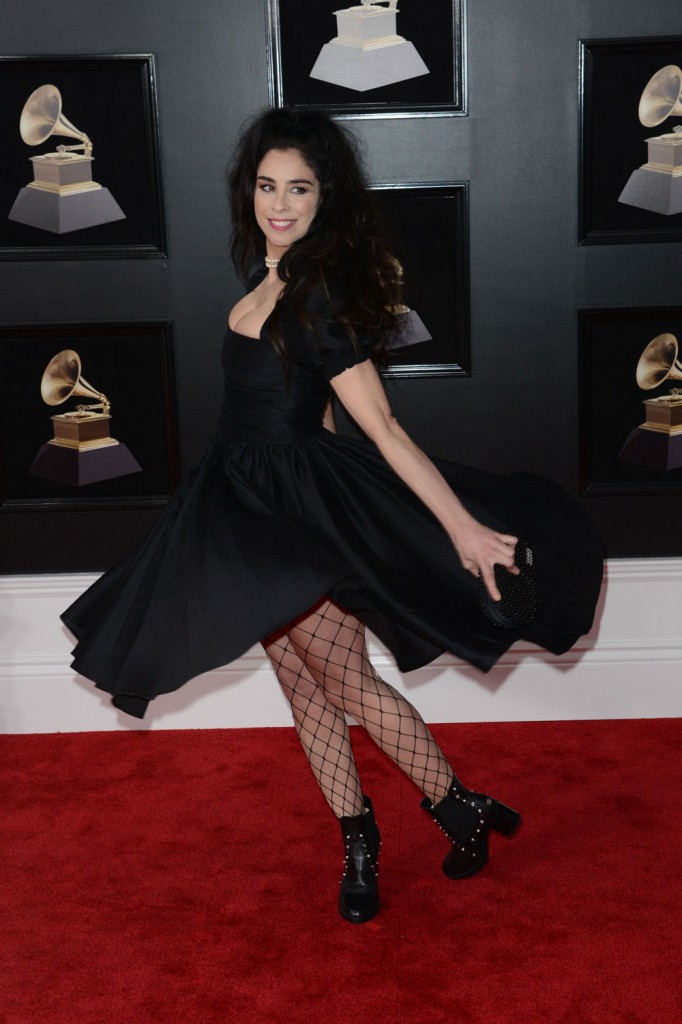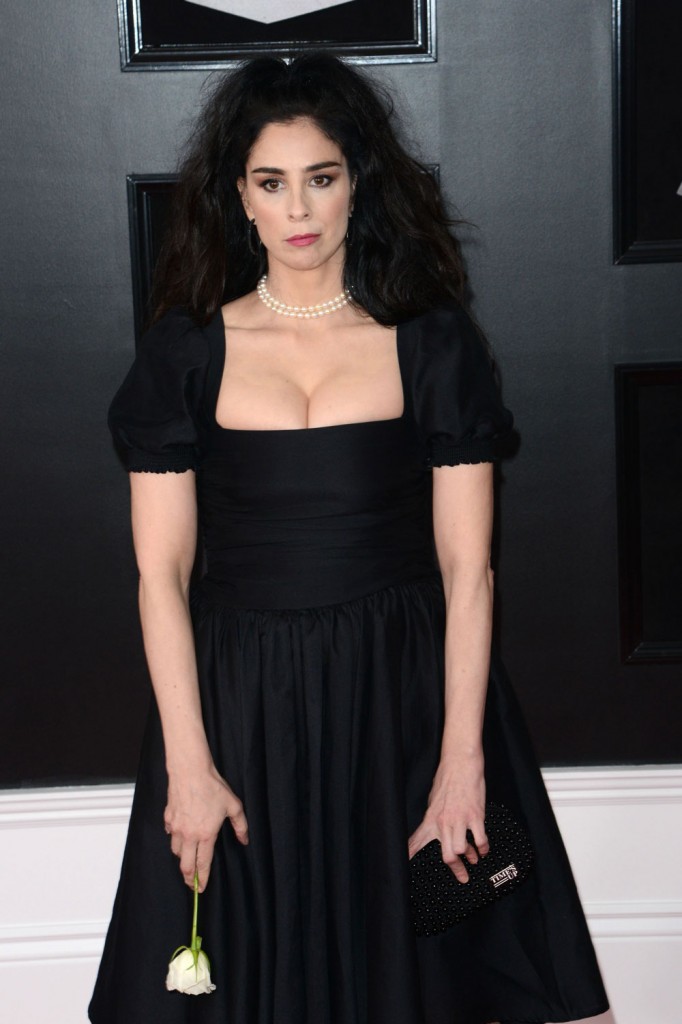 Miley Cyrus looked amazing in a black velvet Jean Paul Gaultier jumpsuit featuring a little half capelette with some tassels and crosses. This is beautiful! Check out her shoes though. Those glitter heels are to die for but her toes are hanging off the sides. Miley performed Tiny Dancer with Elton John, which was one of the more memorable performances. The Grammys are like The Oscars, they're bloated, they're more industry-focused than entertaining, and it's hard to watch the entire thing.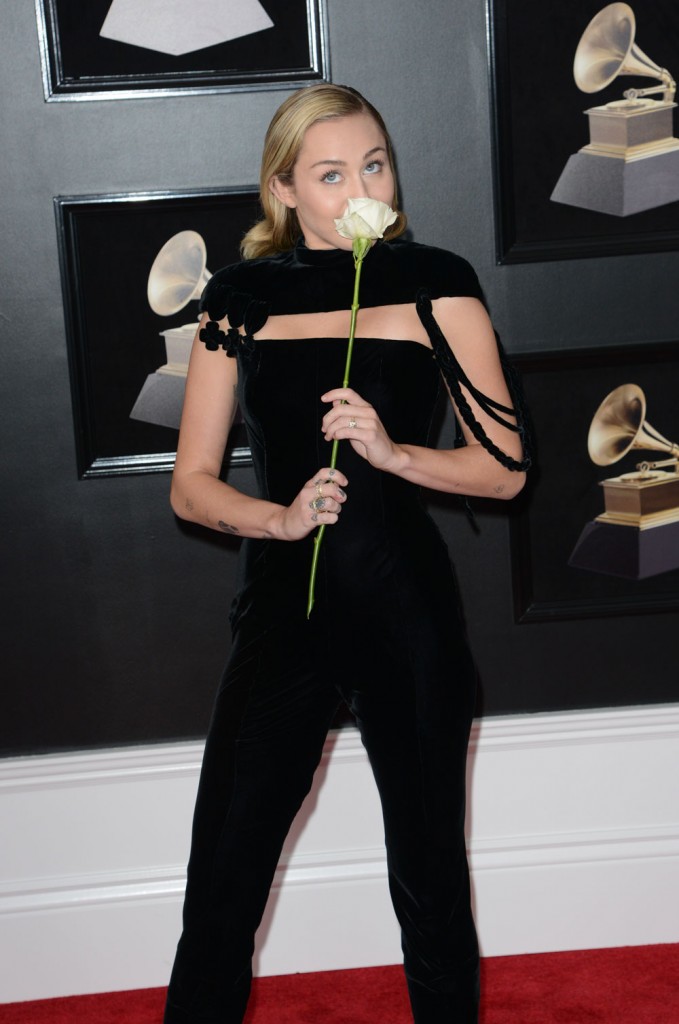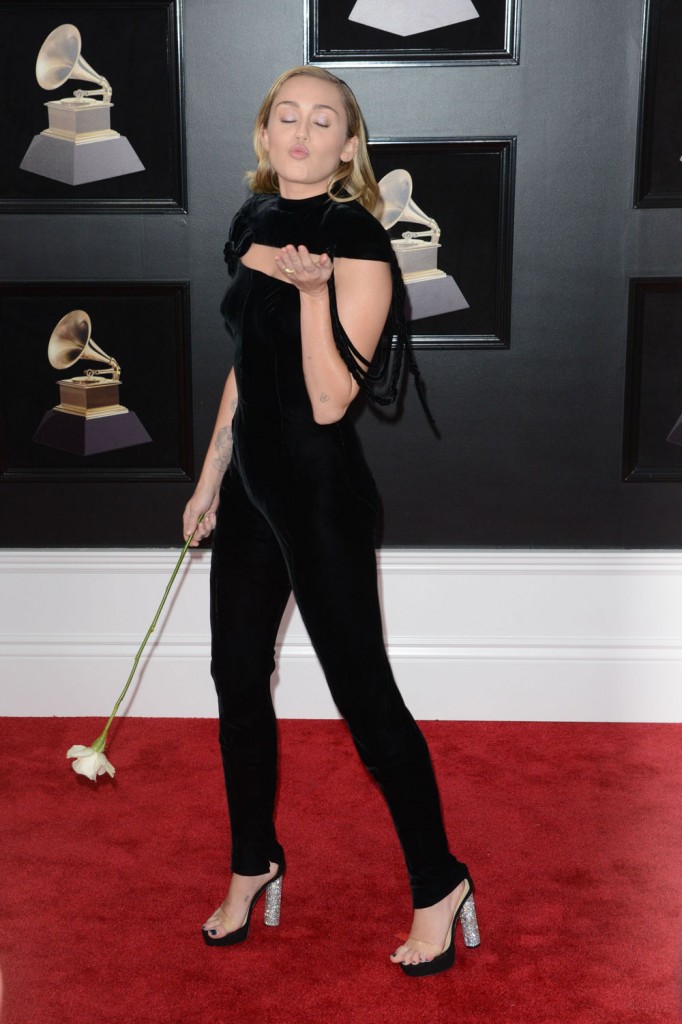 Here's Alessia Cara all cool and casual in a black pantsuit with a white t-shirt and white Converse. I wear my white Reeboks with so many outfits and I thought this was so cute. Her styling is really the star here. Alessia won Best New Artist (she's new?) and she also performed with Logic and Khalid to raise suicide awareness. You can watch a clip from that performance on JustJared. I was asleep by then. Logic gave an incredible message to the sh-thole countries about how we're a nation that loves and celebrates immigrants. All credit to these artists for showing that we care and that we're not going to stop caring. Sometimes I get overload and just want to shut news about our orange overlord, but when artists use their platform like this it makes a difference, and it's heartening.
photos credit: WENN and Getty