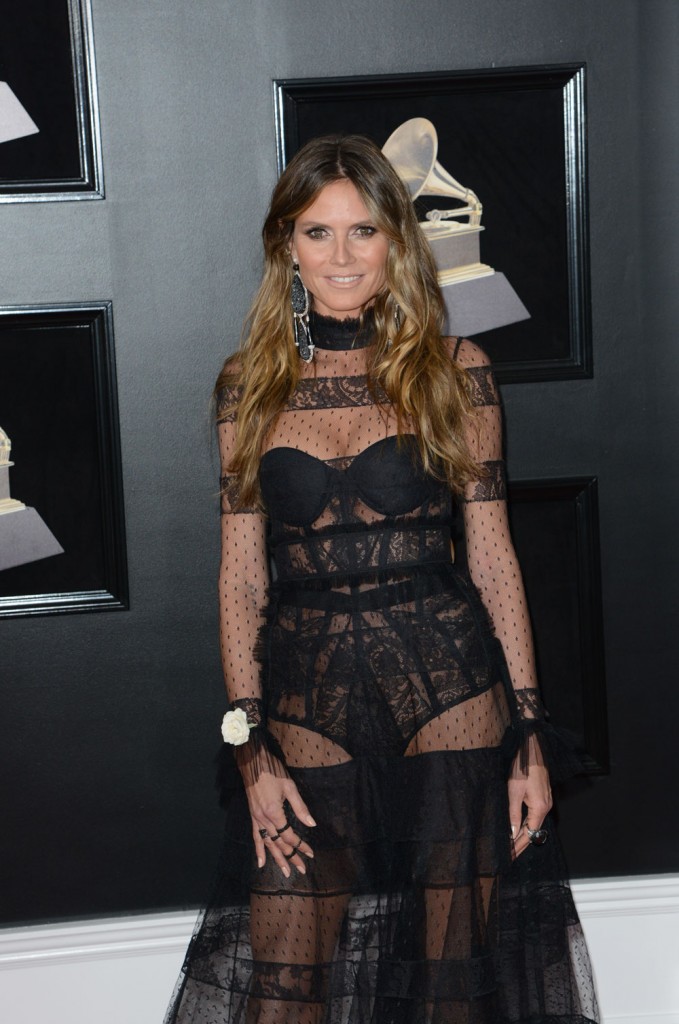 Heidi Klum knows that the more ludicrous her fashion the more we'll cover her, and the more she'll get consistently invited to these events, rinse and repeat. I mean, it's telling that Heidi was at the Grammys but that her ex husband Seal, who is actually in the music industry, was not. (Did you hear about the investigation into Seal allegedly sexually battering his neighbor? Awful.) Open up these photos of her in this Ashi Couture gown and if you're like me you will laugh to yourself. This is a corset dress with polka dot mesh over it accented by lace stripes and ruffled trim. That's hilarious, who would even think of putting all that crap together on one gown? Plus her makeup was so muddy and cakey, it's like she just does not care at this point.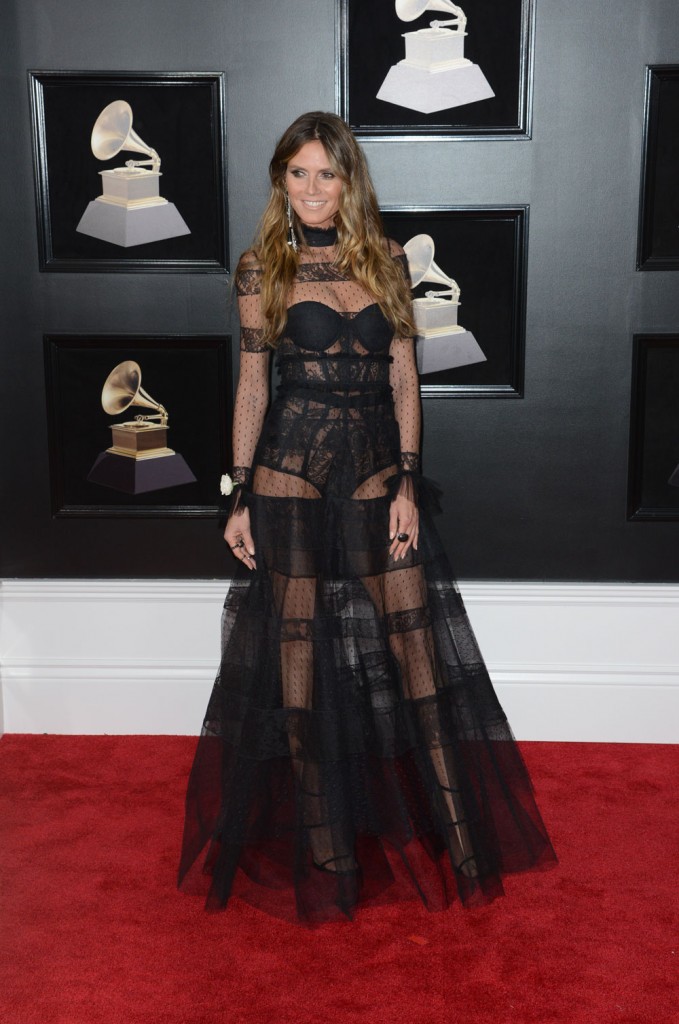 Compare Heidi with the queen here, Cyndi Lauper, looking every bit a royal rock star in this Moschino suit. Cyndi was part of the ensemble performing "Praying" along with Kesha last night. You can see that here. Check out her platform heels. She's such a badass.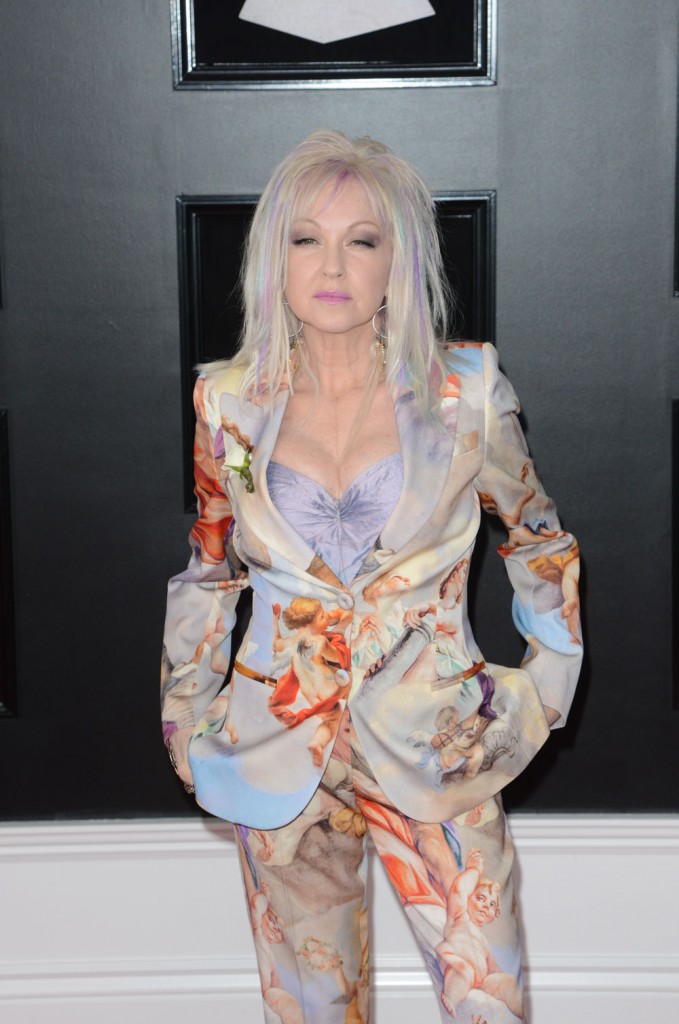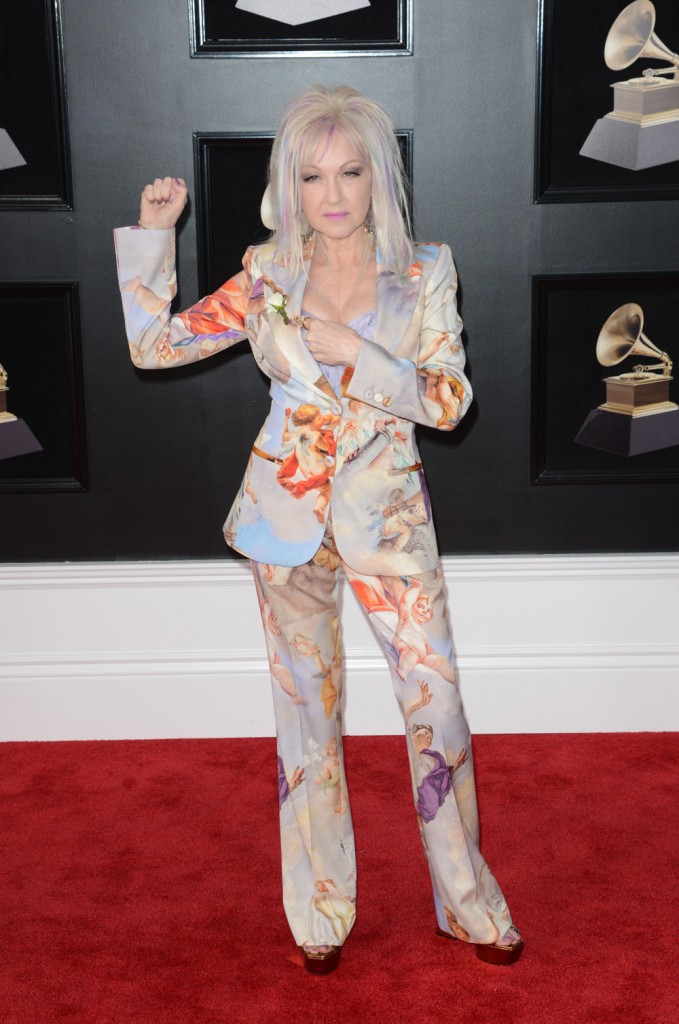 Julia Michaels was part of the "Praying" performance as well. She was nominated in the New Artist category, which went to Alessia Cara, and for Song of The Year, for "Issues," which went to Bruno Mars for "That's What I Like." (I'm ok with that.) I'm going to be honest I didn't know her prior to last night as I don't follow pop music like I should. Still I was so impressed with her on the red carpet during her interview with Ryan Seacrest. It wasn't her fashion, her Paolo Sebastian dress was mediocre, it was how sweet and genuine she seemed. I know who she is now and I'll be paying attention to her.
Andra Day was in a pink Victoria Hayes dress with red trim accented with a beehive. This is Grammys glam and I love it! She looks like a goddamn cartoon and it's amazing.
Last night there were tributes and truly heartfelt moments, but the ceremony was so long that the performances didn't have the impact that they should have. I also think, like Kaiser mentioned, that Kendrick Lamar set the bar too high to start. When his dancers started falling down dead with gunshots in the background I started crying. I'm getting teary just remembering it. So when Maren Morris, Brothers Osborne and Eric Church covered "Tears in Heaven" as a tribute to the Vegas shooting victims (all of these artists performed that terrible weekend) it wasn't as powerful for me as the handwritten tiles in the background for each of the victims. Imagine a photo reel behind them or video clips from the victims' lives. I kept staring at the tiles and thinking of the people who died at the concert.
Maren also did that pre-recorded video that was just a Target ad, "The Middle," with Zedd. It was bizarre. Her red carpet dress last night was Julien Macdonald and it would not have looked out of place on Heidi Klum, nor would that terrible overdone makeup.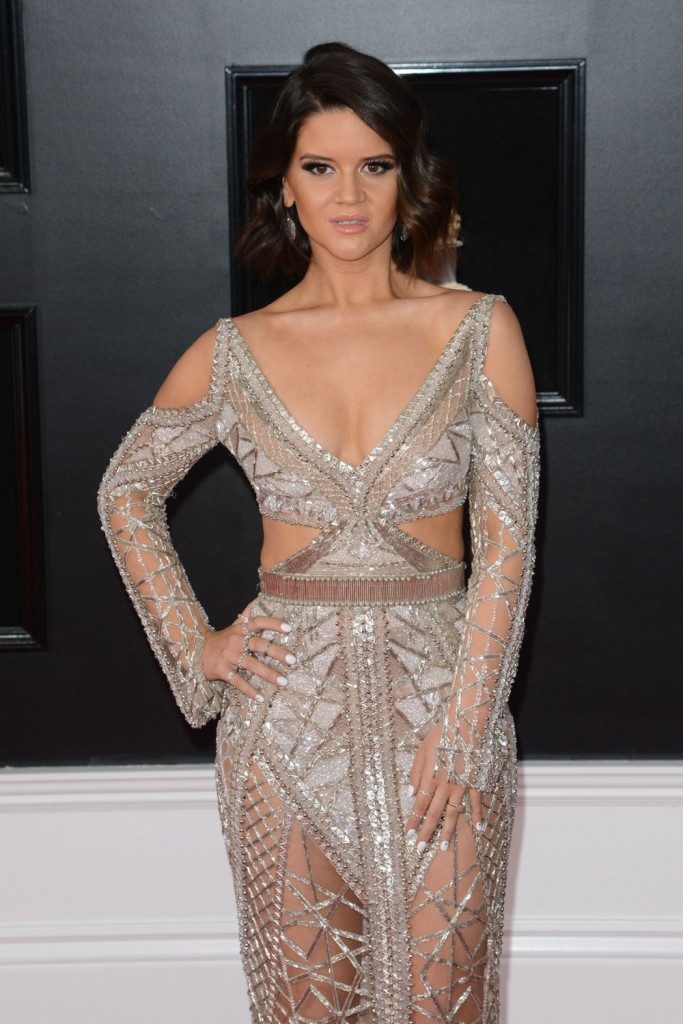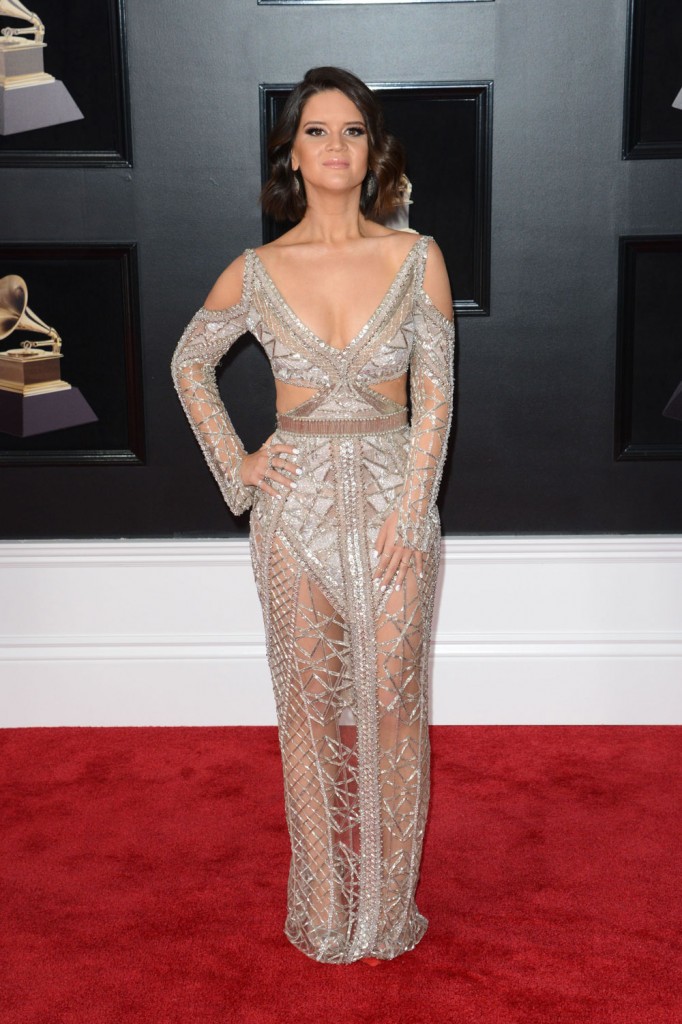 photos credit: WENN and Getty