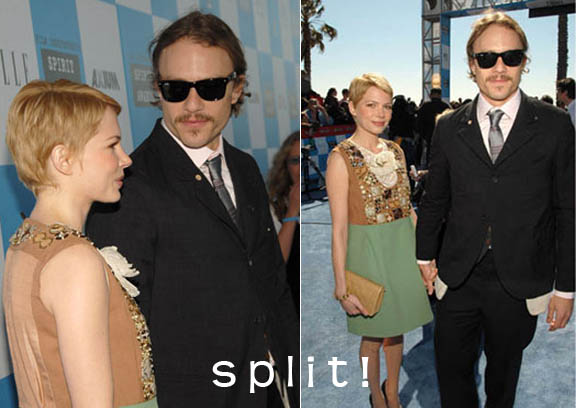 Heath Leger and Michelle Williams lead a very low-key lifestyle in Brooklyn punctuated by the occasional annoying paparazzo who catches them going about their daily business with surly looks on their faces. They have a daughter who will be two next month, Matilda, and have been together for a little over two three years. There was a story first reported by DListed that they applied for a marriage license in Brooklyn, but it was never confirmed that there was an actual ceremony. They were spotted wearing what appeared to be wedding rings, but they could have been symbolic and don't necessarily mean they were legally married.
Now US Weekly is reporting that they split up "quietly and amicably" a few weeks ago:
A source close to the couple tells Us that Heath and Michelle "quietly and amicably split a few weeks ago."

"The relationship had been rocky recently. They tried very hard to make it work but finally decided to separate. They just grew apart."

The couple, who live in Brooklyn, NY and have a daughter, Mathilda, 23 months, met on the set of Brokeback Mountain in 2005.

"They have a beautiful daughter and they are both committed to being great parents."
[From US Weekly]
Heath and Michelle's reps haven't commented on their supposed split yet.
I guess in all those candids of them looking miserable they really were miserable. They must have had that in common though, and maybe what once brought them together slowly eroded their relationship until there was nothing left. It's sad when people break up, but they're not my favorite celebrities and I can't deny the schadenfreude I feel at hearing that they've broken up.
I'm interested to see if they really are married or not. Now that they're breaking up we'll probably get more details as the legal papers come out.
Heath Ledger is working on the Batman Begins sequel, in which he will play the role of Joker. Michelle Williams is looking busy lately too. According to IMDB she has four movies coming out next year, two of which she's finished filming. Maybe they were both so wrapped up in their work they didn't have time for each other and just drifted apart. Or maybe Heath was jealous that he wasn't getting as much work as her.
In the header image Heath and Michelle are shown at the Independent Spirit Awards in February, and on vacation a while ago in the photo below.