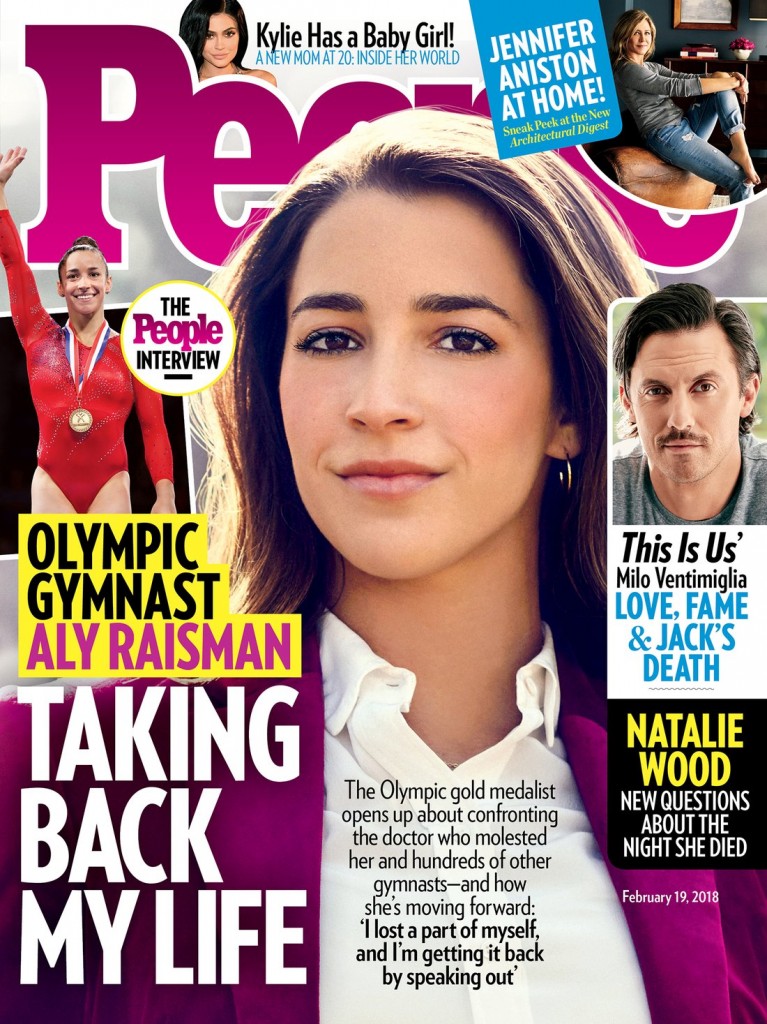 Horrible serial abuser Larry Nassar, a former doctor to the women's gymnastics team, is going to rot in jail for the rest of his life. So many of his victims spoke out at his sentencing. Some of them were violating gag orders imposed on them by USA Gymnastics after reaching settlements. USA Gymnastics isn't going to enforce those NDAs, because they must have realized how much worse it would look for them. The entire board of USA Gymnastics has stepped down in the wake of this news and the former coordinator for the team, Valeri Liukin, has resigned. I question whether these sweeping changes would have been made if Nassar's trial hadn't received so much press. If Judge Rosemarie Aquilina hadn't given his victims a platform, would there have been any changes in that complicit organization? They've been trying to bury this story and protecting a serial predator for years, so it's doubtful.
Olympic gold medalist Aly Raisman, who revealed last fall that she was abused by Nassar from the age of 15, covers the upcoming issue of People Magazine. Aly's interview is powerful and really rang true for me. I got a little teary and sick to my stomach reading her story actually. Here's some of what she said:
Aly Raisman is speaking out about the powerful statement she delivered during Larry Nassar's sexual abuse sentencing hearing last month.

"I felt very strong," the Olympic gold medal winner tells PEOPLE in this week's issue. "I felt like I had so much I wanted to say."

In a 12-minute statement that had many in the courtroom in tears, Raisman excoriated Nassar and took aim at the gymnastics organizations that she says "enabled" the former doctor to abuse hundreds of young girls and women under the guise of medical treatment. "The tables have turned," she told the court. "We are here, we have our voices, and we aren't going anywhere…"

Raisman acknowledges that coming to terms with what happened to her has been difficult. "You never really want to say, 'I was sexually abused,' " she says, "but you have to process it. You can't push it aside forever, which is what I did for a long time. I'm still processing it and coping with it."

One of the ways that Raisman copes with her past is to be a clear voice for change in the sport. "You lose a part of yourself when you're abused," she says. "I lost a part of myself, and I'm getting it back by speaking out."

"I'm just starting to realize how strong I am," she adds, "and I won't be silenced."
This quote particularly hit home for me. "You never really want to say, 'I was sexually abused,'  but you have to process it. You can't push it aside forever."
People did a good thing by putting Aly on the cover. Sure they're capitalizing on interest in the Olympics given that the Winter Olympics start this week, but they could have gone with yet another true crime cover, or some secondary celebrity whose show needs interest. Instead they gave Aly an opportunity to say her piece, and that will help other victims.
Nassar also worked at Michigan State University as a sports physician from 1997 to 2016. One of his victims, Larissa Boyce, revealed during his sentencing hearing that, after telling her coach that Nassar had abused her, the coach berated her in front of the other young athletes. She was forced to apologize to Nassar. This was in 1997, the first year of Nassar's employment, at the place where he went on to work for 30 years. USA Gymnastics and MSU will hopefully be held accountable for their crimes as well.
photos credit: People, Getty, Instagram/Aly Raisman