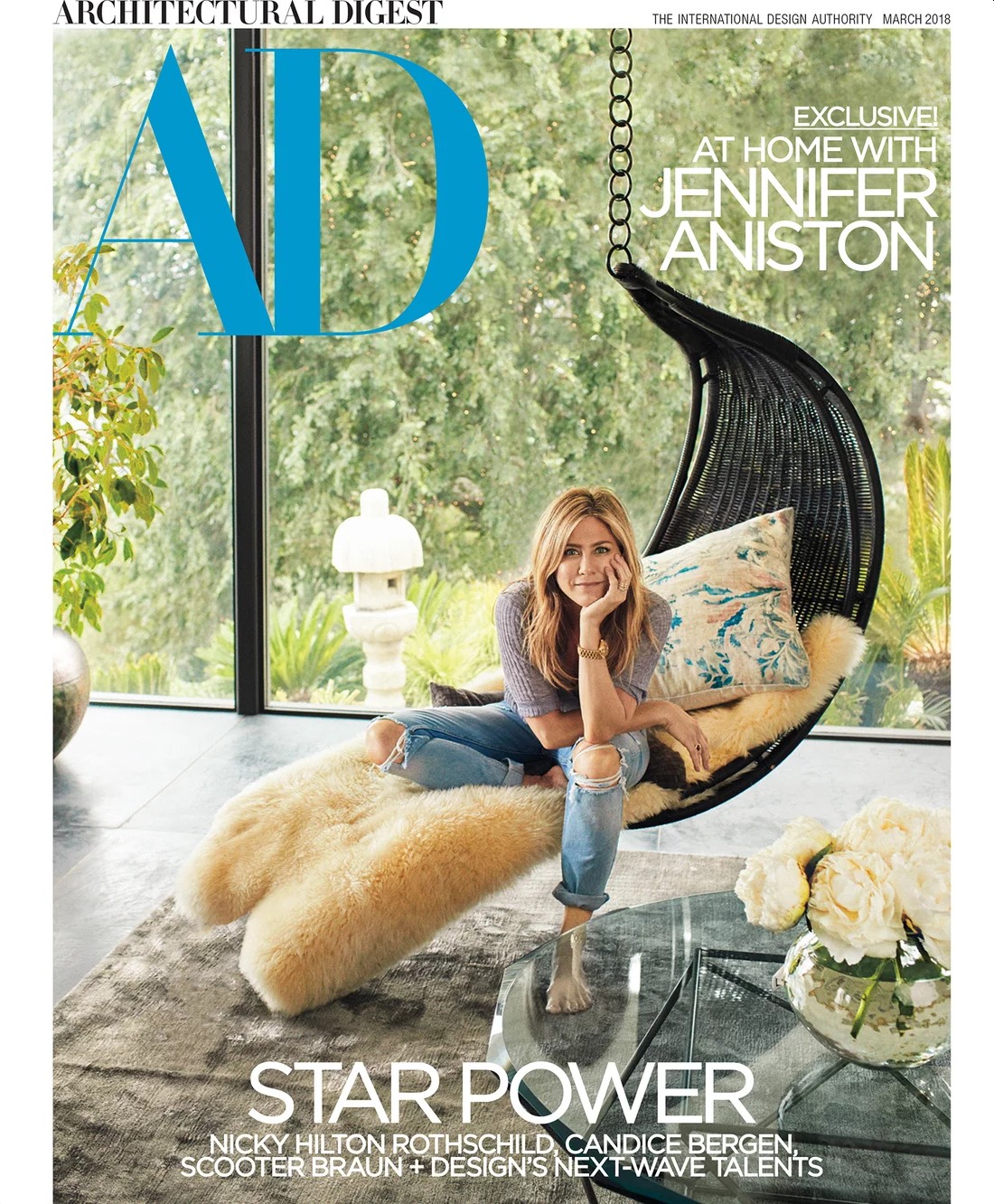 About nine days ago, Architectural Digest dropped their March cover: Inside Jennifer Aniston's Bel Air home – go here to see the photos. Aniston spent several years renovating the home from top to bottom, and this place feels a lot lighter and more modern than the '70s-style Beverly Hills shag-pad she featured in AD several years back. Jennifer was the one interviewed for the March 2018 AD piece, and she went on and on about her life with Justin Theroux in this magical abode. They chose this Bel Air home "as a couple" and they could clearly see their future together, spent in this home. Aniston told AD:
"There was a time when I thought there was something romantic about picking up and trotting off somewhere different every three months. Now I'm becoming more particular about the projects I take. I look around at my husband and my dogs and our home, and there's nowhere else I want to be."
A fairy tale with a dark underbelly, as it turns out. While Justin wasn't interviewed at all for the AD piece, he did consent to one photo where, hilariously in retrospect, he's seen storming out of the house, looking like he and Jennifer just had a fight. Almost like a shady preview of the split announcement which would come a little more than a week after AD published their new issue. And here's something else shady: Jennifer is already selling the house!
Jennifer Aniston and Justin Theroux are saying goodbye — to their marriage and their dream home. The couple announced in a joint statement on Thursday, February 15, that they called it quits on their two-year union, and now a source tells Us Weekly exclusively that the former Friends star, 49, is selling the Bel Air house where she married the Leftovers alum, 46, in 2015.

"She bought the mansion and it underwent extensive renovations. That is what Jen does: Buys houses, renovates and then sells for a huge profit," the insider says. "The mansion is going to be a pocket listing, and if it doesn't sell that way, it will be listed on the open market. She is ready to find the next project, and has been searching for a while."

Aniston recently showed off the midcentury abode, which she purchased in 2011, in Architectural Digest's March 2018 issue. She told the magazine that renovations became somewhat of a passion project over the years.
I mean… AD likely did the interview and the photoshoot a few months ago. But still. Jennifer knew that she was going to flip this property and she decided to use the thin veneer of a happy marriage to help her sell the property in what amounts to a paid promotion in Architectural Digest. To be clear, I don't judge Jennifer for flipping properties for a mega-profit. I judge her for knowingly painting this glowing picture of her happy forever home with her loving husband when she knew she was going to divorce her husband and flip the property. There are no fairytales, kids.
Photos courtesy of Architectural Digest.