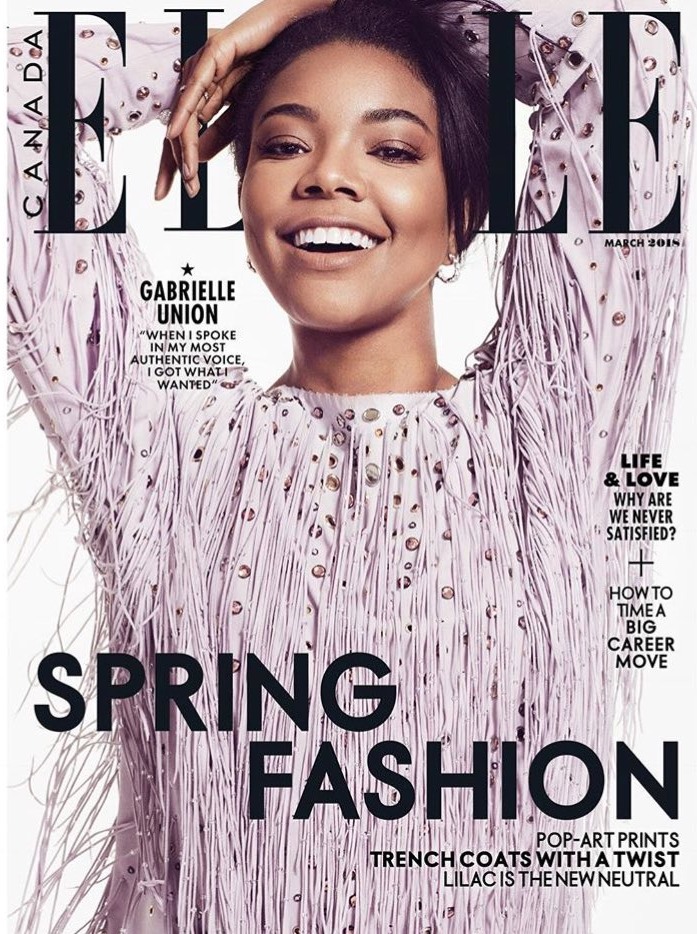 Gabrielle Union is an ageless 45 years old, and she's become one of the most educational voices in our current era of #MeToo and Time's Up. To be fair, Gabrielle was talking about all of this – sexual abuse, harassment, equality, the way women of color are treated in Hollywood – long before Time's Up was ever born. But Gabrielle has used this moment effectively to raise issues that, frankly, many white women would not have included in their discussions. Gabrielle covers the latest issue of Elle Canada and the full piece is worth a read, because she is excellent. Some highlights:
She still deals with post-traumatic stress from being raped at 19: "The way my dad looked at me after is still a nightmare. The look was: Damaged. Victim. Guilt. Fear. I was the kid you bragged about. I got great grades. Was the perfect athlete. Blah blah blah. And in that moment, I was damaged." After the assault, Union stayed in her house for a year. Now, at restaurants she prefers to sit facing the doorway, and when she goes shopping she plans out how to exit the parking lot in the most efficient way possible—including how many left turns she needs to make. "It's how my brain has been working for 25 years. Having a plan and a clear idea of what's to come—that's what brings me peace."

Whether she ever thinks she should stop talking about her rape: "No. No. It's a social responsibility, a duty, to say 'I survived, and this is how you can too.' That's just basic human decency. So it's not very brave."

Women of color in the #MeToo era: "If you're a woman of colour and you're seeing how people are responding to these disclosures from all these famous women and to the one black woman—who's an Oscar winner, Ivy-league-educated, on multiple magazine covers—he's like 'No!' If she's not believed, if her story came and went, what does that mean for you?"

The difficulty for women accusing coworkers of harassment or abuse: "I know many women—or knew, I should say—who complained about a co-worker, a producer, a director, who actually dared to have a production adhere to the nudity contract that everyone freaking signed…they were deemed difficult, bad eggs. When I say I literally never heard from them again, it's like they just fell off the face of the earth. I never heard from them again. Ever. It's what our industry, and the country, the world, does with women who dare to buck the system and ask for accountability. This is where real bravery comes in. Who's willing to stand up when you have everything to lose?"

Thoughts on money, and her stepsons: She and Wade have differing perspectives when it comes to money. Her stepson Zaire just turned 16, and she thinks his first car should be something along the lines of a Honda Accord. "A used one!" she says, with a grin. "My husband says he had to drive a hooptie [growing up] and he doesn't work this hard or sacrifice this much to put his kids in the same. But once we're not paying for their lives, what happens?… I went to school, worked and had an internship. I shopped at the 99-cent store! I had one-ply. That's right—I actually made contact with my butt. Because that's what I could afford."

She's stopped using her "special" non-threatening voice in meetings: "I was tired. My eye was twitching. They took too long to circle back to my opinion, and I lost it. I spoke my truth, but I was sure I really blew it and lost that deal." Plot twist: By the time her plane landed in San Francisco, they'd agreed to her terms. "When I spoke in my most authentic voice, I got what I wanted—I got what I deserved. And I'm 45. I think I've been in this business 22 years using that dumb-ass voice that I thought was helping me, and I'm sure it did at certain times. But I wonder how my career could have been different if I had let that real voice out."
"It's a social responsibility, a duty, to say 'I survived, and this is how you can too.' That's just basic human decency. So it's not very brave." Keep in mind that Rose McGowan's book is called Brave, and before Rose canceled her press tour, the tour was mostly about how Rose was the most brave, the first, the highest priority, etc. Again, I think Rose is dealing with sh-t the way she needs to deal with it and everyone has a different process. But it's just a reminder of how Gabrielle's process is about informing, educating and staying inclusive, and she remembers every day that she's not the only one.
As for the kid's first car… of course it should be something used and cheap (but safe). No 16-year-old should have a new, expensive car!! Your starter car should always be used, a hand-me-down or pre-owned or whatever.
Photos courtesy of Getty, cover courtesy of Elle Canada.