As you can see, the big news in Kardashian World is that Kim Kardashian dyed her hair pink. It felt like she had been that dumb shade of white-blonde for years, but in reality, she went blonde last fall and she just refused to give it up. A few days ago, she announced that she was "over" the blonde, and now she's gone pink. At first I thought this was a wig but there are photos of Kim arriving in Tokyo where her new pink hair looks especially unkempt, so I'm tempted to believe she really did dye it. Meanwhile, Kim spoke at a conference over the weekend and she chatted about the best and worst parts of being Kim Kardashian:
Being Kim Kardashian West has its perks — and its downfalls. Just ask the reality star herself. During a keynote conversation for Create & Cultivate's Los Angeles conference on Saturday, Kardashian West admitted to best pal Allison Statter and the gathered audience at City Market Social House, the one thing she dislikes about fame.

"When I just look like s— and want to go outside and eat a churro and not have anyone up my a–," Kardashian West replied when Statter prodded her to name her "least favorite thing" about being a celeb. Yet, there are still some definite perks. When asked her "favorite thing about being Kim Kardashian West," the 37-year-old said, "The free s—."

After some laughter, she elaborated, "No, the free trips. Free trips, free planes, free everything! I do love to share. When I get free stuff, I give it to literally everyone, family, friends."

And those trips also mean an escape for Kardashian West.

"Trips are usually what I do for gifts now," she shared. "Material things don't make me happy anymore, but experiences do. For my birthday, my husband [Kanye West] took me away to Utah to this hotel for two days and we slept the entire time. I think that was so much fun, and everyone just mentally needs to take a break."

Kardashian West opened up about a variety of topics, also revealing the reality show that made her want to share her own life on television.

"The Real World came out, it was like 1989," she said to Statter of the long-running MTV series. "And we were at your parents' house in your room and the Real World came on and I was like, 'This is it, I have to be on the Real World.' And I was like, 'Allison, let's make audition tapes when we turn 18 and let's send them into the Real World and you can be my manager.'" Continued Kardashian West, "It's all full circle because my production company is the same production company that produces the Real World, so it's pretty cool." She later added of the series, "I was obsessed. Something in my soul — I know this sounds cheesy — but I just wanted to be on a reality show," said Kardashian West.
In all honesty, I think it's difficult for the youngsters to understand how groundbreaking The Real World was to people my age and Kim's age. I was pretty young when the first seasons aired, and I remember being SO obsessed with the banality of their lives and even though they were just normal people, they seemed so glamorous. Of course, I never wanted to be on a reality show like that, I just thought their grown-up, young-adult lives were incredibly cool. Now that reality programming is the default, it's hard for young people to understand how groundbreaking it really was. As for the best part of Kim's life and the "free sh-t"… God she sounds so vapid. But it's a little bit funny that Kanye flew her to Utah and they just slept for two days, right?
This is what Kim wore to the conference, before she dyed her hair. This ensemble is so dumb and unflattering.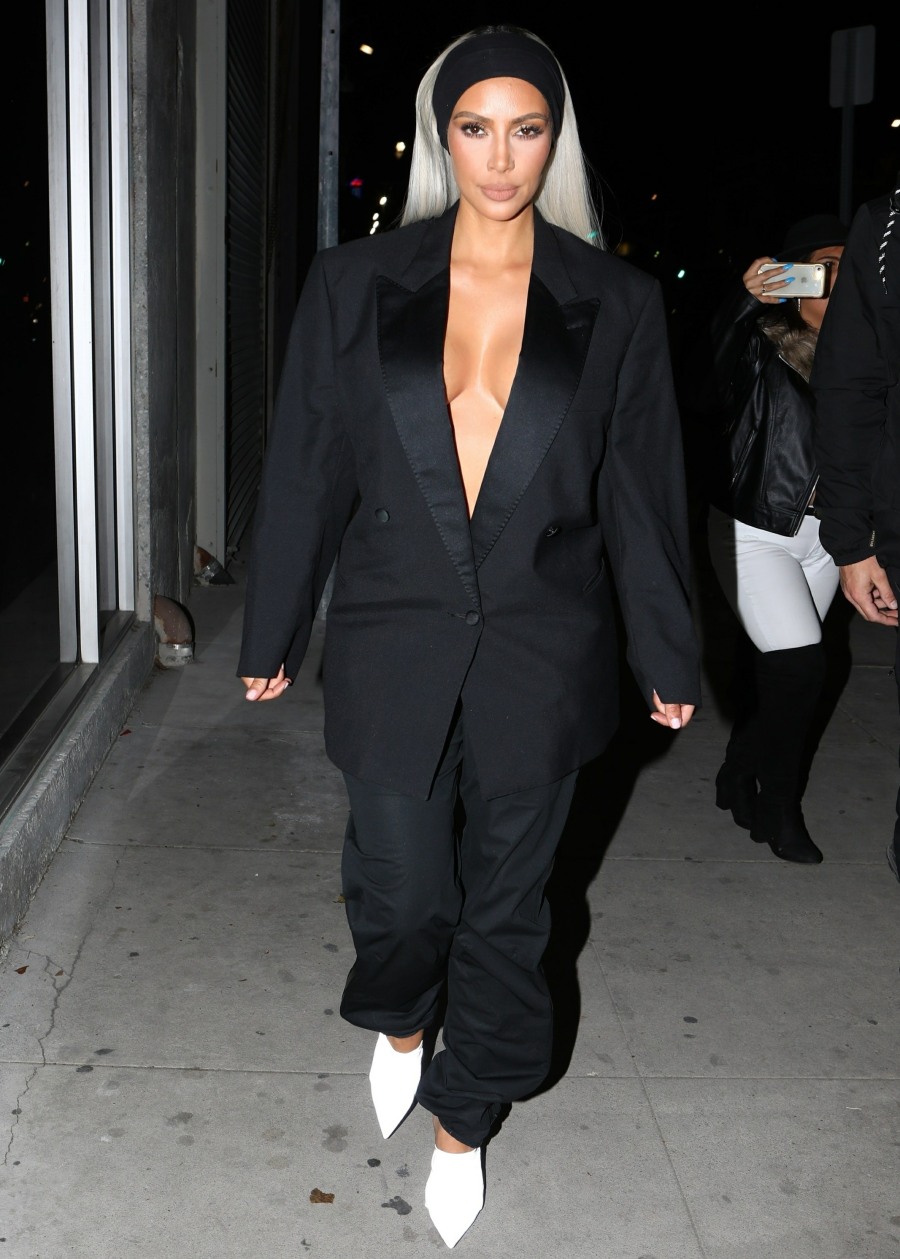 Photos courtesy of Backgrid.