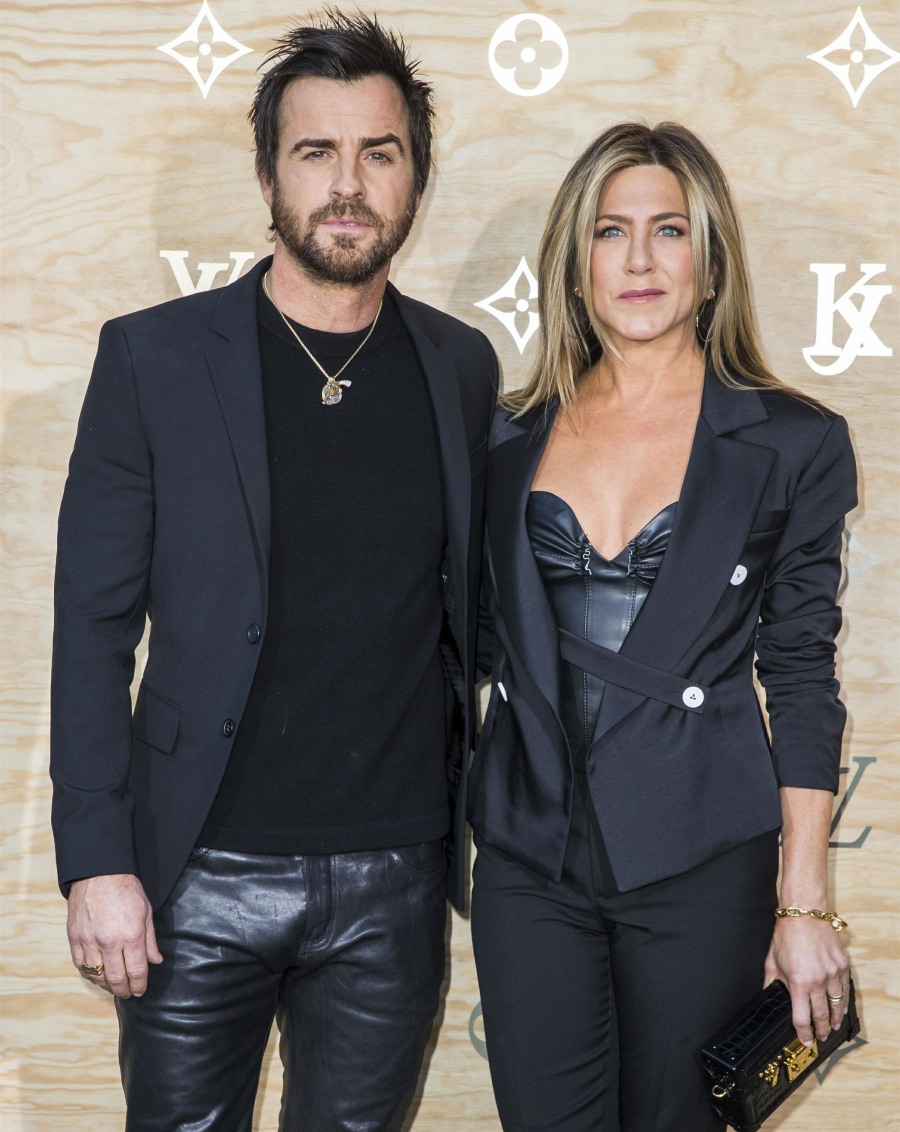 As it turns out, Jennifer Aniston and Justin Theroux's separation was just a one-week story, really. JustJen Drama blanketed the tabloids and weeklies last week, but this week… it seems like most people have moved on. The question, in my mind, is whether that's by design, or whether someone is actually irritated that the "Dumped Again Jen" narrative doesn't have more of a shelf-life. Since we know Justin and Jennifer didn't have any kids – although they allegedly "wanted" a baby – it seems like they are mostly fighting about their dogs.
In Touch is exclusively reporting the details of Jennifer Aniston and Justin Theroux's custody agreement for their dogs. Between them, the exes have four dogs: Dolly, a white shepherd mix, Clyde, a terrier, and Sophie, a pit bull mix, in LA, while Justin keeps another pit bull in NYC.

"They've always referred to them as their children, and it looks like Jen will keep the LA dogs with her and Justin will keep the pit bull in NYC. But it was the biggest bone of contention in the split," a source tells In Touch.

Another friend adds that Justin won't have to say goodbye forever: "They've made an arrangement for visitation."
Dolly, I know, is Jennifer's dog, full-stop. I think she even adopted Dolly before she even got with Justin, if I'm remembering correctly. The other dogs were brought in during the JustJen years and it seems like an equitable split. Plus, I bet the dogs prefer the spacious accommodations in Bel Air rather than a cramped apartment in New York.
Did you read this dumb story in People Magazine a few days ago? It's like a carbon copy of all of the dumb stories that are always written about Jennifer, rain or shine. Sources told People that Jennifer "has a huge group of girlfriends who make sure she isn't alone. Jen truly has the best friends. They are real friends that she has had for many years. They always support each other." Jennifer Aniston always has her goddess circle.
As for dogs… Justin Theroux went back on Instagram, after staying radio silent during Jennifer's birthday and the first week following the separation announcement. He posted this a few days ago:
Photos courtesy of WENN, Backgrid.