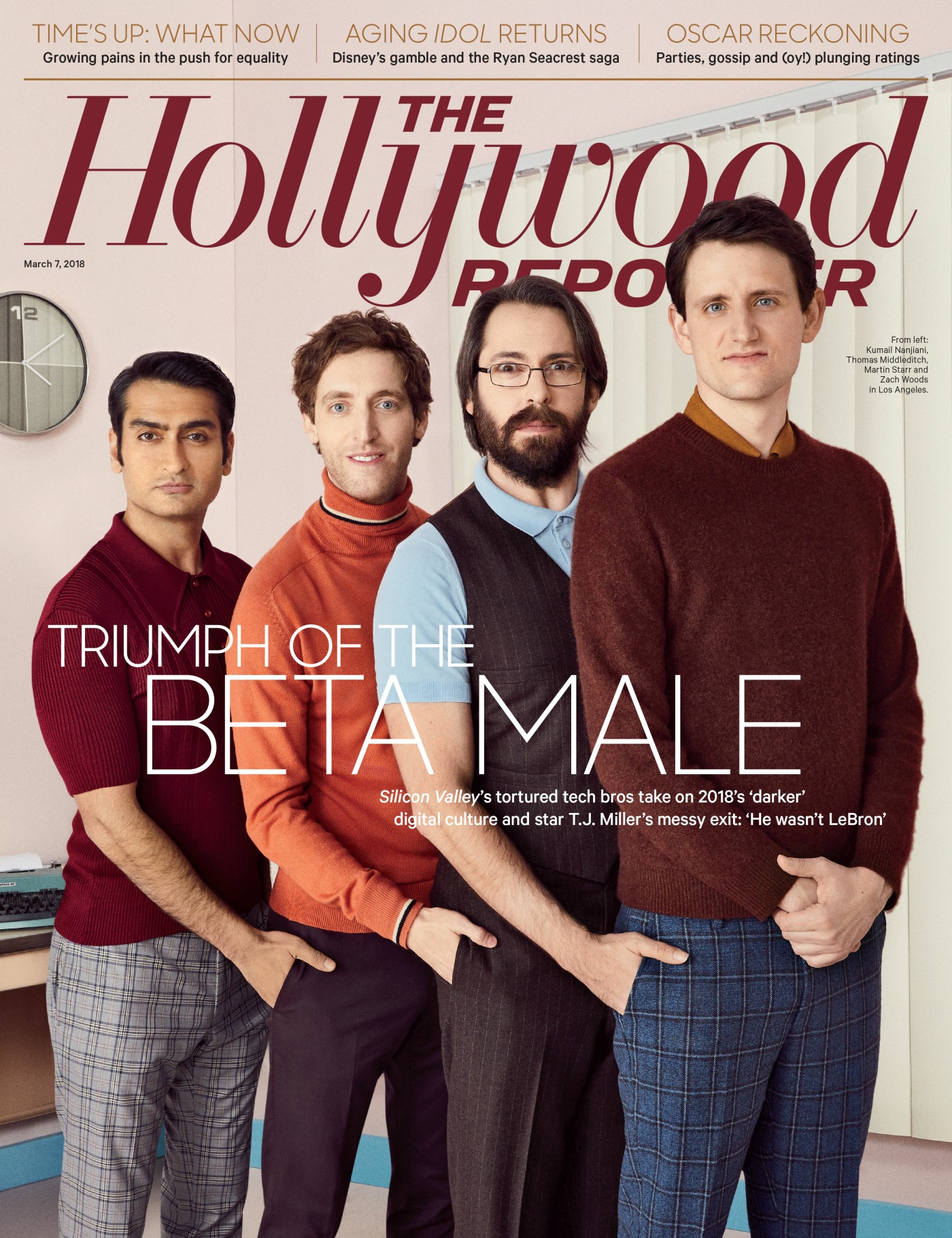 Silicon Valley is, I believe, a pretty accurate representation about what really happens within many actual Silicon Valley groups. Obviously, it doesn't represent the obscenely-wealthy-yet-clueless-about-real-life part of Silicon Valley, but the idea that these "(beta) bros" would actually exist in Silicon Valley right now, today, yes… I believe it. Just like I believe the show is just as messy, problematic, toxic and bro-culture-y as the real Silicon Valley. That's what the new Hollywood Reporter cover story is about – the success of the show, the growing pains, and of course, how TJ Miller exited the show in a garbage-fiery, self-defeating downward spiral of douchebaggery. You can read the full THR piece here. Some highlights:
Mike Judge, on what led to TJ Miller's exit: "There had been stretches when, multiple show sources say, he looked to have things under control, and others when he'd show up seemingly under the influence, if he showed up at all. 'There are a lot of different ways you can find out somebody doesn't want to do the show anymore,' says Judge … 'And it's not fun to work with someone who doesn't want to be there, [especially when] they're one of the main people and you've got however many crewmembers and extras and people who are [not paid as well] and they're all showing up before 7 a.m., and then are just like, 'Oh, OK, we're not shooting today.''"

More on Miller: "Table reads would start late as the cast and crew waited on the untamable actor, and when he did arrive he typically hadn't cracked open the script. Schedules would regularly have to be rejiggered, and sources from the set recount tales of Miller falling asleep between takes, leaving cast and crew to nudge him awake."

Yet more on Miller: "There was almost a danger to having him around," says one insider. "He was explosive, and there were moments where you'd go, 'Whoa, that's not where I thought that was going at all, but that was f–king awesome' … but it was a trade-off." In the end, all parties involved decided it was best if he moved on."

Miller's rebuttal: "In real life, I'm not always high like Erlich is. And this will blow your readers' minds, but I'm not high when I work because it gets in the way of the comedy. I also am not a guy who's blackout drunk, bumping into things on set. … What was occurring was I was out doing stand-up all the time, even if it meant I only got three hours of sleep. So, the thing I have a problem with? It's pushing myself to do too much."

Alec Berg, on the show without Miller: "These guys are the Golden State Warriors of comedy," Berg says … "So, it's like, yeah, we've lost Andre Iguodala but we still have Steph Curry and Kevin Durant and Klay Thompson and some other guy on the Warriors whose name I don't know. But I don't feel like we can't win championships anymore because we've lost …" He pauses there, and then rephrases, mixing his NBA superstars into a metaphoric cocktail: "T.J. wasn't LeBron."

Miller's rebuttal: "Oh, that's great. And it makes me like him more [because] he's so good at being an a–hole."

Judge, on critiques that the show is too white and male: "Well, if you're doing a movie about Nazi Germany, you can't [cast 50 percent people of color]. And if you're doing a TV show about tech that's satire, you can't do it." Judge has made his case before: If you're going to make fun of this world and the way it is, you have to show the way it is. "I don't think you do any service by pretending [Silicon Valley] is half female or half black," he adds. "And not to pin bouquets on ourselves here, but I think we brought some attention to the gender imbalance by doing this show."

Berg, on why the show won't address gender imbalance: "We certainly aren't like, 'Oh, let's not talk about that,'" says Berg. "We talk about it all the time. The lack of hitting it head-on just comes down to the fact that we haven't done a great job of finding the definitive satirical take on it."
Re: the gender imbalance on the show. I agree that it's realistic: most of the actual Silicon Valley people are truly bros (beta or alpha bros) and there are countless articles about the prevalent toxic masculinity of the real Silicon Valley. Perhaps a better representation for the show would be these beta bros dealing head-on with the alpha-bros who actively cut women down and refuse to hire women and treat women like garbage?
Re: TJ Miller… think about this… think about if a woman had behaved that way. Think about if an African-American actor had behaved that way, showing up drunk or stoned or both, falling asleep in the middle of read-throughs, constantly causing the show to be rewritten at the last minute. Why was TJ Miller thought of as "worth" that drama? Because he's a mediocre white guy and they get away with everything?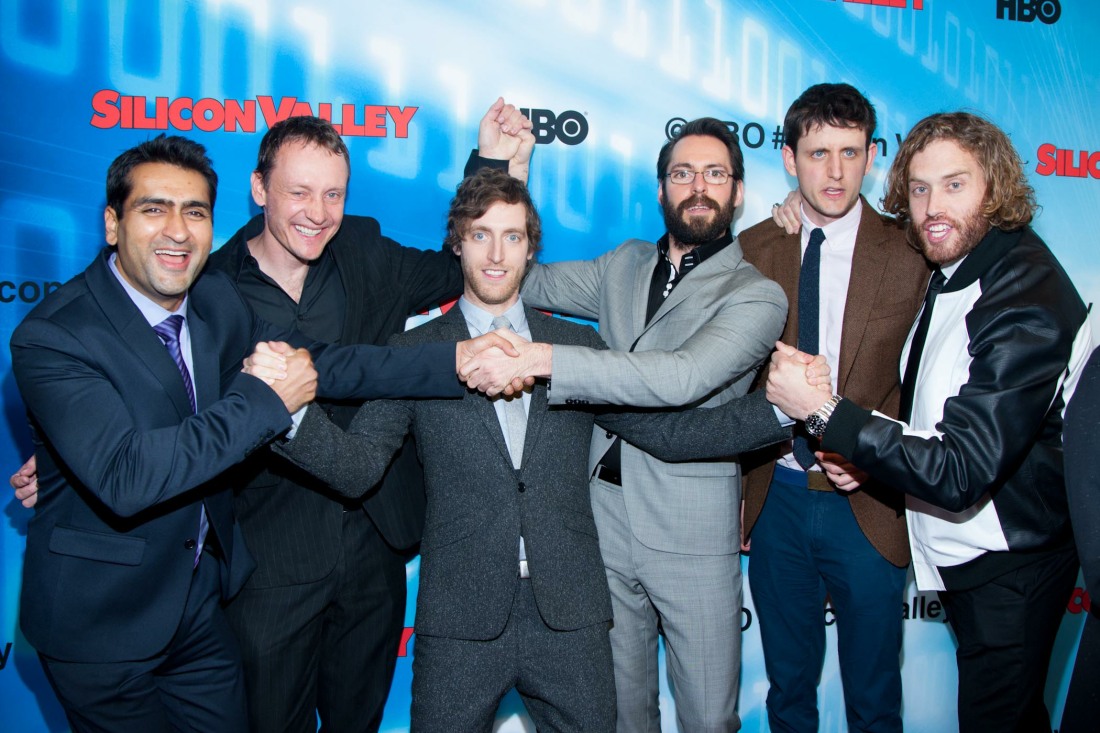 Photos courtesy of WENN, cover courtesy of THR.