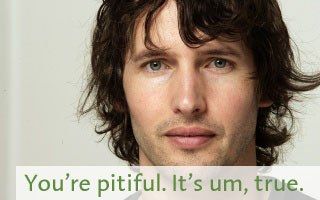 I really dislike James Blunt and think the lyrics to "You're Beautiful" convey what a loser he is. That's why I'm pleased to reprint the apt remarks of former Blur lead-singer, Graham Coxon:
Former BLUR star GRAHAM COXON has blasted newcomer JAMES BLUNT as bland and uninspiring, comparing his sentimental songs to trite greetings cards. The scathing guitarist, now a solo artist, is convinced the YOU'RE BEAUTIFUL hitmaker needs an edgier sound to ensure his success continues. He says, "There's no humour in his music and there doesn't seem to be much depth. "It's the sort of thing you'd write on a card if you were sending flowers."
Meanwhile, Oprah also agrees that Blunt is miserable.