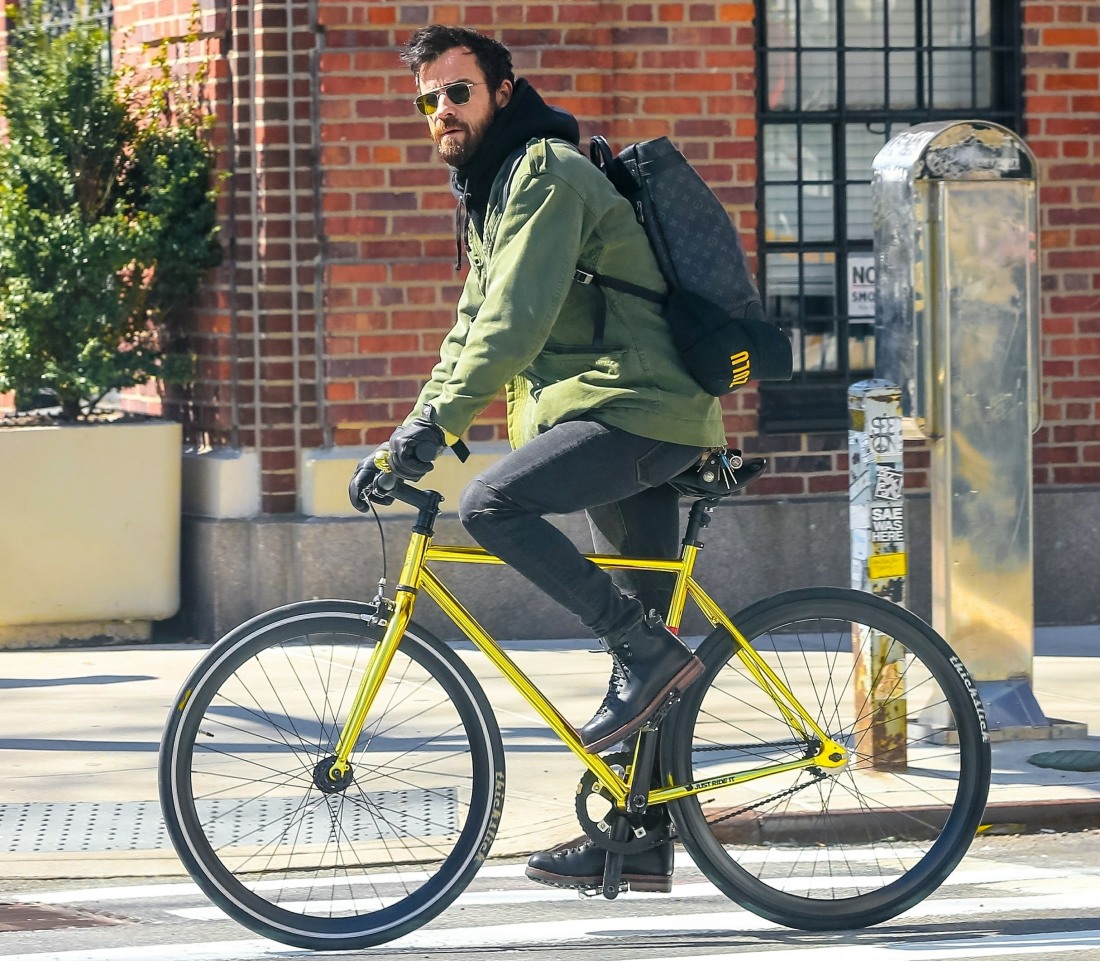 In the past month, Justin Theroux has A) dumped his wife, B) grown out his beard, C) been pap'd cycling in New York multiple times and D) not denied that he's been carrying on with Petra Collins. He is the epitome of EDGY. These are some photos of Justin out and about in the past month, where his edginess is clearly at its apex. So what else has Justin been doing? He's been hitting the gym hard, according to Entertainment Tonight's exclusive.
Justin Theroux might still be reeling from his split with Jennifer Aniston, but the former Leftovers star isn't letting that keep him from staying fit. A source tells ET that the 46-year-old actor has been hard at work on his physique, getting ripped and toned in the wake of the breakup.

"Justin has been hitting the gym hard since the split," says the source. "He's been working out for over an hour every day at Gotham Gym. Boxing is a big part of his workout routine." Theroux has been spotted numerous times in the past few weeks biking to the upscale gym in Manhattan, and the source says it's because he "loves working out."

"Not only is it great to get ripped, but it's a good way to clear his mind," the source says. "He's always in a better mood after a workout." The source explains that, while he has "always been in good shape," the Mute actor is now "more committed to a consistent regime" and working toward "his revenge bod."

His dedication to physical fitness isn't the only change Theroux has undergone since the split. He's also returned to his preferred low-key lifestyle.

"When he was with Jen they took cars everywhere, which he hated," the source says, adding that Theroux likes to walk or take his bicycle everywhere in the Big Apple. "Even in the cold weather, Justin's been biking everywhere. He's totally back in his element now." According to the source, the actor has also started to reconnect with his old group of buddies, instead of staying "holed up in his apartment… He's making a point to get out every day and to see friends," says the source. "He's been dining with friends regularly." While he's "obviously going through a lot," the source adds that Theroux is "trying to move on, [and] he's dealing with this breakup in a really healthy way."

In the weeks that followed [the breakup], Theroux was rumored to have sparked a romantic connection with Canadian artist and photographer Petra Collins, but a source told ET that he "is still heartbroken." Meanwhile, another source told ET that the actor has been relying on his friends to help him cope with the breakup, and that he recently went on a "guy's trip" to France earlier this month.

During his visit to the City of Light, Theroux and his pals attended the Louis Vuitton runway show during Paris Fashion Week, and while his friends were hitting the town and looking to flirt, Theroux was friendly rather than flirty, according to the source.
Wow, I'm so glad Justin went to Entertainment Tonight and had them call him a "source"! A few things. One, I'm sure Justin is going to the gym a lot, but I need to make one humble suggestion for JT: please add in some leg days, dude. Two, it's good that Justin is cycling so much – LA is a car town, and New York is more of a mass transit town and there's Edgy Justin, biking everywhere. Three, Justin was "friendly rather than flirty" in Paris – a pleasant distinction. Four, Justin is "still heartbroken" about the breakup that he orchestrated to a woman he never should have married? And notice "the source" didn't really deny the Petra story.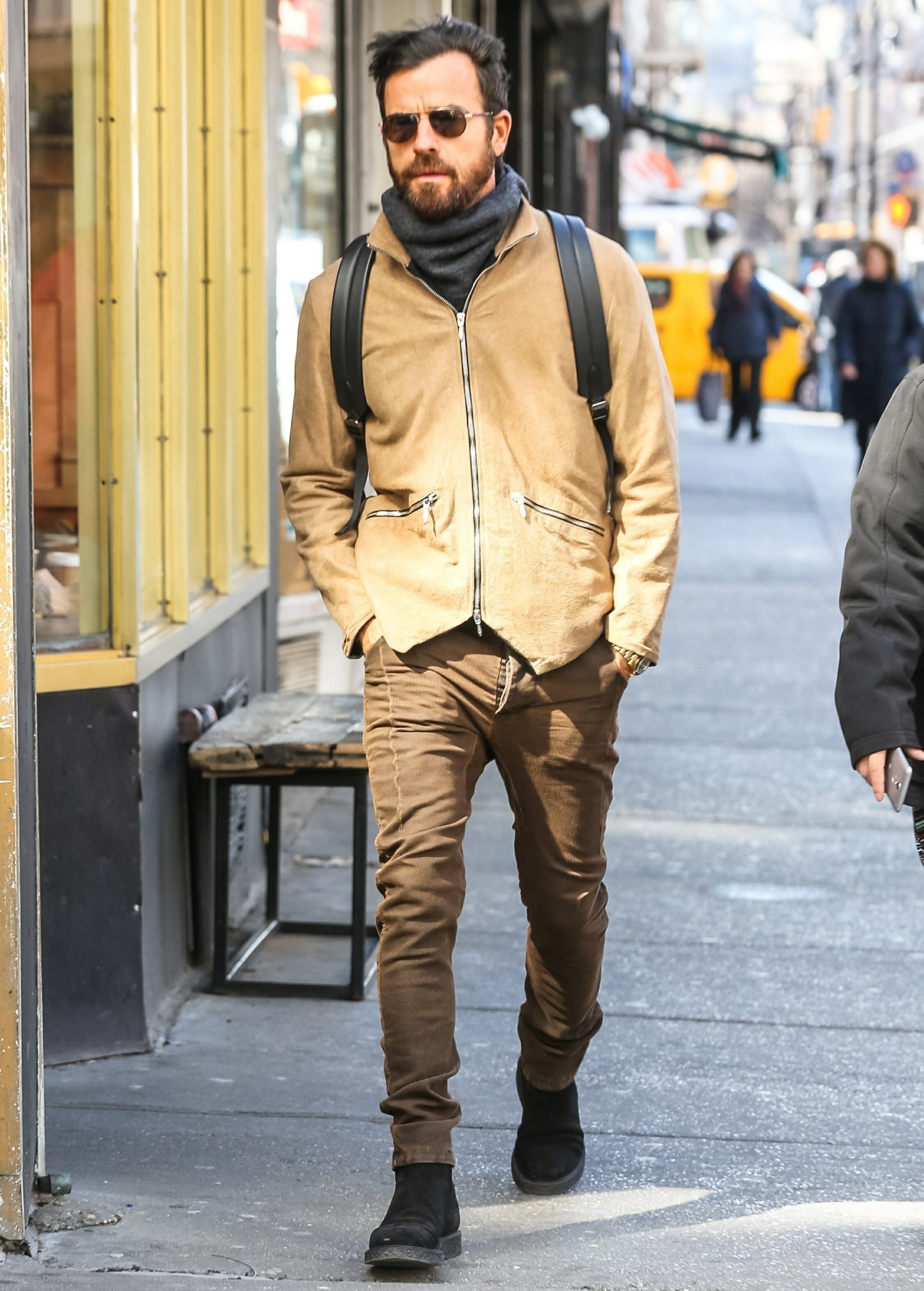 Photos courtesy of Backgrid and Pacific Coast News.