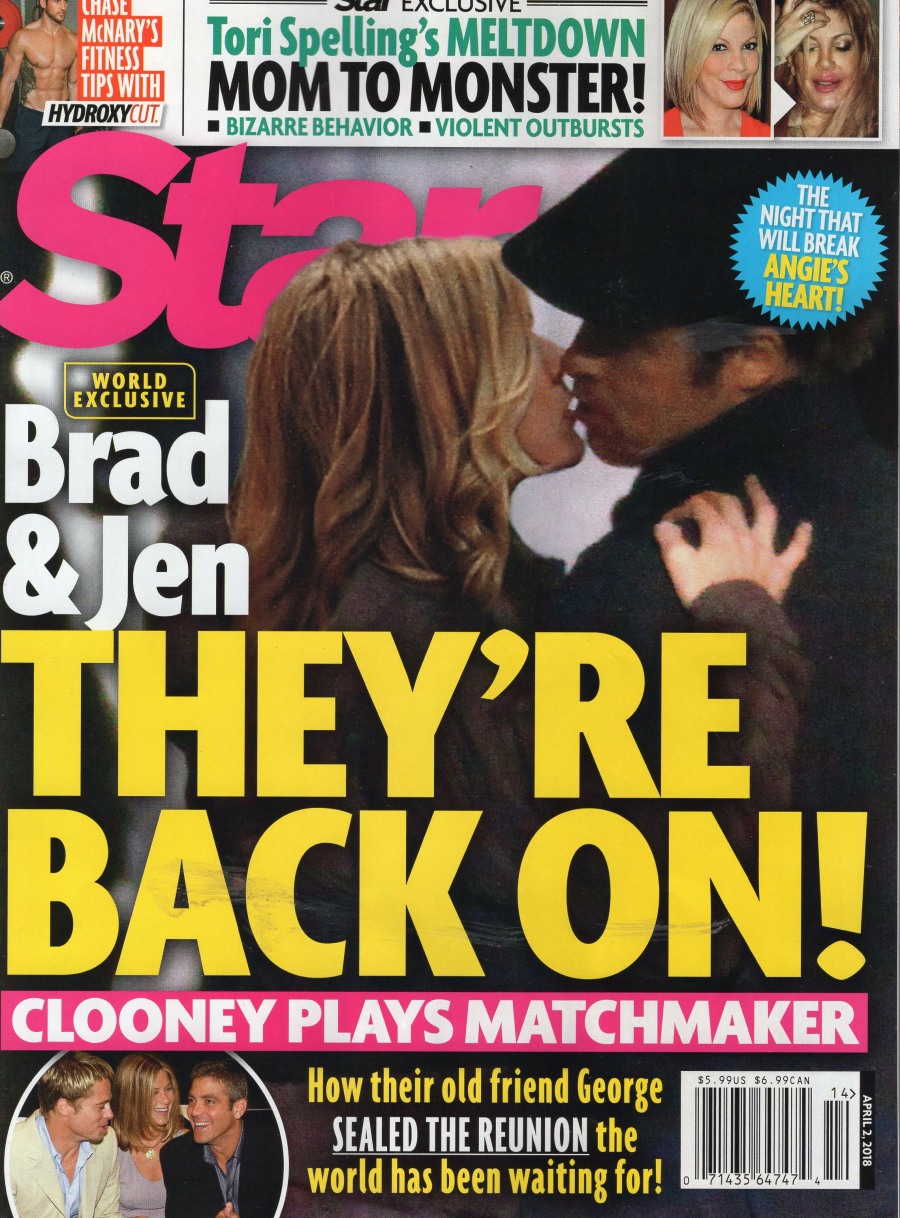 This story is so dumb, but let's get into it because why not? Star Magazine's cover story this week was inevitable: Jennifer Aniston and Brad Pitt's secret hookups. The new element here is that George Clooney is the one who encouraged them to reconnect because George hated Angelina Jolie because Jolie banned Brad and George from hanging out.
Sources say George Clooney is not only back in Brad's orbit, but he's been playing matchmaker for his old pal by setting him up with his first ex-wife, Jennifer Aniston!

"They've been secretly getting together for late-night hookups and it's all because of George," a pal tells Star. "George was the first person to call him when his marriage to Angie imploded. After Jen and Justin announced their split, he encouraged Brad to reach out and give their relationship another chance." Apparently, George had been "thinking about trying to reunite Brad and Jen ever since he heard her marriage was in serious trouble."

George engineered the exes' first undercover rendezvous on March 3, when he and Brad attended a private pre-Oscar party in Beverly Hills. "The plan was to head over to Jen's place afterward for a nightcap, but of course George would just drop Brad off," spills the source, adding that Aniston was so excited that she lent George her bodyguard for the evening so he could drive the duo to her Bel Air mansion: "Jen really wanted this to happen!"

Despite the years apart, "their evening together was very relaxed and lowkey," tattles the tipster. Jen and Brad "reminisced about the past and had a lot of laughs. It seemed just like old times, only better. Brad doesn't regret marrying Angie, and Jen doesn't regret marrying Justin, but they both realized they had a good thing when they were together – and still do."
[From Star Magazine, print edition]
Sources go on to say that Brad left Jennifer initially because of her ambivalence about having children, and now that he has six kids with Angelina, he "may start to see his first love as his soulmate once again." Wait, Jennifer was his first love? What about his "angel" Gwyneth? What about Juliette Lewis? As for this story… I follow gossip about The Artists Formerly Known As Brangelina quite closely. I honestly don't know how Brad spends his time for the most part. I want to believe he would not backslide but I really and truly do not know. I know for a fact that Jennifer is a backslider though: her thing with John Mayer proved that. Also: I don't think Clooney really gives a sh-t who Brad is sleeping with.
Photos courtesy of Getty, WENN.