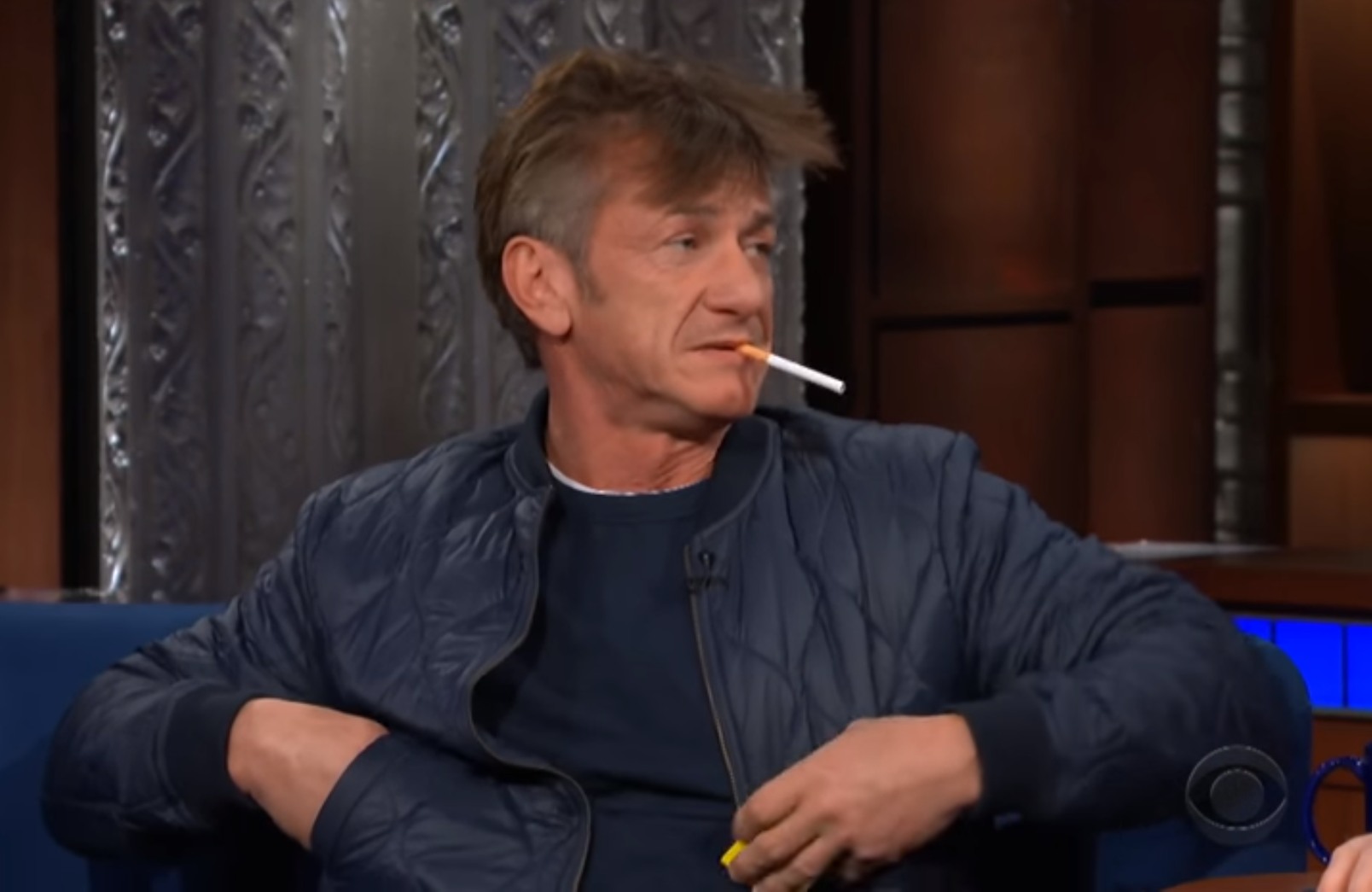 Sean Penn is currently promoting his book, Bob Honey Who Just Do Stuff, as well as serving as an international ambassador for ham. That's why he's giving interviews this week, for better or for worse. Penn did Marc Maron's WTF Podcast this week and Maron asked him about the co-parenting situation he has with his ex-wife Robin Wright. Keep in mind that Penn has always been salty as hell about Robin post-divorce. So now what we have some super-salty ham drama.
Sean Penn is opening up about his relationship with his ex-wife, Robin Wright. The duo, who divorced in 2010 and share two children — Dylan, 26, and Hopper, 24 — "don't have a lot of conversation," Penn told comedian Marc Maron on his WTF Podcast.

"We don't not get along," he added. "We have very separate relationships with our kids at this point and it seems to work better that way because they are making their own decisions. As it turned out she and I did not share the same ethical views on parenting, including the continuing parenting of adult children."

Penn, 57, did not elaborate on their parenting differences, but he did note that his relationship with his two children is "going great." He added, "They're amazing people. They're both acting and modeling, an industry that I'm not very interested in but they seem to have fun with it." While the actor said he's no longer interested in show business, he noted, "I'm supportive of whatever my kids do that keeps them happy and healthy, period."

As for his love life, Penn said he hasn't given up on finding the right person. "I'm never going to take a position that I've closed off to love," he said. "I think people falling in love with each other is a great, great thing." However, he added, "More and more, I do find that the relationships become pretty transactional and it's not easy to run into somebody that makes life better the next day for you. But if I did, I'd grab it."
Re: transactional relationships… I mean, I've always suspected that he spends times with hookers and escorts – no judgment – so of course that's going to skew someone's view on transactional relationships. His last big-time serious relationship was with Charlize Theron, and it ended so badly that she ghosted him and refused to ever speak to him or see him again after *something* happened. As for what he says about Robin… "she and I did not share the same ethical views on parenting, including the continuing parenting of adult children…" I take that to mean that Robin has more of the long-view of parenting, that her kids will pull away for a while but they will boomerang back and it's just important to let them grow into adulthood. God knows how Sean sees it though.
Sean was also on The Late Show with Stephen Colbert, and he smoked two cigarettes in the middle of the interview. He was also very low-energy, because he was still feeling the effects of an Ambien.
"Sean Penn" was trending for hours on Twitter after this interview. People had really strong feelings about him lighting up on a late-night talk show. I'm old enough to remember when people smoked all the time on talk shows and in TV shows and movies. It is jarring though – I haven't seen anyone do this on TV in a long-ass time.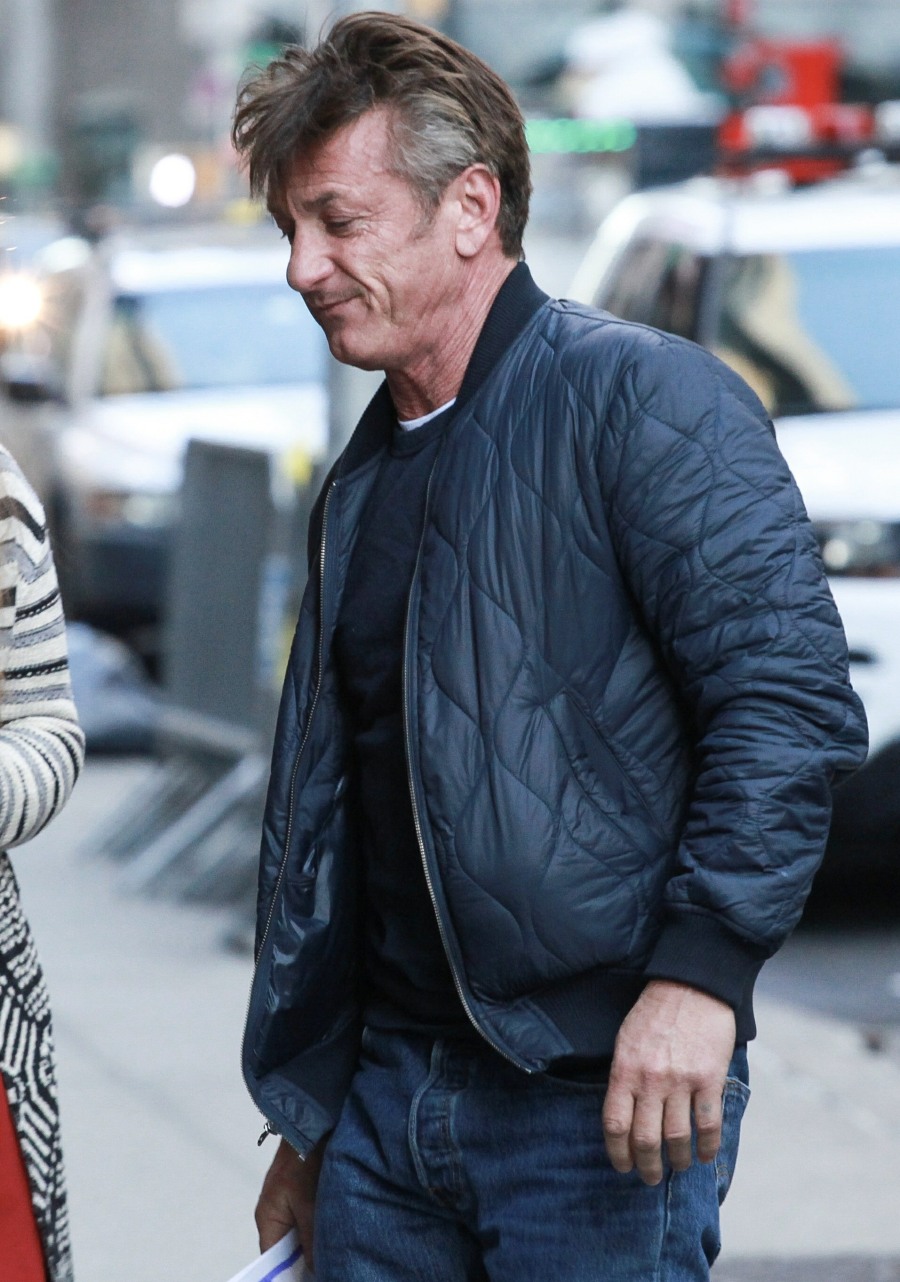 Photos courtesy of Backgrid, screencaps courtesy of 'The Late Show'.