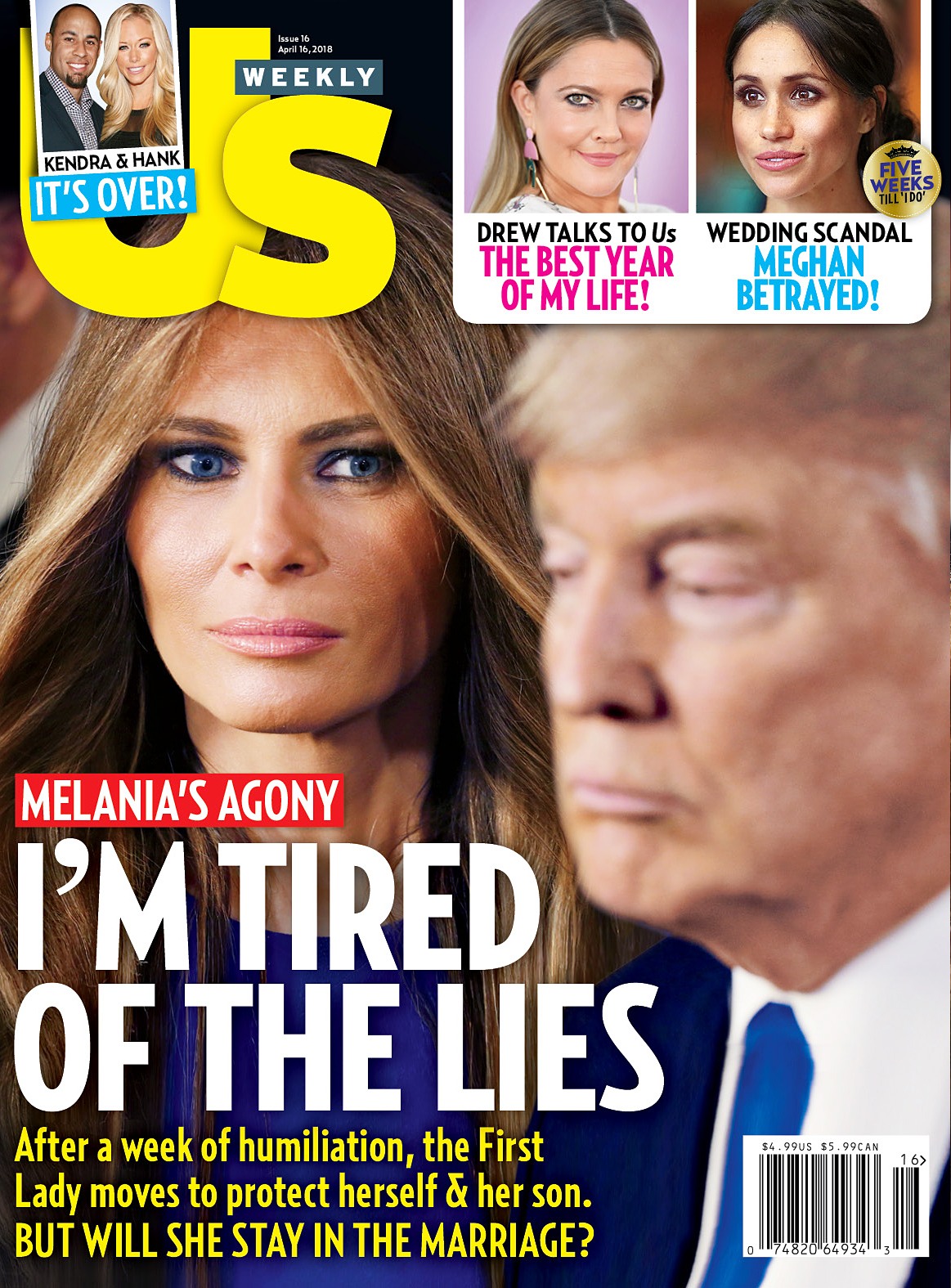 Us Weekly has been all about Melania Trump for the better part of two years. To be fair, Us Weekly went all-in on the entire Trump family during the 2016 election and beyond, devoting multiple covers to light, humanizing stories about how normal they are. The publication has also devoted several covers to Melania's "humiliation" and the problems within the Trump marriage. By now, I think we should all just make our peace with the fact that Melania's life is a hellscape but she's not leaving it (or HIM) anytime soon. But sure, let's allow Us Weekly to try to gin up some sympathy for Poor Downtrodden Melania, who had a "week from hell" because of Stormy Daniels and the other one.
As the crow flies, it's not quite 11 miles from 1600 Pennsylvania Avenue to Andrews Air Force Base, and via Marine One — the presidential helicopter squadron — the journey takes mere minutes. Even that brief amount of time felt too long for Melania Trump on Friday, March 23.

According to the official White House schedule released the previous evening, the first lady was slated to travel on a chopper with her husband,President Donald Trump, from the White House South Lawn to Joint Base Andrews, where Air Force One would whisk the couple away to his Mar-a-Lago resort in Palm Beach, Florida. The president would then stay on for the weekend, while she'd return after their 12-year-old son Barron's weeklong school break.

When departure time hit, however, Melania chose to take her own motorcade to the base instead, meeting POTUS on the plane and avoiding any photos together. "She's very independent," a source explains in the new issue of Us Weekly.

Another family insider says her emotional state is even worse [following the Stormy Daniels revelations]. "She is very, very unhappy with her life," says the insider. "If she could, she would get away from Donald and just be with her son."

Melania has increasingly shown her anger through public gestures. Her March 23 solo motorcade trip wasn't her first. The Slovenia native pulled the same move on February 16, when the alleged McDougal affair first came to light. The first lady's trip to the State of the Union address January 30 — shortly after first news of the alleged Daniels affair — was also by private motorcade, breaking with White House tradition. Despite these moves, spokesperson Grisham tells Us reports that Melania is ashamed "are false, and I'd challenge the sources saying those things to do so on the record."
"Spokesperson Grisham tells Us reports that Melania is ashamed 'are false, and I'd challenge the sources saying those things to do so on the record.'" There you go – Melania's spokesperson went on the record to say that Melania Trump does not feel ashamed whatsoever about her husband being a pervert, a sexual predator and a cheater. And if you need further proof, this is what In Touch Weekly has:
The president insists an affair never happened — and Melania believes him, one of Trump's friends exclusively reveals. "She is very in love with her husband, and she believes her husband," says Federico Pignatelli, the founder and owner of NYC's Pier 59 Studios, who's known Trump for nearly 30 years. But Federico insists Melania, who hasn't commented publicly on the scandal, isn't concerned. "She really doesn't care," he states. "At all."

Trump braced Melania for affair claims back in 2010, an insider shares. "He told Melania that while he had known Stormy, he never had an extramarital affair with her. Melania chose to believe him then, and continues to now."

Stormy (given name: Stephanie Clifford) passed a polygraph test in 2011. Her story has also been corroborated by a friend she confided in after she and Trump, 71, had what she told In Touch was "textbook generic" unprotected sex.

But Federico insists that Melania, 47, "knows exactly who she married. She knows her husband likes women. [Donald and Stormy] knew each other, yes. [But] Melania believes her story is wildly exaggerated," he says.
There you go. Melania doesn't care, she believes her husband, she doesn't feel humiliated at all and she just likes to travel separately from Senor Baby Fists whenever possible. Can you even f–king imagine how differently this would be handled in the media if these people were Democrats?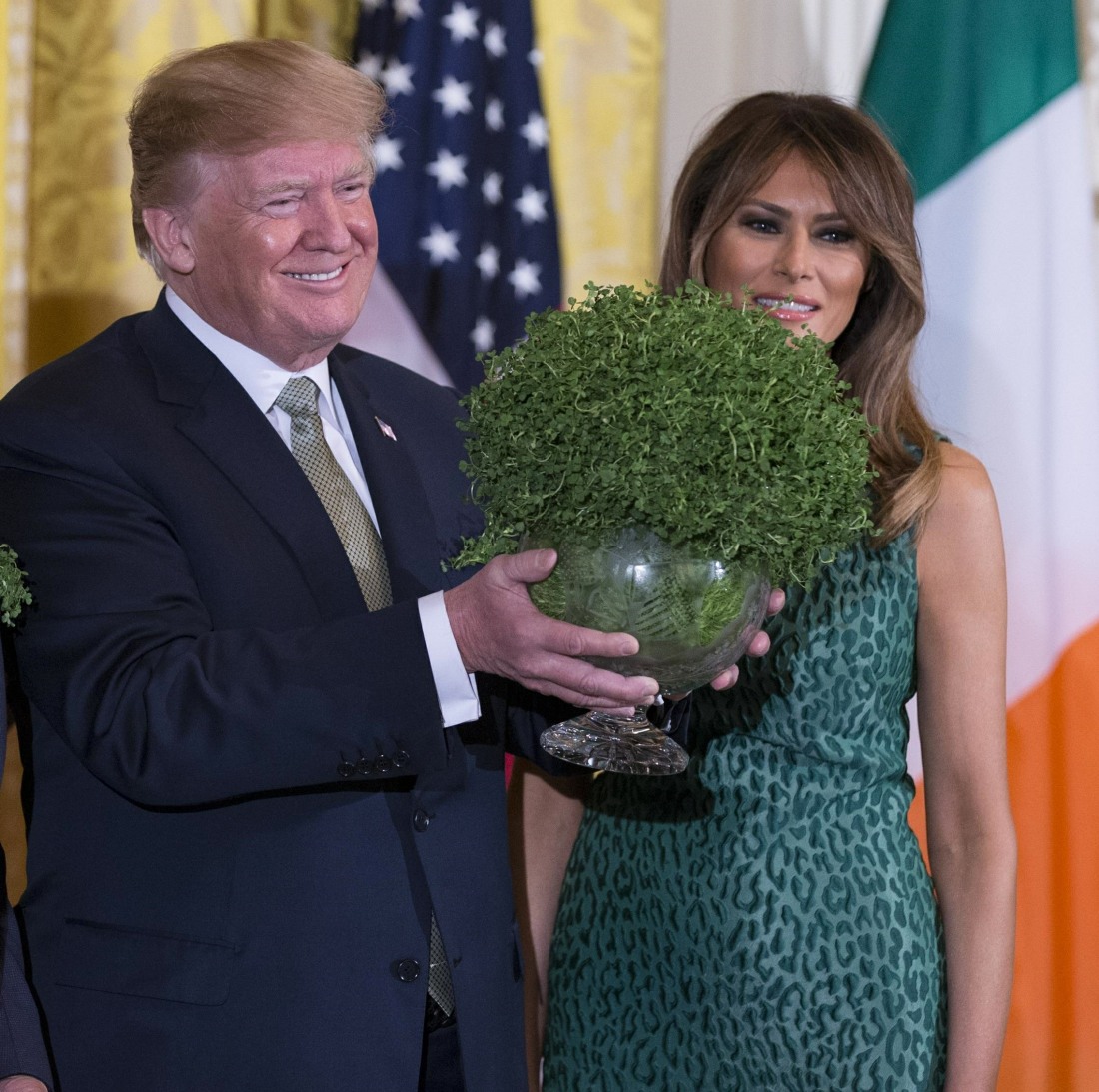 Photos courtesy of Backgrid, cover courtesy of Us Weekly.