E! Online has a new interview with Halle Berry's trainer, Peter Lee Thomas, who has worked with her for years. He's clearly promoting something, but I was still interested in what he had to say as Halle is fitness goals at 51. She always looks amazing, and of course that's due to hard work and consistent training. One thing that isn't mentioned in this interview and which many people don't realize is that Halle has type 1 diabetes, which used to be called juvenile diabetes. She has to watch her sugar and carb intake to manage her condition but that doesn't seem to be a problem for her. Here's some of what Peter told E! and the Instagram posts below have examples of exercises he does with Halle.
E! News: You've been training with Halle for a while now. It's been years! What does a typical workout entail?
Thomas: She pretty much had a checklist of things she wanted as far as her physique is concerned and we had a bulletproof battle plan… You better believing we are doing some boxing, some kick boxing, some Muay Thai… I'm definitely working on those skill sets with her and she's also doing strength and conditioning. She's using kettle bells, bar bells, dumbbells, working on the pull up bar, doing dips, sprinting pushing heavy things, pulling stuff. It's just a really dynamic way to jumpstart anyone's metabolism.

E! News: How many times do you guys usually train during the week?
Thomas: We typically meet up every day, 5 days a week. She's putting in the work. She doesn't mess around. That's really, really great for me because I know that when we go there it's like preparing for war. There's an objective and there's a goal.

E! News: What exercises does Halle get most excited about?
Thomas: She loves to train her core, her legs. She likes to work her upper body as well. She likes to do push-ups. I don't think there is a push-up out there that she can't do.

E! News: Any particular moves you avoid with Halle?
Thomas: We stay away from running far distances. She's not really a long distance runner—not to say that she couldn't do it—but we try to keep things explosive and really metabolic. For longevity purposes it saves your knees and joints. We'd rather do sprints rather than run five to 10 miles.

E! News: How did you achieve Halle's toned, but not overly muscular body?
Thomas: The time-tested concept of doing higher volume, more reps. We combine lower weights with higher repetition, and also using your body weight more. Going outside, not having to be fixed to a certain machine.
Peter plugs a specific meal plan and then ends by saying that he's never met someone as dedicated as Halle. OK so Halle works out five days a week with her trainer (she probably does other stuff on the weekends) and does a lot of weights and body weight exercises. This is reminding me to stop doing so much cardio and to focus more on strength. I go to a class or two a week that includes light weight training but I prefer hard cardio like spinning, running and dance. Also I'm too concerned with the number on the scale when it should be more about how I feel and if I'm building muscle. It's a hard balance that's mostly in my head and I imagine it's much worse for people in image-focused industries. Halle seems to be winning that war. I hate pushups and burpees but I'll work more in if I get even a fraction of Halle's results.
I would like to get a free plug in for my favorite YouTube trainers and workouts, which include Jessica Smith, PopSugar Fitness featuring JJ Dancer and Simone De La Rue, and The Fitness Marshall. There are so many more and you can work out at home from almost any device. All you need is some space and time. Fitness has changed my life and I can't say enough good things about it. /motivational speech
Also this is Peter Lee Thomas. Holy sh-t he's hot! He looks like Halle's ex, Gabriel Aubry. His styling is similar at least.
Here's a link to a pic of Halle's butt and bare back while she's doing a headstand. I don't think our advertisers would like us posting it. Damn!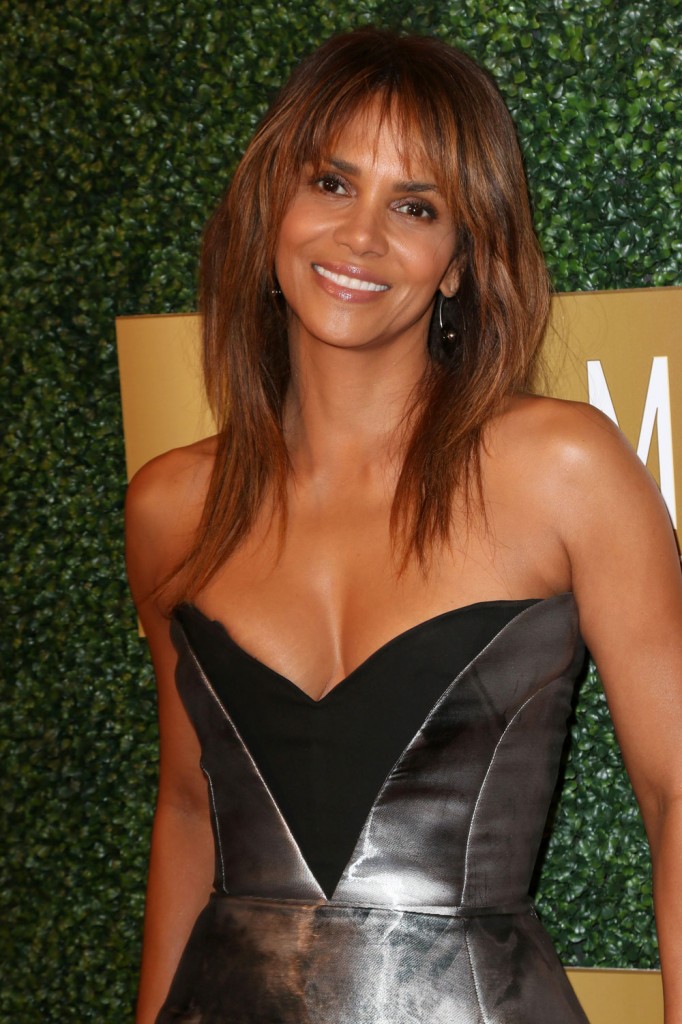 photos credit: Instagram/Halle Berry and WENN