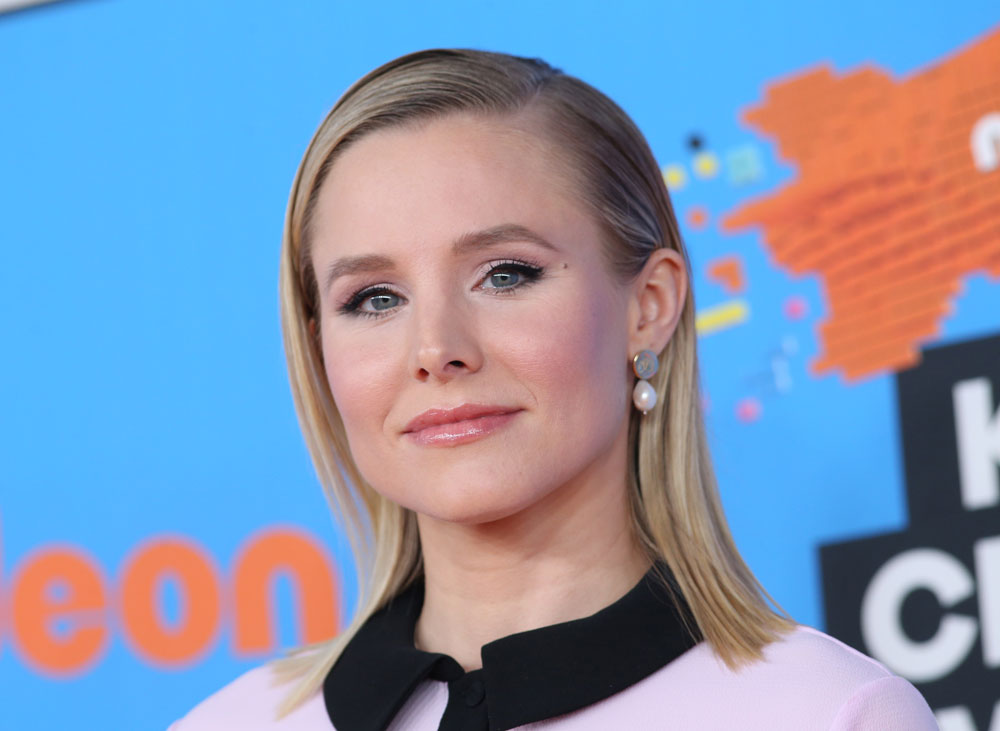 In case you're wondering, Kristen Bell is still talking about her three year-old daughter contracting pinworms at preschool. Pinworms are an annoying, highly contagious but relatively harmless parasite that live in human intestines and can cause an itchy butt. (I could phrase it more clinically, but I think "itchy butt" is the least offensive.) They're common and can recur even with treatment, which happened to Kristen's daughter. We know this because she snapchatted about it and told the story on The Joel McHale show. Kristen and her husband, Dax Shepard, have been vocal about the fact that their two daughters are not famous too, that they should not be photographed and that they do not want their identities compromised. When they share personal stories like this about their children I wonder, though. Kristen is promoting an IMAX documentary she narrated called Pandas. (True fact: there are only 1,800 pandas left in the wild.) She spoke to USA Today about the fact that people must think she gives TMI, but she believes it should be openly discussed or something.
"I'm sure there have been times when people have said, 'TMI, Kristen, keep it to yourself,' " she laughed while chatting with USA TODAY about narrating the new IMAX documentary, Pandas. "When I found out what pinworms were, I was slack-jawed about how I had never heard of them before (and) how easy they are to catch. And it's hilarious to get this disgusting disease from your child — why is no one talking about it?"

More: Adorable overload: 'Pandas' are heading to an IMAX theater near you

She and husband Dax Shepard, are also parents to daughter Lincoln, 5. After two bouts with the pesky worms, all is now well in the Bell household, the star confirms: "Our family is pinworm-free. Currently."
No one talks about pinworms because it's potentially stigmatizing for kids. It has nothing to do with cleanliness, but there's still that misconception and most parents want to shield their children from ridicule. When my son had lice the school didn't even want to notify the other parents and I objected, saying it was in everyone's best interest. I found out from my teacher friends that some schools try to hide it from other parents, reasoning that kids with lice will be taunted, but I digress. Pinworms are not a disease and I wonder if Kristen's daughter is going to find this funny when she googles herself as a preteen. You know that's coming.
Kristen was also on Ellen this week, where she talked about the fact that she's already recorded everything for Frozen 2 and that it's "very good" but she can't give any details. It's not coming out until November, 2019. That movie was such a hit it's surprising that the sequel is taking this long. It's not Avatar. Remember one of the first times Kristen was on Ellen? Kristen shared a video then-boyfriend Dax took of her crying after he hired a sloth for her birthday. Ellen then showed Kristen a photo of a baby sloth and claimed she had a sloth on the show (she didn't, that came next time) and Kristen started crying. That was in 2012, back before she had kids and before we realized how over the top she is.
Here's Kristen talking about dancing with J.Lo at Ellen's 60th birthday party. She said that Dax came over and c-kblocked her. (Her words.) Melissa McCarthy and Diddy were dancing too.

There's another segment online where she talked about finally getting Dax's Lazy Boy chair out of their living room. She said she just waited until he said he wanted to move it to his home office, where he does his podcasts. She also talked to Ellen about pandas and about visiting silverback gorillas in Africa with Dax.