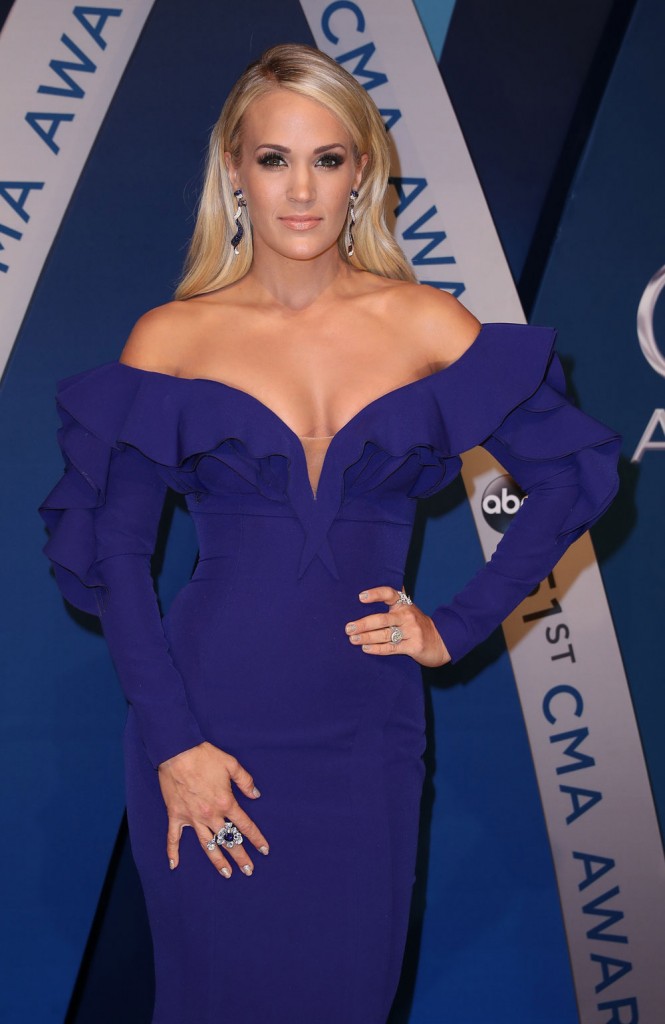 If we've learned anything about Carrie Underwood since her accident it's that she's in total control of her image. She's not getting randomly papped, she hasn't had unapproved fan photos posted to social media, and she's meted out photos of her face, which was damaged. In January she told us about her accident, a fall on icy steps in November (right after her last event appearance) that resulted in a broken wrist and 40-50 stitches to her face. She wrote at the time that she was "still healing and not quite looking the same." We saw a photo of her posing with a reality star but she did look the same, her face artfully angled to the side. Then, last week, she posted a photo of herself in the studio, looking pensive with only half her face showing. Now she's put up a photo rehearsing with her band. It's from far away so you can't see much.
If you look at the Twitter photo directly in your browser you can zoom in slightly and you can see a faint little scar under her left eye. I don't want to nitpick her face! It's hard not to look when she's so deliberately meting out photos. You couldn't see this scar in the previous image she shared. This is absolutely her prerogative to let us see what she wants, when she wants, and that accident must have been traumatizing without the added layer of her public image. Imagine being a famous person and then having a freak random accident which damages your face. Of course they have the added buffer of cosmetic surgery and the best makeup artists, but it's still got to be difficult.
Also, look at her supporting the Oklahoma teacher's strike! She's from Muskogee, Oklahoma and these are her older sisters, Shanna and Stephanie. They're both teachers, which makes me both relate to and respect Carrie for having educators in her family. My brother and both of my parents are teachers. It's one of the hardest and most underpaid jobs.

Carrie also posted this video over the weekend of her husband, hockey player Mike Fisher, calling to turkeys out the window of his pickup truck.
And she teased an upcoming interview. I bet she's going on one of the morning talk shows to discuss her accident.
photos credit: WENN and Instagram/Carrie Underwood