Of course I had heard the rumors and read the stories about Cardi B's gang affiliation. She put it all out there in her mega-hit "Bodak Yellow": "These expensive, these is red bottoms/These is bloody shoes…" She's a Blood. She talked around it in interviews, but there were always verbal and lyrical allusions to her gang affiliation. Cardi refused to speak about being a Blood directly in interviews in the past year, but now that her new album is out, I guess she feels like she's in the position to talk about all of it openly. Which is what she did in her new GQ profile, which you can read here. This GQ piece is just as entertaining as all of Cardi's interviews – she's extremely sharp and quotable, she has an encyclopedia knowledge of American presidents, she's crazy-worried that she's going to run into Taylor Swift and she thought she was going to literally sh-t herself when she met Beyonce. But quotes about gangs:
Her association/affiliation with the Bloods, or the Blood subset the Brims: "Here's the thing. I never really wanted to talk about that, because I always wanted a music deal. I always want to keep my endorsements. When I was 16 years old, I used to hang out with a lot of"—agonizing, cliff-diver pause—"Bloods. I used to pop off with my homies. And they'd say, 'Yo, you really get it poppin'. You should come home. You should turn Blood.' And I did. Yes, I did. And something that—it's not like, oh, you leave. You don't leave. Stripping," which Cardi began at 19, "changed my life. When I was a stripper, I didn't give a f–k about gangs, because I was so focused on making money.

Gangs don't make you rich: "One thing I could say, you could ask any gang member: Being in a gang don't make you not one dollar. And I know for a fact every gang member, he asking himself, 'Why did I turn this?' Sometimes it's almost like a fraternity, a sorority. Sometimes it's like that. And sometimes I see people that's in the same gang kill each other. So sometimes there is no loyalty. Sometimes you gotta do certain things to get higher, to get higher and higher. You're doing all of that and you not making money off of it. That's why I don't talk about it much. Because I wouldn't want a young person, a young girl, to think it's okay to join it. You could talk to somebody that is considered Big Homie and they will tell you: 'Don't join a gang.' The person that I'm under, she would tell you, 'Don't join a gang.' It's not about violence. It's just like—it doesn't make your money. It doesn't make your money. I rep it, because I been repping it for such a long time."

What she means by "repping it": "I always mention it, because it's something that I been doing for a long time." Like being a Libra? "Yeah, it's like saying you're a Libra. When I was younger, I used to go very hard. As I got older…you can do your own thing, but you always got to check in with your set. You don't leave your people behind. They will understand I don't be doing it because I'm an adult now. After you're in your 20s, why would you join a gang? That's something that you do when you're young. I don't even got to keep up communications. I keep communication because I'm used to it. There was a point when I was like 20, 21, 22…I was repping it, but I know that things change, Big Homies change, and I knew I had to check in again. It's like almost like renewing your license. I kept repping something, [but] people was like, 'Okay, but you're not under the right person.' So it's like, 'Okay, I gotta do it real right.' You gotta get in the loop. If somebody was to tell me right now, 'I want to join a gang,' I would tell them that it's a waste of your money, it's a waste of your time. And then you can never leave it. Sometimes these people are gonna expect you to be at meetings when you have a job. You gotta be at work till 9:30 p.m., and you cannot go to a powwow because you at work. How you tell that to people? One of the laws in my set is that you always gotta have a job, you always gotta do something to contribute, to be right in the community. They want everybody to be successful. Nobody want to be in a group full of bums. Nobody want a group full of bums."

She didn't adopt a gang persona for a record deal: "People always be like, 'Oh, Cardi never used to rep it when she wasn't making music.' Yeah, because I already got signed. I can do that now. I'm smarter than what people think. There's so many things that I limited myself because I wanted a million-dollar contract. When I do interviews, I don't talk about it, because I will lose my endorsements. But since the cat is out of the bag"—she throws up her small, barbecue-sauce-covered hands—"that's how I feel. Why? For what? Why would you join a gang?"
Cardi B is out here talking like a mix of after-school specials and Scared Straight speakers. But it's the right tone to set, and maybe she will genuinely help kids looking up to her: don't join a gang. Gangs are time-consuming. Gangs won't make you money. You have to rep your gang no matter where you are and what you're doing, no matter where you go. Gangs don't mean loyalty, gangs don't save you from being killed. And you have to check in with your gang too much and that's time you should be spending at work, making money. It's not the worst argument for "not joining a gang."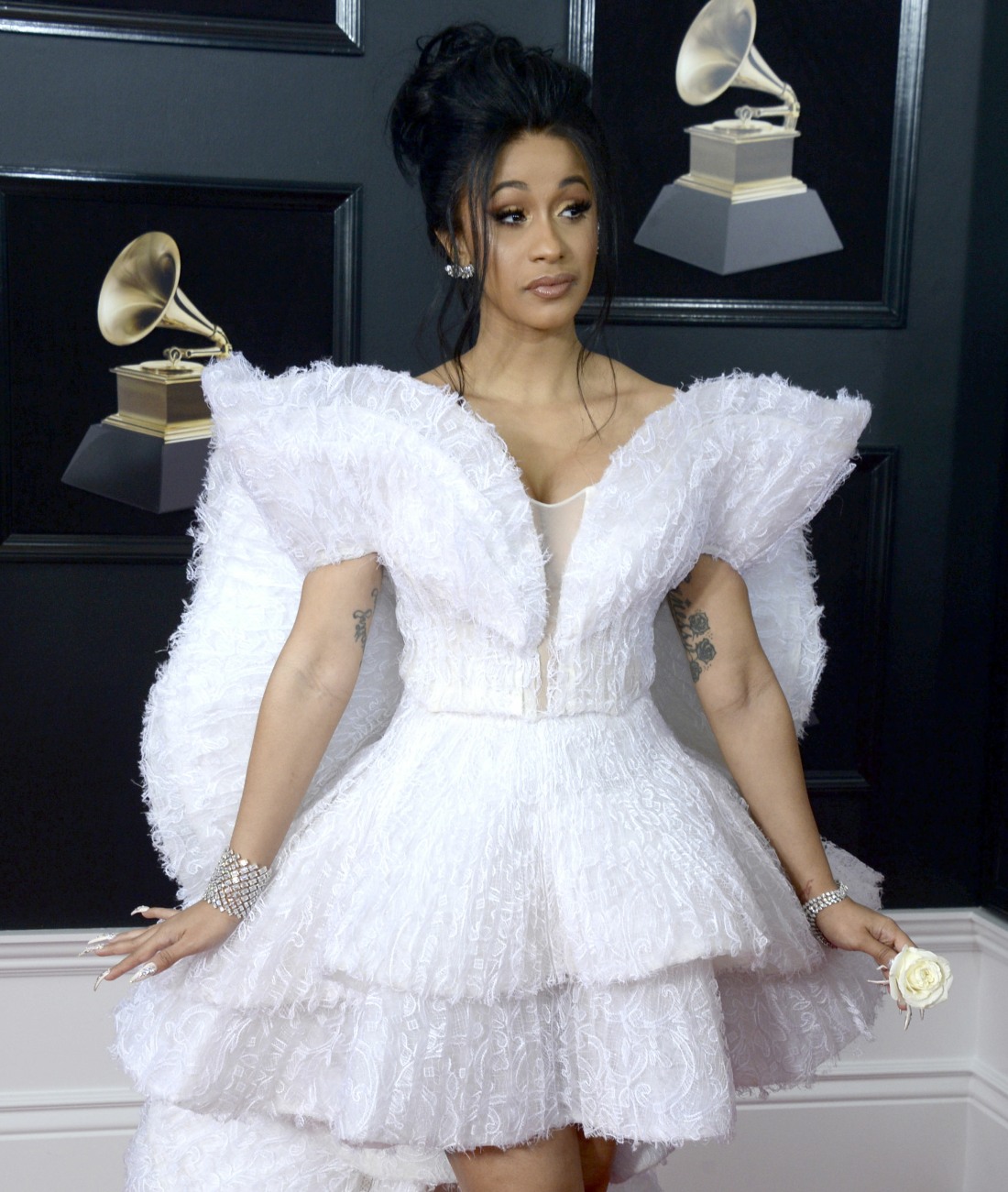 Photos courtesy of GQ and WENN.