The cast of Modern Family joined together on Monday night for a panel discussion at a FYC (For Your Consideration, as in Emmy consideration, which Modern Family never really needs to worry about) event at LA's Avalon. Sarah Hyland turned heads on the red carpet by debuting new bangs. They say Hollywood is a land of illusion, so is Sarah just giving the fringe a go for the evening or did she make the commitment to clip her locks?
The 27-year-old actress, who looked fab in a strapless grey metallic print dress, has been known to experiment with her hair in the past, but it appears this look is temporary. In close-up shots, it does look like the bangs are temporary. Having experimented with fake fringe myself, it tends to work better when paired with a ponytail or bun.
Sarah posted a photo with her TV brother Nolan Gould at Coachella over the weekend. She sported her usual choppy bob (and obligatory flower headpiece), with no sign of a fringe. More evidence of a clip-on, if you ask me.
Sarah's bangs weren't the only topic of the evening on Monday. Entertainment Tonight asked her about her reaction to the Khloe Kardashian/Tristan Thompson situation. On Thursday, Sarah posted an Instagram story where she admitted she was "traumatized" over "this whole Khloe Kardashian cheating scandal" and was taking it "very personally."
📹 "Traumatized. I can't even imagine." – Sarah via Instagram Stories | @Sarah_Hyland pic.twitter.com/P1vABjgIP7

— Sarah-Hyland.Org (@sarahhylandweb) April 12, 2018
Regarding the media attention she got from the clip, Sarah told ET, "I don't know how that became such a big thing, because I thought everybody was hating on [Tristan]." She went on to point out that "everybody was [hating on him], but it is because I say, like, 'Tristan f**k face' and everyone is like, 'Oh my God, this is crazy, this is news worthy.'" She then compared herself to a character in Mean Girls, saying, "who else has been personally victimized by Tristan Thompson? Me." In conclusion, she asserted "I just love my females. I love my females, and I think [Khloe] is amazing. I hope she is happy in whatever decision she makes."
I'm 99.9% sure that Sarah is rocking a clip-on bang, and I certainly hope she is. She's a cute girl regardless of what's going on with her hair, but bangs aren't doing her any favors. But, if she did decide to take the plunge, we all know that they will eventually grow out, right?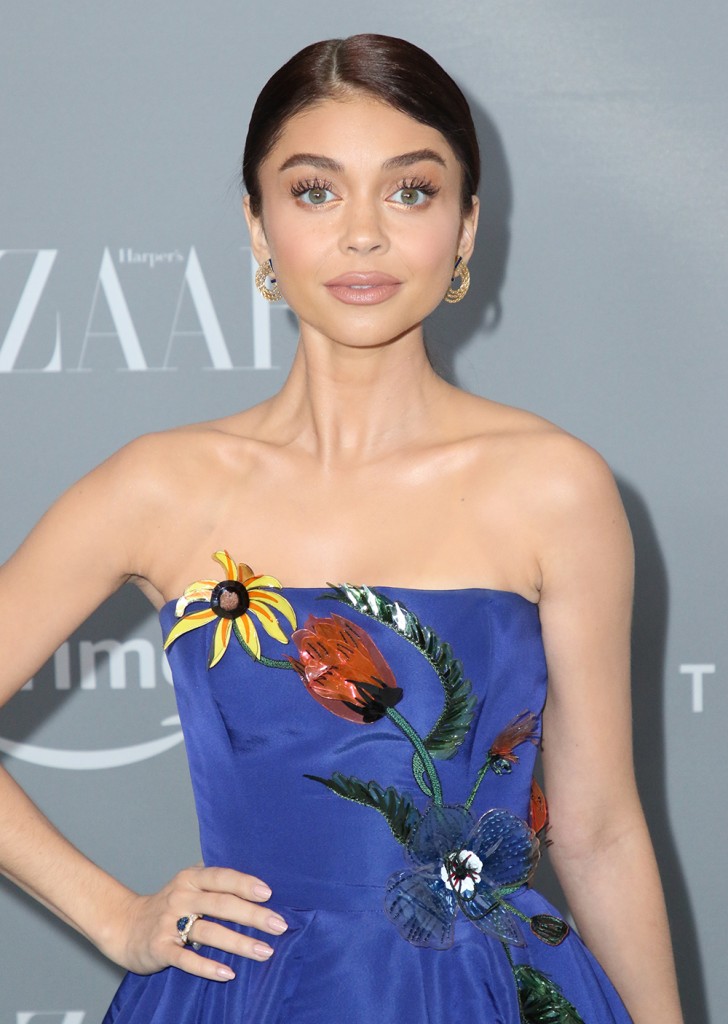 Photos: WENN.com, Getty Images, Instagram