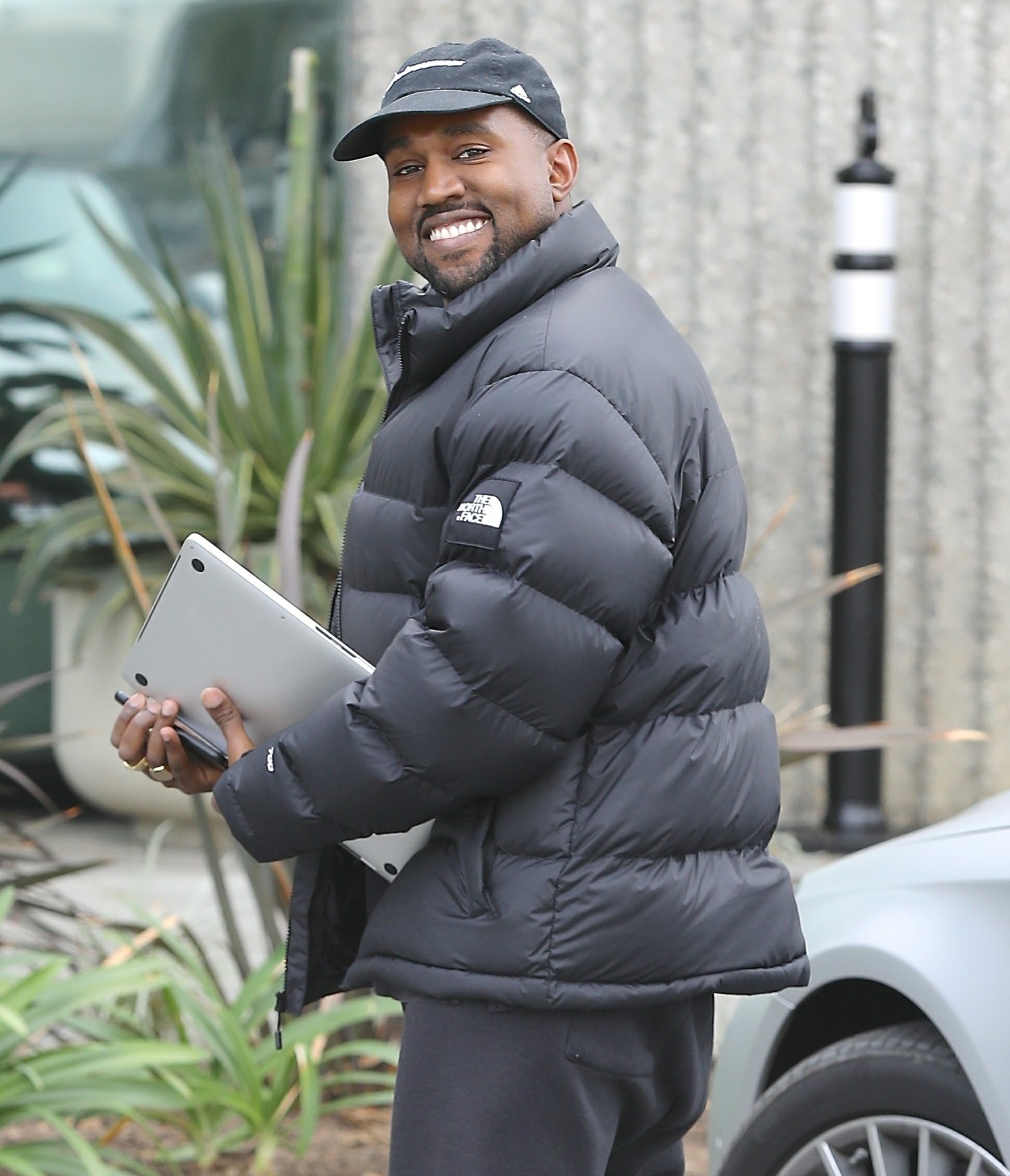 Kanye West spent Thursday glued to his phone again. This time, he was posting text messages from John Legend and suggesting that Legend's thoughtful messages of concern were an effort to "manipulate" his mind. Or something, I really can't follow Kanye's train of thought at this point, nor do I want to put in the effort. Once you see Kanye in a MAGA hat, you can't really see him any other way. Which is the point of a new Hollywood Reporter piece called "Did Kanye West Just Kill His Brand?" There is no real consensus, but many branding-experts do believe that 'Ye did do irreparable harm to his brand:
Fashion and branding experts say that West's very public support of a divisive leader is a risky move for a designer with a young company, even one as popular as West.

"Kanye has lit the torch of war with the African-American community and liberal community and it's going to be a hail of fire," says Eric Schiffer, chairman of crisis management firm Reputation Management Consultants.

"People like him for being a bit crazy and erratic," says Stacy Jones of entertainment branding firm Hollywood Branded. "His fans forgive him for being dehydrated, leaving a show for Kim or canceling a tour for his health. But… sharing his enthusiasm and love of our president, when much of his fan base does not at this point in time, that could indeed hurt his brand."

In October, the #GrabYourWallet movement was created to encourage shoppers to boycott Ivanka Trump's namesake label as well as retailers that carry Trump products or endorsed the president. The political pressure may have led Nordstrom to drop the first daughter's brand, though the retailer says it was actually poor sales.

On Wednesday, Adidas, which backs Yeezy, had no statement about West's tweets, and a representative for the athletic brand told THR it does not break down sales figures for specific parts of the business. No retailers have come forward to drop the Yeezy brand, either, which is different from the #GrabYourWallet movement in that it doesn't benefit the Trump family, certainly.
I didn't even think about #GrabYourWallet. But it's true that the #GrabYourWallet movement was more about supporting any company that ended up financially supporting the Trump family. Except… that's exactly what's happening now. The Trump Campaign is trying to raise money off of Kanye's tweets:
Presto! Trump campaign now fundraising off the Kanye tweets. This text to supporters links to campaign MAGA hats for sale. pic.twitter.com/BNnmdD7paZ

— Julie Bykowicz (@bykowicz) April 26, 2018
So… yeah. Don't support 'Ye anymore. Supporting 'Ye is supporting Trump. Meanwhile, Kanye's Twitter-addiction has gotten so bad that the only way Kim Kardashian can reach him is THROUGH TWITTER.
Kanye West was glued to his Twitter account on Wednesday, posting a grand total of 82 tweets touching on everything from fashion to politics — and making plenty of headlines along the way. In fact, the rapper was so focused on his social media that a source tells PEOPLE his wife Kim Kardashian West came to realize that the platform was the best way to get through to him.

"Kim is reaching out to him on social media because that's literally the only way she can get him to listen," says a source close to the artist. "He's not paying attention to her right now." (It appears that wasn't the only way the couple communicated, however — in one tweet, West mentioned that his wife had called him and asked that he clarify his stance on President Donald Trump, and they both seem to be home in Los Angeles.) "It's the same idea as a wife who stands in front of the TV when her husband is engrossed in a football game," the source adds.

The source says West, 40, spent Wednesday on social media "looking up what everyone is saying about him. He's reading every article, searching his name on Twitter, even when he's not tagged. He's pointed out tweets that the only way he found was searching his name."
Keep that in mind when you're tweeting about Kanye. Kanye is watching. He's reading your tweets. And he's doing it all while wearing his signed MAGA hat.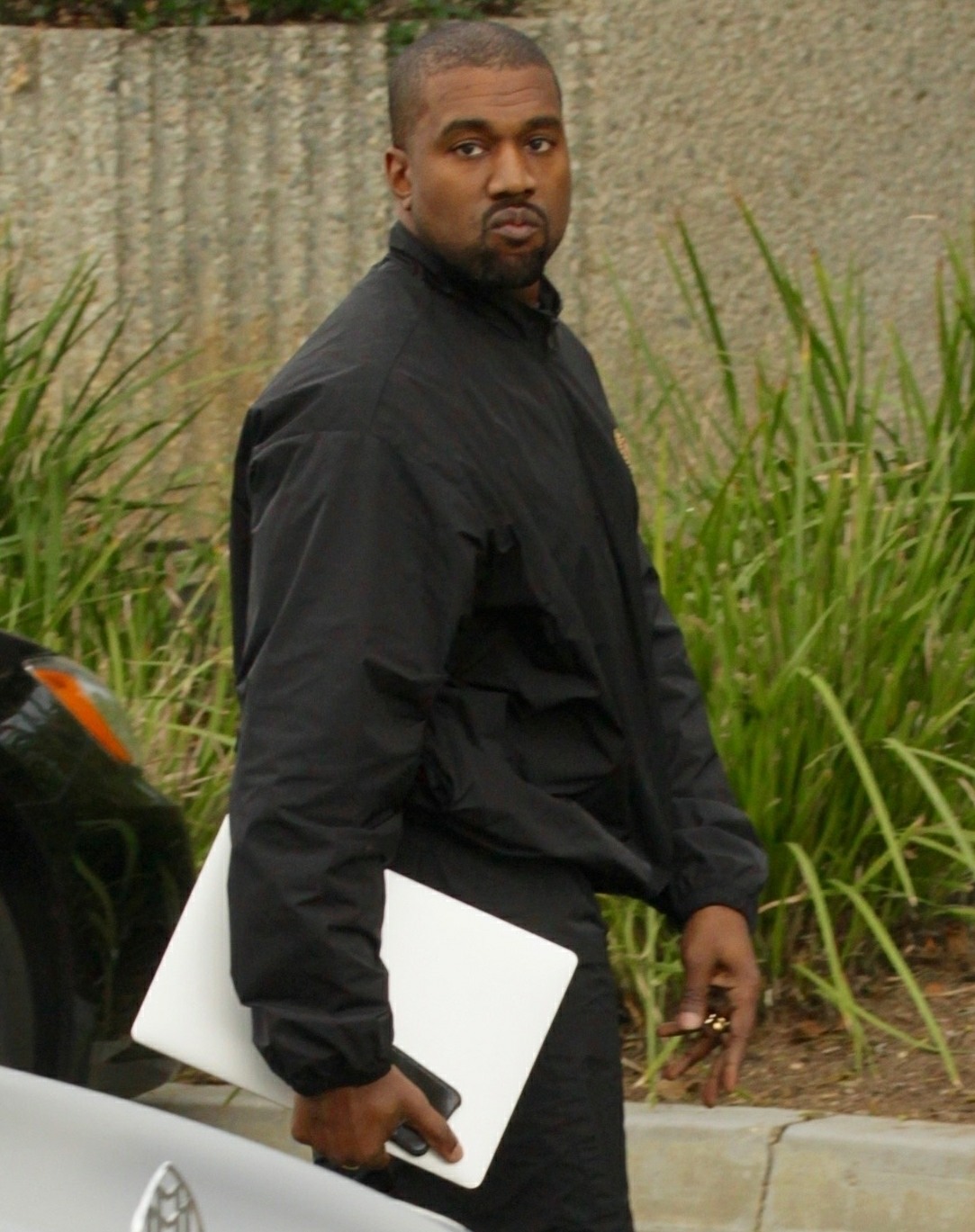 Photos courtesy of Backgrid.