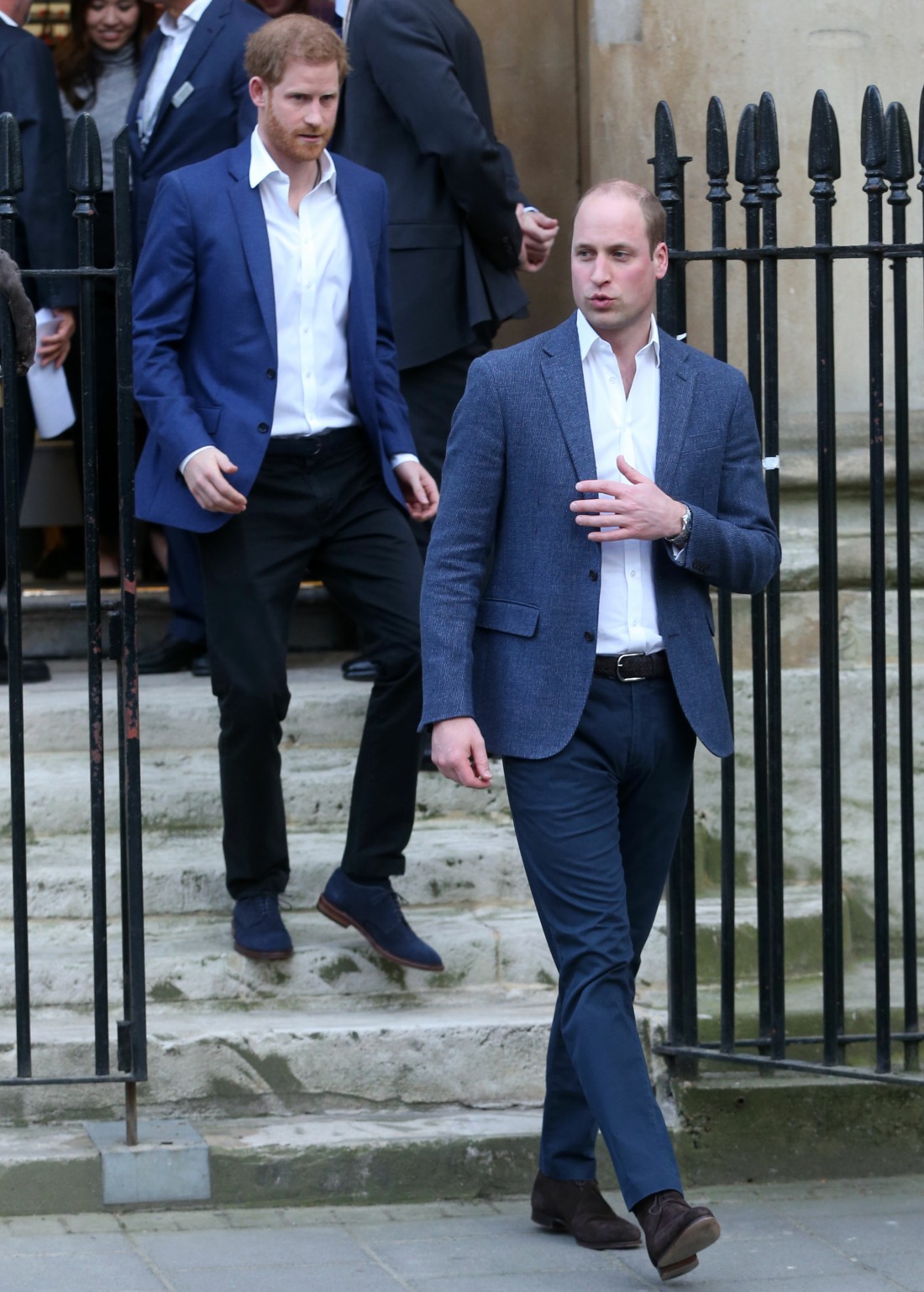 Before Prince William and Duchess Kate announced Prince Lou's name this morning, William tagged along to one of Harry's events. It happened yesterday evening in London: Harry was scheduled to open the Greenhouse Sports Centre in Marylebone, and at the very last minute, William was confirmed as a tag-along. Maybe William just wanted to get out of the house/palace? With three kids under the age of five, I guess who could blame him? But still, I'm absolutely shocked that William is not away on holiday somewhere, getting full use out of the "paternity leave" excuse. Perhaps that's his summer plan. Meanwhile, on the eve of the baby-name announcement, the Daily Mail's Richard Kay made some interesting observations about why Charles hadn't stopped by Kensington Palace to see his new grandson, even four days after the birth (you can read the full piece here):
When George was born: On the day Kate's labour began at St Mary's Hospital in Paddington, Charles was on a train en route to a day of engagements. He had offered to cancel his duties, but was assured it was not necessary because William did not want visitors to come to the hospital immediately, fearing they would be disruptive. Instead, George's first visitors were the Middletons, which established a pattern that, tellingly, repeated itself this week.

When Charlotte was born: When Kate's due date with Princess Charlotte emerged, the same instruction not to visit and not to cancel engagements followed. But as a royal aide noted: 'The Middletons don't do engagements, so it didn't apply to them.' In the event, Charlotte was born at the weekend and Kate quickly went home to Kensington Palace. When it became clear to Charles that the Middletons would be visiting, he made an immediate decision to go, driving himself and Camilla from Highgrove.

Charles wanted to keep up with the Middletons: According to a friend, he felt it would 'look awful' if he didn't visit his new granddaughter at the same time as the Middletons. He was said to have 'hared' down the motorway to London, and even radioed ahead to London for an aide to collect a gift from Clarence House which Camilla had chosen for the baby, to be sent over to Kensington Palace. In the event, Granny Carole and Grandpa Charles arrived at the palace almost at the same time.

William is a brat: 'When it suits him, William can be friendly and welcoming, but he can also be aloof and icy,' says a close figure. 'With his father, he can be cordial or effusive, especially if he wants more money, as he did for work on Anmer Hall – his house in Norfolk. He dispenses niceties like he is the owner of a sweet shop to a small child.'

William complained about Charles using a photo of George on his desk: Nothing illustrates this wilful approach better than William's reaction after Charles included a picture on his desk of him with George – alongside photographs of William and Harry – for one of the regular in-house videos the Prince of Wales makes for his charities in Commonwealth countries. William complained bitterly, even though the picture was one that had been issued publicly.

William is a Middleton: Nor, say friends, has he made any secret of the fact that he views the relationship that Carole and Mike Middleton enjoy with their children as being just what he covets for his own family. It doesn't take a genius to work out that he doesn't think he has had that kind of relationship with his father. For Charles, who wants only to be a mentor and sounding board for his sons and his grandchildren, it is not just a puzzling situation. It is also a sad one.
I tend to believe that this was Charles – by way of Richard Kay – putting William on notice to a certain extent. This was Charles telling William: you're a father of three now and you're still living off my largesse, so you better behave and stop with all of the Middleton nonsense. Or maybe I'm reading it the wrong way. Maybe this isn't Charles messaging anything to William beyond "IDGAF anymore." The way Charles went back to Scotland after his trip to France for Anzac Day was really interesting – almost like Charles has just given up, like he doesn't even give a sh-t anymore.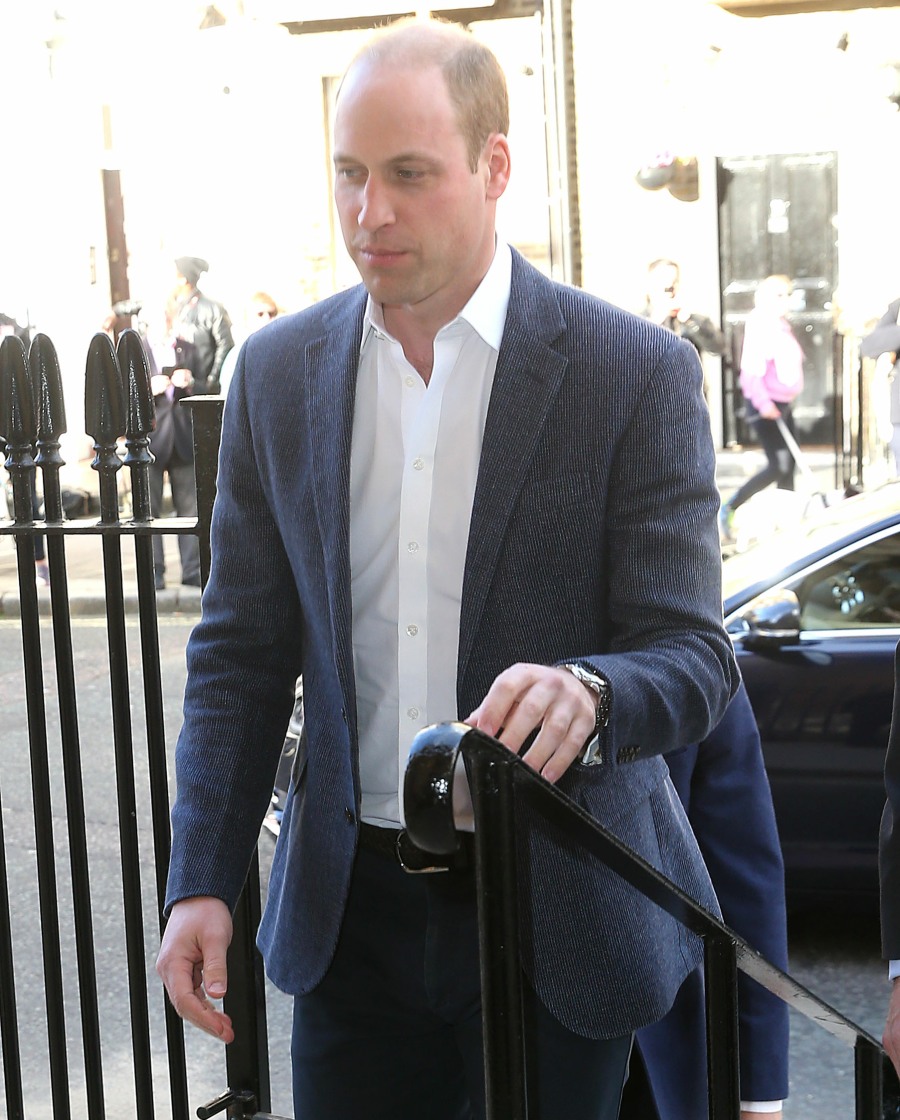 Photos courtesy of WENN.