I tried to watch Seth Rogen's Hilarity for Charity on Netflix with a friend and we only got through a half hour of it. The opening bit was funny but it was soon followed by a too long bit about penises from different countries that just made me cringe. None of the opening comedians made us laugh and there was something off about the format. Good for him for putting together a comedy show for a good cause, and maybe I'll give it another chance at some point.
Seth has an interview with Vulture that's getting a lot of press. First off, he says that he thinks the Sony hack must have been carried out by someone with access to their servers. Remember how Seth's 2014 film, The Interview co-starring James Franco, was threatened by the North Korean government for their portrayal of their dictator Kim Jong-un? A few months later The Sony hack happened, all of Sony's internal emails were leaked and it was blamed on North Korea. Only Seth thinks that it was too hard a job for North Korea and that it must have been done by someone on the inside. He also talks about the fact that he'd still work with James Franco despite the credible allegations against him for abusing women on and off set. Here's some of what he told Vulture about the Sony hack, with much more at the source. Seth really spills it here.
What thoughts get kicked up when you see North Korea in the news these days?
It does kick stuff up for sure. Honestly, I really don't think North Korea hacked Sony.

Why's that?
When the trailer for The Interview came out we were called into a meeting at Sony, where they told us that North Korea had probably already hacked into their system and seen the movie and that the statements they'd put out was their response. Then, months later, when the movie itself finally came out, all this hacking sh-t happened. This was months after North Korea had probably already seen the movie. Why would they wait? And they never did anything like that before and haven't done anything like it since. So things just never quite added up. The guy I'd hired to do my cybersecurity even told me, "There's no way this was a hack. It had to be a physical act." The amount of stuff that was stolen would have had to have physical mass to it.

In the sense that whoever stole the information needed to have his or her hands on a server at some point?
Yeah, it wasn't something you could've hacked remotely. It required plugging sh-t into other sh-t. And the hack also seemed weirdly targeted at Amy [Pascal], which seems fishy — of all the people to target? Why not me? Why not Michael Lynton? [CEO of Sony]

Has anyone given you a plausible theory for who else might be responsible?
I've heard that it was a disgruntled Sony employee. I've also heard people say that they think someone was hired to do the hack as a way of getting Amy Pascal fired. I don't know if I subscribe to those theories, but I kind of don't think it was North Korea.
So in Seth's mind the hack happened and they had a convenient scapegoat in North Korea as they'd already been threatened over The Interview. The timeline and volume of material stolen is more consistent with a different motive and means than North Korea had. That makes a lot of sense but I wonder if he just burned a bridge with Sony. He also said that he regretted playing along with Sony's request that he and James Franco act dumb and like they had no idea their film was going to be controversial. Of course they knew.
Here's the part where Seth is asked about the allegations against Franco. He's upfront about it, is still friends with Franco and would still work with him.
James Franco is something I have to ask you about. Were the recent allegations against him in keeping with the person you know?
The truth is that my perspective on this is the least relevant perspective. I'm friends with these people and I'm a dude. All that combined makes me the last person who should be talking about this.

Is it fair to say that the allegations didn't change anything about your willingness to work with him in the future?
Yes.

Can you tell me about the experience of seeing someone you know so well involved in a controversy like that?
There are so many people with real things to contribute to the #MeToo discussion that anything I say is not going to add anything useful.
I would have liked him to have said "I believe the women" point blank. This isn't the worst answer though, he knows he's not the person to speak on this issue and he's not pulling a Damon and defining women's experiences for them. I'm not a huge fan of Rogen's but he's not a douchebro and he's not pretending to be someone he's not. Maybe he's not trying hard enough though either.
There's so much more in the interview from Seth about his pot use, his process with co-writer and co-producer Evan Goldberg and the projects they're working on, as well as how he realized Guilt Trip wasn't working during filming. I appreciate how honest and open he was, even if I didn't like everything I heard. Also now I want to see Blockers.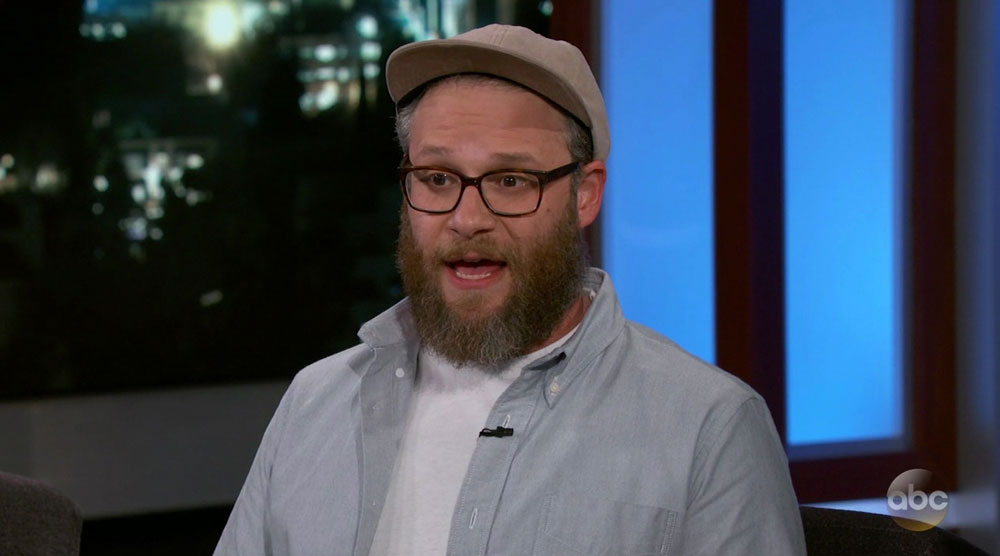 photos credit: Getty and WENN