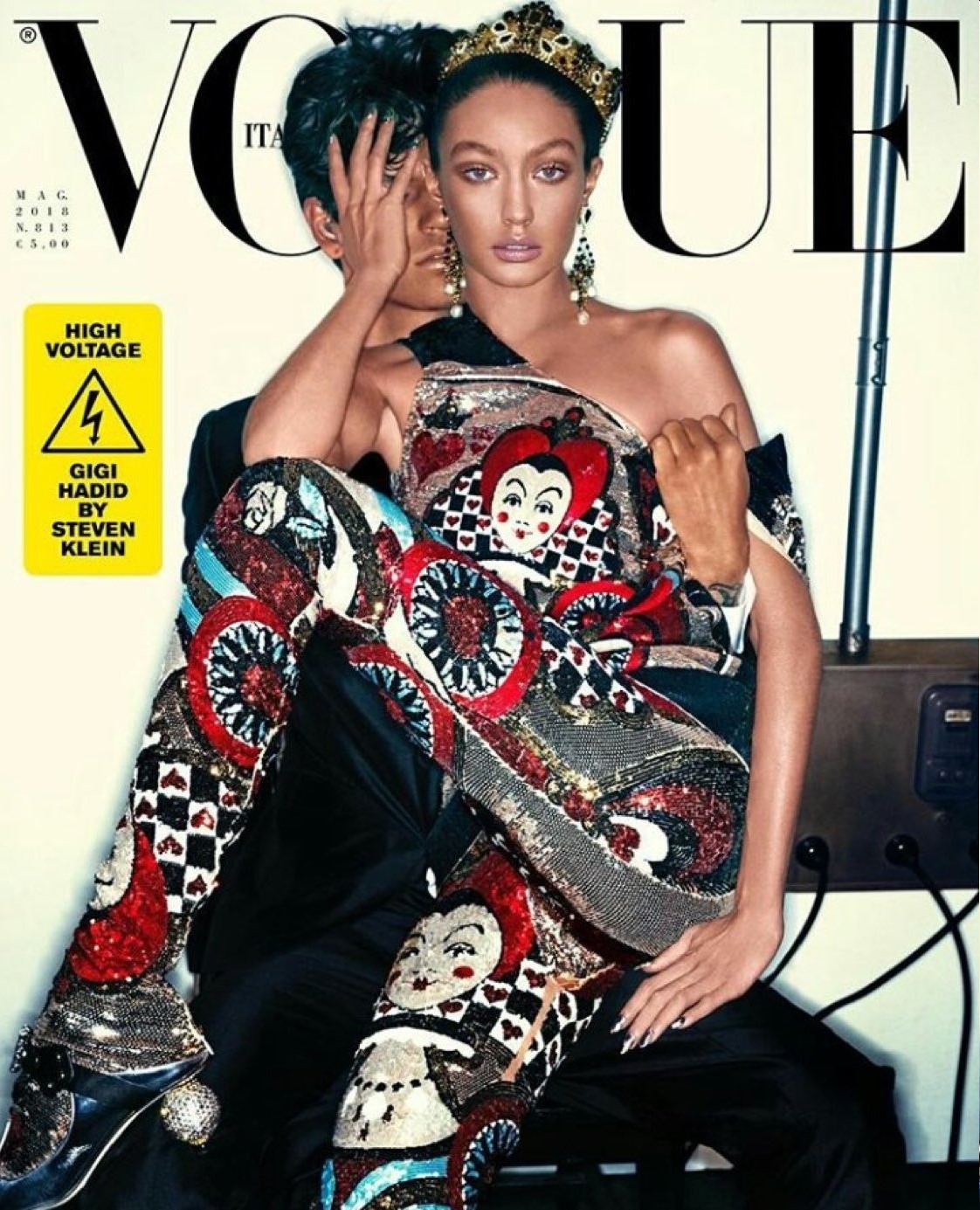 We discussed the Gigi Hadid-Vogue Italia cover yesterday, where it looked like Vogue Italia bronzed the hell out of Gigi's skin and gave her an otherworldy kind of look. "Otherworldly" in a bad way, because A) Gigi is unrecognizable on this cover and B) because everyone was like "so is this blackface?" There were strong opinions on both sides, as Bigly would say. The cover and editorial was shot by Steven Klein, who is known for doing some post-production "oversaturated color" looks in his fashion photography. And that's the excuse Gigi gave in her apology: that she was bronzed, but that she looks darker on the cover than she would have preferred, but that it was the magazine's call and not hers. Here's part of her statement/apology:
"This is a photo of me returning home from shooting my Italian Vogue cover on April 3rd…you can see the level I had been bronzed to on set that day. Please understand that my control of a shoot 1. is non existent in terms of creative direction. 2. ends completely when I leave set, and anything done to a photo in post if out of my control fully."

"The bronzing and photoshop is a style that S. Klein has done for many years and I believe was what was expected from the shoot (to show me in a different way creatively), BUT, although I understand what Vogue Italia's intentions were, it was not executed correctly, and the concerns that have been brought up are valid."

"I want to address this for those who were offended by the editing/retouching/coloring of the cover. Please know that things would have been different if my control of the situation was different. Regardless, I want to apologize because my intention is never to diminish those concerns or take opportunities away from anyone else, and I hope this can be an example to other magazines and teams in the future."

"There are real issues regarding representation in fashion—it's our responsibility to acknowledge those issues and communicate through them to work towards a more diverse industry."
She made that statement with a tweet, which I have embedded below. For what it's worth, I sort of agree with her – I've blamed models in the past for what they agree to for editorials, and it's always a tricky thing, figuring out what is the editors' fault and what is the model's fault. Like, the second a white model starts getting made up as a geisha, I do think that she should be the one to say, "wait a second, is this offensive?" But that's not really the case here – Gigi was bronzed, but I believe her when she says that the image's contrast was heightened in post. I also appreciate that she apologizes and that the complaints and concerns were valid. This is an A-plus way to handle the controversy.
— Gigi Hadid (@GiGiHadid) May 3, 2018
Cover courtesy of Vogue Italia.