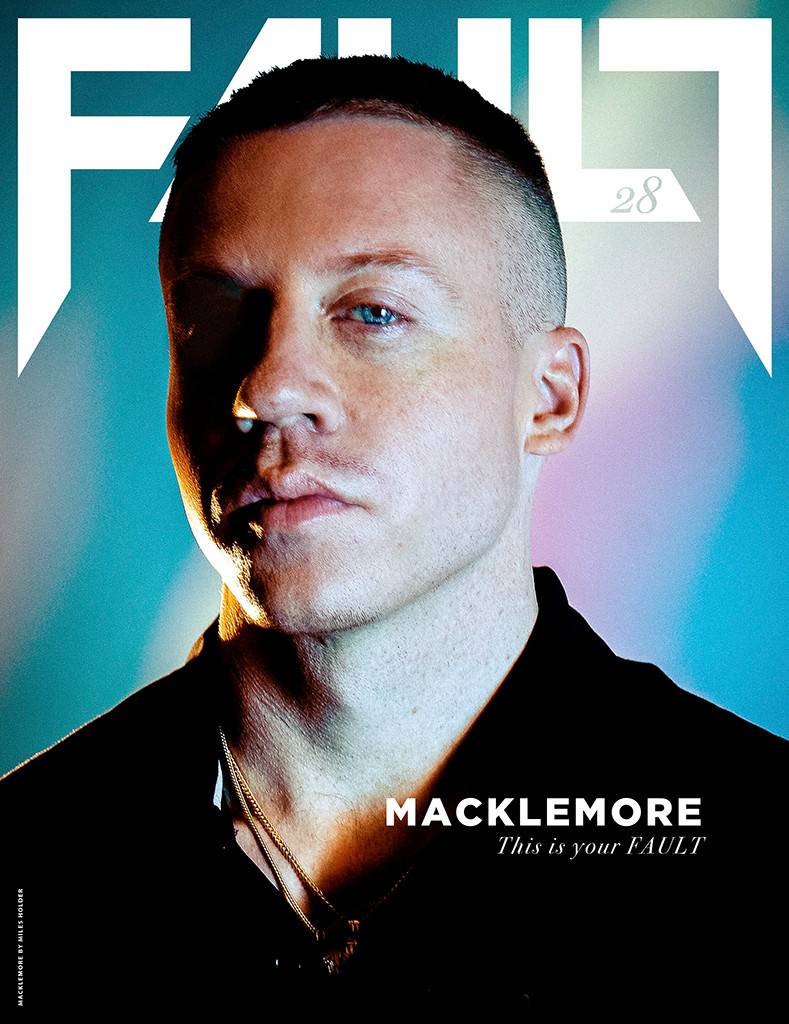 Macklemore has a new interview with Fault Magazine from which outlets have been running quotes. After reading the whole interview, I was impressed by how thoughtful and authentic he comes across. He's an interesting person with some wisdom that comes from dealing with life and fame. He doesn't sound fake or full of himself to me, which is rare for celebrities. I especially like what he said about learning not to care what people think or say about him, and how that was hard fought. He's promoting his tour as a solo artist, which is happening now. I haven't included the excerpts about how he's missing his newborn second child, a girl born in mid March whom he admits was unplanned, but it sounds like he's having a hard time and is contemplative about it.
On his white privilege
I want to acknowledge the systems in which we operate under in America. We are all under the system of white supremacy, and I do benefit from the colour of my skin in numerous ways, and that plays a factor in how I have an advantage regarding my art and concerning my career. To take from specific cultures and not acknowledge what's going on is disingenuous. If I know the truth about it, it's crucial for me to speak on the subject matter.

He was asked about "the hardest moment of your musical journey"
Adjusting to the fame in a condensed period and not staying sober has been the worst. There was a rapid transition and to have the world's eye on me all at once with back- to-back number ones, and all the accolades that came with it – I didn't know how to deal with it. I didn't know how to adjust, so I escaped. I think a lot of that peak season when I was around a bunch of people, doing sold out Arenas across the world was me isolating and using drugs. I used drugs to cope it and to get out of my head.

On learning not to care what people think about him
Dealing with the love, criticism and outside public perceptions is a balancing act. Over the years I figured out how to deal with it, and it's by not giving a fuck. People always say, "I don't care what people think of me" but we all care! We are all insecure, and it's a human fault that ties us all together, but when you can acknowledge that, you can work consistently in a spiritual practice that lessens how much you care. When you realise who you sincerely are, and not through somebody else's eyes but through your soul and your spirit, all of a sudden there's inner peace. It takes work and maintenance, and if you're paying attention to the media and you're on social media all the time to look for validation, it'll never come. There will always be somebody that's disagreeing with what you're saying; you have to be at peace with yourself.

He's asked for his "fault" and he says is't addiction
Addiction. I think that's the thing that always reminds me that I could lose all of this at any minute. If I stop prioritising the daily recovery program that I do to maintain sobriety – I will lose it all. It's bigger than my career and more significant than record sales – it's my family. It's my happiness, my life. A lot people at the beginning of the recovery wish they were normal and asked, "why can't I just drink and do recreational drugs like other people?" I don't think like that anymore; I think my program has been a way for me to get closer to god and for me to figure out who I am. Recovery helped me discover my character defects and my shortcomings and how I can progress to become a better version of myself. It's there to remind me that this life isn't permanent and I can lose it if I don't work to maintain that sobriety on a daily basis.
Macklemore's answer to the addiction question sounds straight out of AA, but it's true. If you go back out and drink or drug again you can lose everything. It might not happen right away, you may not end up homeless, but you're losing either way. Your relationships and your life will suffer. I remind myself of that on a daily basis. I see multi-millionaire celebrities who are still struggling and I would not change places with them. (See: Drew Barrymore.) Sobriety is a gift and it's peace of mind for the most part. Also, I appreciate how often Macklemore raps about his sobriety, like "Starting Over" from The Heist about relapsing, "Otherside" about using, "Drug Dealer" about the opioid epidemic or some lines from "Good Old Days" about putting down the bottle. He's helping a lot of people by being so honest about it and some of his songs are so moving I get teary.