Hugh Jackman and Ryan Reynolds first appeared on film together in 2009's X-Men Origins: Wolverine. Hugh played Logan/Wolverine and Ryan played Deadpool. Unfortunately, those characters never went anywhere and we've heard nothing about them since. Wait, no – they both became massive successes (despite that terrible movie, IMO) and went on to popular franchises (yes, I realize that Hugh's Logan was already incredibly popular but his spinoff movies took a while to get some traction story-wise, just sayin'). Now that the wildly anticipated Deadpool 2 is coming out, Hugh decided to send Ryan some helpful advice while appearing on GMA. After professing his love for Ryan, Hugh told Ryan he needed to back off to up his appeal:
"Ryan… back it up a little. Play a little hard to get. It's not sexy." @RealHughJackman has a message for @VancityReynolds LIVE from @GMA this morning… pic.twitter.com/2VK9f53Qby

— Good Morning America (@GMA) May 10, 2018
For those who haven't been playing along at home, this "feud" began almost as soon as the friendship. They take plenty of swipes at each other on social media. Like when Hugh "congratulated" Ryan on his star on Hollywood's Walk of Fame:
@VanCityReynolds asked me to post this 100% real video by him on being honored with a star on Hollywood's Walk of Fame today. pic.twitter.com/LE4dQXpTuV

— Hugh Jackman (@RealHughJackman) December 15, 2016
Or when Ryan trolled Hugh after the Logan premiere:
Thanks for an amazing visit Beijing! @WolverineMovie @20thcenturyfox pic.twitter.com/FsbuNpXMQ1

— Hugh Jackman (@RealHughJackman) March 5, 2017
Pretty sure those are protesters. https://t.co/URNGDCg0cO

— Ryan Reynolds (@VancityReynolds) March 5, 2017
Really…Guy … Really?!@VancityReynolds https://t.co/HL0bv16rhC

— Hugh Jackman (@RealHughJackman) March 5, 2017
Ryan even got in on Hugh's anniversary post to his wife. And just recently, when Hugh tried to record a birthday video for a fan:
When you're trying to record a heartfelt birthday message …. but are interrupted by the least greatest showman. @VancityReynolds pic.twitter.com/RwlE4IXFX1

— Hugh Jackman (@RealHughJackman) April 27, 2018
My favorite part of that is Hugh can't help but join in the songs. He tries so hard but… but… there's singing happening! Ryan once said that the feud works so well because any kind of public squabbling runs in complete contrast to Hugh's personality. And he's right, we are all in on the joke because we know the people involved and their affection for each other. Of course, all this recent activity is just fueling rumors about Logan and Deadpool reuniting at some point, which would normally seem difficult given certain plot lines, but this is the comic book genre – anything is possible.
In other fun Deadpool news, the latest teaser includes Deadpool apologizing to David Beckham for taking a crack at him in Deadpool 1, only that's not why David thought he was apologizing:
Little known fact: Canadians are born with a black belt in apology. #deadpool2 pic.twitter.com/CLxPq34PXO

— Ryan Reynolds (@VancityReynolds) May 10, 2018
Does Ryan just wear that suit all the time now? Kind of OT, but how happy do you think David is that Jared Kushner is the new target for 'voice' jokes?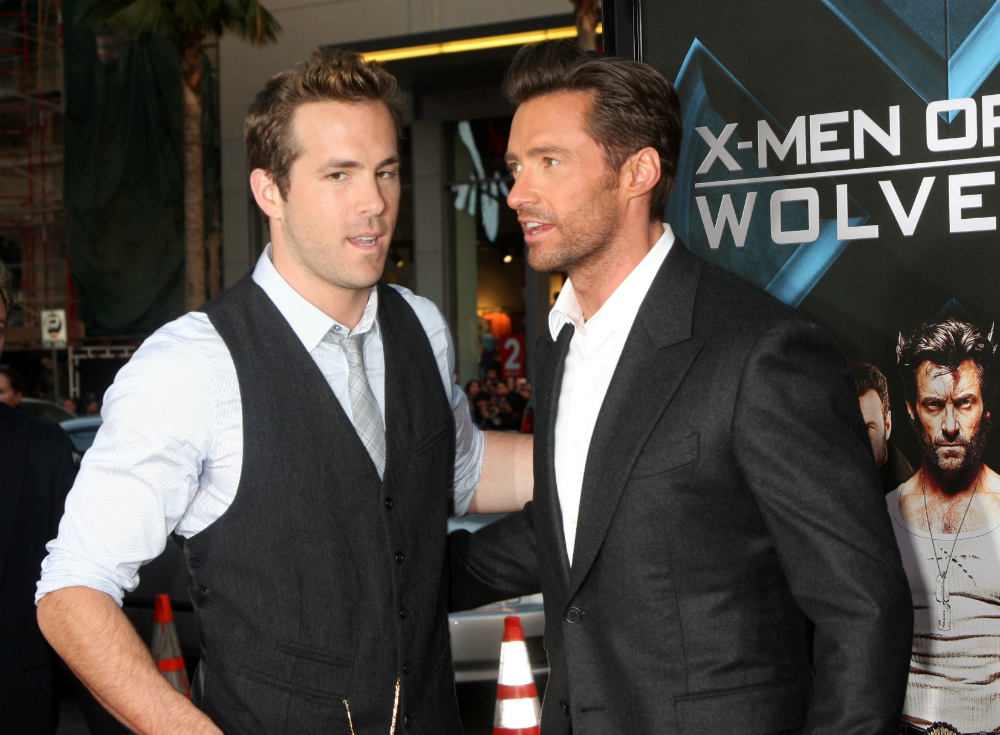 I think Ryan and James speak for all of us
Embed from Getty Images
Hugh and Deb Furness at the Met Ball
Embed from Getty Images
Photo credit: Twitter, WENN Photos and Getty Images