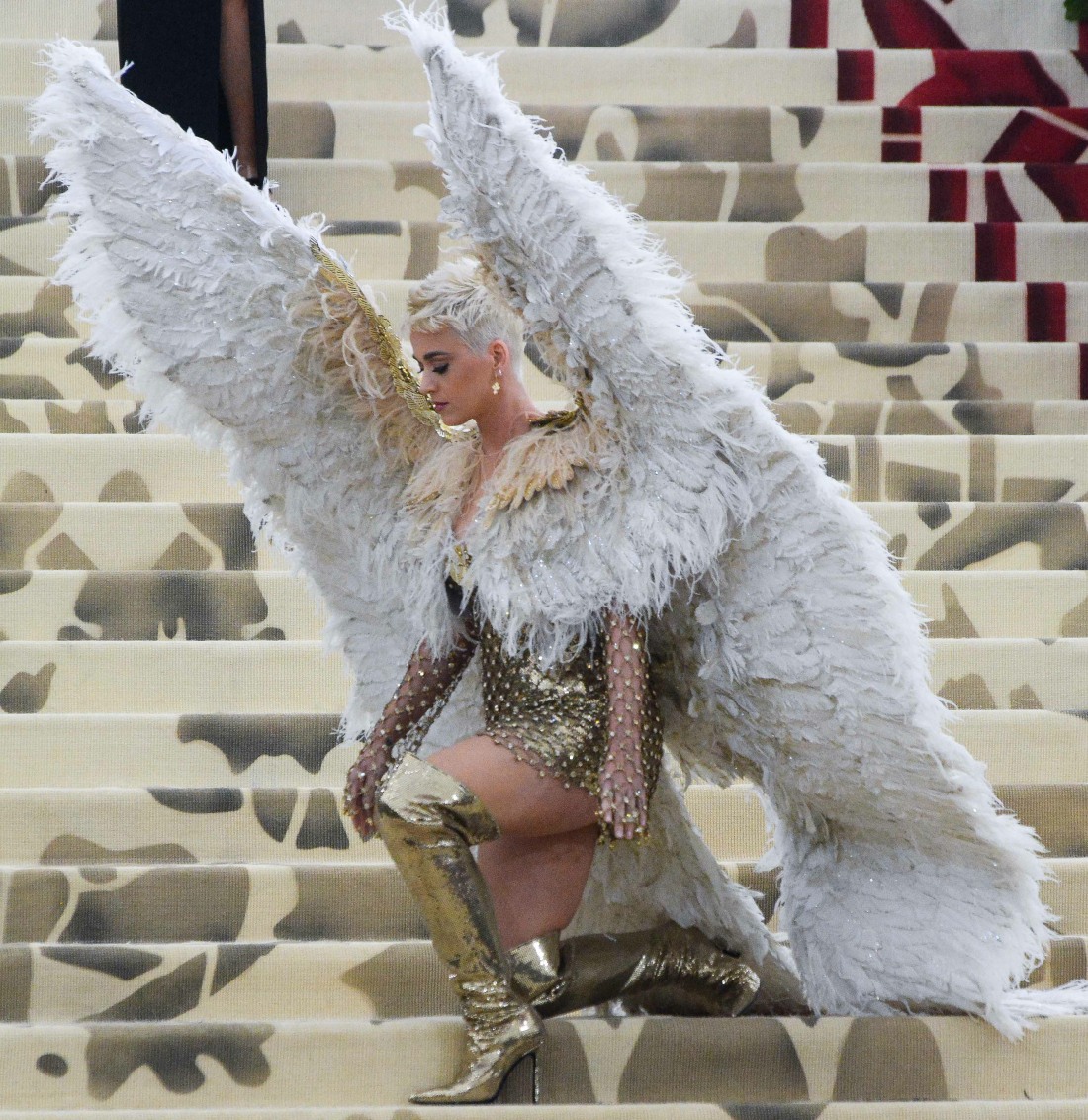 You guys know that I'm petty and I love a good feud. Throughout my life, my mouth has often written checks which my ass could not cash. I've mellowed out as I got older, but I still have a bad temper and I will still talk sh-t about nearly anyone. But I appreciate that people are different, and that some people are actually peaceful and Zen and evolved. I get the feeling that Katy Perry is really there, she's in that place of no longer caring about feuds and fights and drama. She's evolved. Throughout 2017, she made many references to how she was ready for her Taylor Swift feud to be over. Nothing really happened on Tay's end. So that's why Katy sent Taylor the hand-written note and a literal olive branch.
Katy Perry sent Taylor an olive branch for the opening night of the reputation Stadium Tour! pic.twitter.com/6GDamcxezI

— Taylor Swift Updates (@TSwiftPR) May 8, 2018
So what was behind this, really? According to ET's exclusive, Katy was just ready to genuinely end the Bad Blood.
A source tells ET that Perry definitely gave her apology to Taylor Swift a lot of thought before sending it. According to the source, Perry was even willing to keep trying if Swift didn't accept it. "Katy planned a very personal, sweet apology and took time to write a kind note in hopes Taylor would see how much she cared about putting this behind them," the source says. "Katy told friends if Taylor didn't accept this apology, she would keep trying because she is done holding on to the past and wants to be part of the change in today's society. She wants to set a good example for women, so she planned to never give up, if that is what it took."

"Katy hopes they finally can be supportive of each other's music and maybe one day soon even hang out together again," the source adds. "Katy realizes they need to take it one day at a time, but that this is a great start."

"Katy and Taylor's years of cruel comments about one another in their interviews, their shots at each other on their social media and their full-blown attacks in their music videos, continued to show their one goal — revenge," the source claims. "In the beginning, both Katy and Taylor were to blame for their digs at one another, but Katy has been trying to make amends for some time. Each attempt by Katy to apologize or show Taylor respect went either unnoticed or worse, ignored. Most of their friends have come to terms with their disdain for one another, but it hasn't made social situations easy for anyone. Their mutual friends often felt obligated to choose 'Team Taylor' or 'Team Katy.'"

But according to the source, Perry has been eager to reconcile with Swift, and has been trying to cut out the negativity in her life.

"She hates that feeling of having bad blood," the source notes. "She often told friends she wanted to end this fight with Taylor, but didn't know how to make that happen. Katy's attempts to apologize through her interviews seemed to have no effect on Taylor. She kept trying to show Taylor she cared and wanted to end this rift, but Taylor wasn't having it."
When Katy kept apologizing to Taylor in interviews last year, I said that I wished she wouldn't. It's not that my petty self wanted to see the feud extended, it's just that Katy was giving up a powerful position in the gossip landscape: she was genuinely being bullied by "mean girl" Taylor Swift, regardless of Entertainment Tonight's Both-Sides-ism. Taylor started that sh-t and Taylor took it to a ridiculous level just to "prove" that… like, she has more friends than Katy and probably something about John Mayer too. Katy was the one being wronged and she should not have to apologize for it. But maybe Katy has really found some kind of enlightenment and Katy didn't view this as some kind of supplication – in some ways, Katy's olive branch just underlines the point that Taylor is incredibly petty, a champion grudge-holder and a forever-bully.
Also, in case you were wondering if "sources close to Taylor Swift" would say anything about this on the record, wonder no longer. People Magazine had an exclusive where a source close to Swift says Tay "was truly happily surprised and very impressed that Katy reached out. It was a great start to Taylor's tour…That Taylor posted Katy's letter wasn't mean-spirited. She wanted her fans to know what is going on." More like Taylor wanted to publicly gloat that she got her bullying victim to beg for her forgiveness.
Photos courtesy of Getty, WENN.