Jada Pinkett Smith has joined forces again with her daughter Willow and her mother Adrienne for an online talk show on Facebook. They previously recorded segments for the show in 2011. On the series, entitled Red Table Talk, the trio "open their home for a series of candid conversations with family and friends." It's more like online therapy than a talk show. One of Jada's guests this go-around was her husband Will's ex-wife, Sheree Fletcher. Sheree is the mother to Will's 25-year-old son, Trey.
Jada had Sheree on the show to discuss the struggles of raising a blended family. They also discussed the fact that they didn't get along when Jada and Will first got together.
Jada on dating Will when he was married
"Here's the one thing I will say in hindsight, because I did not understand marriage, I didn't understand divorce, I will say that I probably should have fell back."

"I feel like when Will and I first started dating. I had this thing in my mind, 'that's done.' That's where I was wrong."

On a fight they had on the phone
Sheree: "Very few times in my life I can recall being checked real hard. You weren't out of line. You picked up the phone. I wasn't really respectful. I'm calling to talk to Trey but I had to go through you to get to him. You let me know 'I don't really appreciate your tone' and you hung up on me. I called back and I happened to say 'Bitch, you living in the house I picked out.' You said 'It's my house now.'"
Jada: "I want you to know Will Smith let me have it. His take was 'That is Trey's mother and that's just not your place.'

Sheree on how Jada made up to her right after that
"The next time I saw you was in the foyer of your house. You took the initiative to make things right. The one thing I would say about you is you would always say 'Ree, I apologize.' You always owned it and thank you for that."
[From Facebook video via People]
Fortunately, Jada realized the importance of having Sheree in Trey's life early on. The path to achieving a healthy blended family was sometimes "annoying," with Sheree noting that "We have to understand that we do have boundaries and lanes. Sometimes it was too much and I thought Jada needed to fall back." She came to realize, however, that Jada meant well. "I also saw your heart in it. You weren't trying to take my place." Sheree also admitted that, "my son could not have a better bonus mom." Jada chimed in with, "And he's got a great mother. We did it." Awww.
It's great that these two get along, and it makes for an enticing watch. Of course, Jada and Will have been very open about their relationship in the past. Well, except for the whole "Are they or aren't they?" question regarding their involvement with the Church of Scientology. I'm curious to see who Jada has on in the future.
While Jada is sharing her life on social media, Will is whooping it up in Colombia. And when I say "whooping it up", I mean dancing up a storm, often at the embarrassing expense of his son Jaden. Will posted a video featuring clips of him shaking his groove thing with the locals and attempting to get his son to twerk. You've gotta love this guy.
Here's the video from Red Table Talk.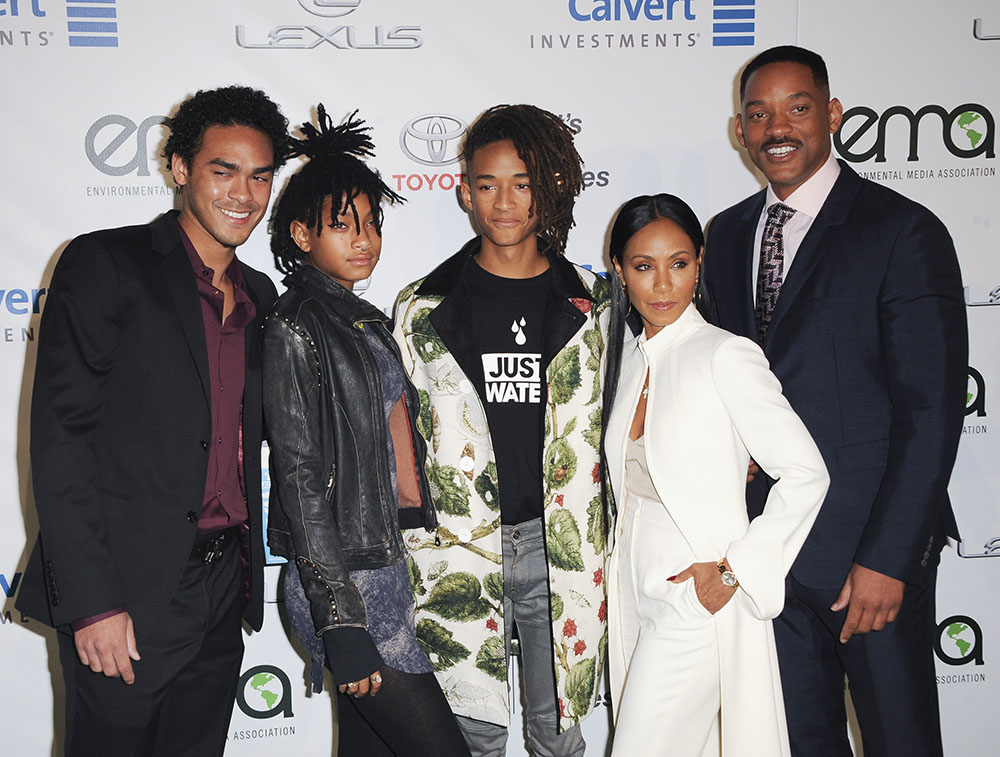 Photos: Getty Images, WENN.com, Instagram