When we last checked in on the OG EGOT and national treasure Rita Moreno, the legendary 86-year-old singer/actress/dancer/childhood icon (if you watched The Electric Company like I did) spilled some tea on her past romantic relationships, more specifically, emotional entanglements with Marlon Brando and Elvis Presley.
During a CBS Sunday Morning profile in January of last year, she said that despite being a "sweet, darling shy fellow" she found Elvis "boring" and, as for Marlon, she said he was "astonishing" and "damn near killed me." Well, Rita further elaborated on these memories on Thursday's episode of The Wendy Williams Show.
The radiant Rita will once again grace our TV screens in 2019 as the feisty Cuban abuela Lydia on Netflix's reboot of the Norman Lear comedy One Day at a Time which was picked up for a third season on Netflix (please bring back Ed Quinn as Justina Machado's love interest). On Wendy's show, she shared that when she was asked to do the show initially, she said that she would under one condition, stating, "I know [Lydia's] supposed to be 77, but she has to be a sexual person."
Of course, that's not why you're reading this, now is it? The vivacious octogenarian was more than happy to discuss her past dalliances, especially her tumultuous relationship with Brandom, who she met in 1954 on the set of the historical drama Desiree. And now, the juicy stuff. As far as Marlon's sexual prowess, she said,
[Brando] slayed me good 'cause he was the king of everything. Eeeeeeverything. He was the king of movies. He was really one of the most sexual men on Earth." She added, "It was one of those very tempestuous love affairs. It lasted eight years, on and off, on and off, on and off.
Unfortunately, Marlon wasn't looking for a long-term relationship and when Rita discovered some lingerie that didn't belong to her among Marlon's things, she says she was "devastated." Her devastation was short-lived, as the very next day, she got a call from Elvis' manager, Colonel Tom Parker, and, as she recalled,
"He said, 'Elvis would like to meet you. Would you like to meet him?' And I thought about that underwear, and I said, 'YES I WOULD.'"
News of Rita's kingly fling got back to Marlon and he was none too happy about it. Rita told Wendy that the actor was "furious", adding, "He was the one who'd been cheating. But he was furious, and that man threw chairs. It was wonderful!"
Wendy wanted to know who was better in the sack, and Rita joked that comparing Elvis and Marlon was akin to comparing "a two-year-old and the king." She added that sex with Elvis was "amateur night." Ouch. Rita ended up married for 48 years to cardiologist Leonard Gordon, who she joked was "a nice Jewish doctor, which I know is redundant." Leonard passed away in 2010. Rita and Leonard had one daughter, Fernanda, who happened to be in the audience, hearing her mother's saucy kiss and tell.
If you do nothing else, just watch Rita's enthusiastic entrance in the clip – and remember that she's 86. 86. Let that sink in for a moment. I'm off to a Zumba class.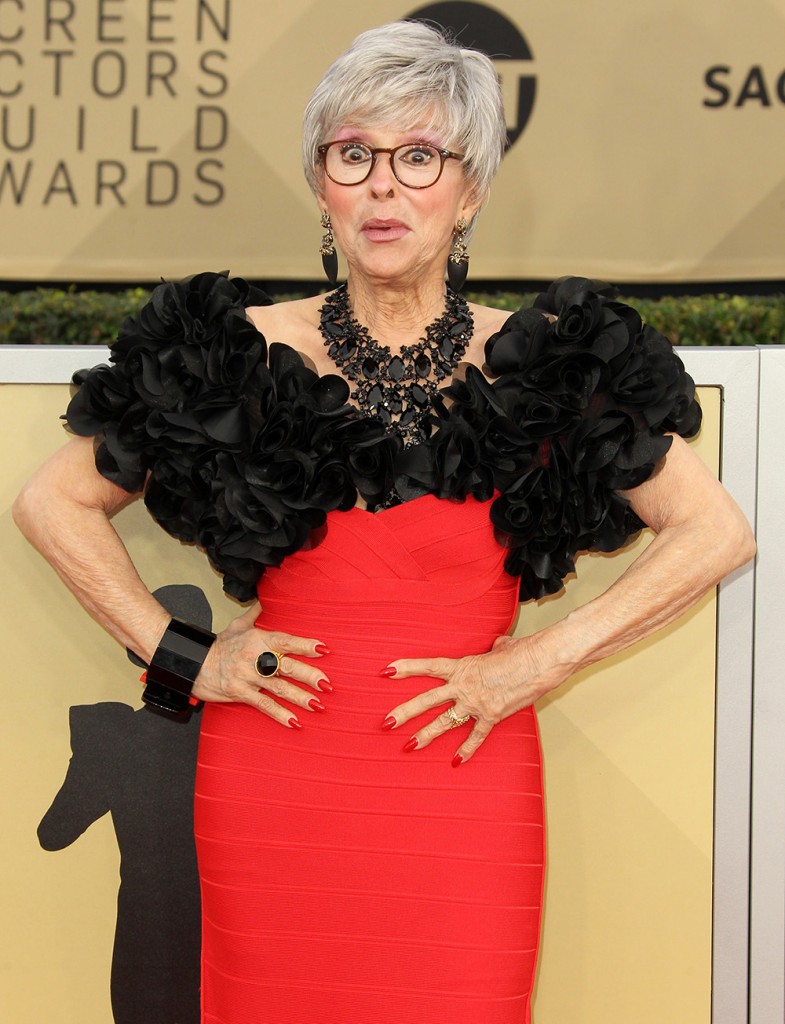 Photos: Getty Images, WENN.com