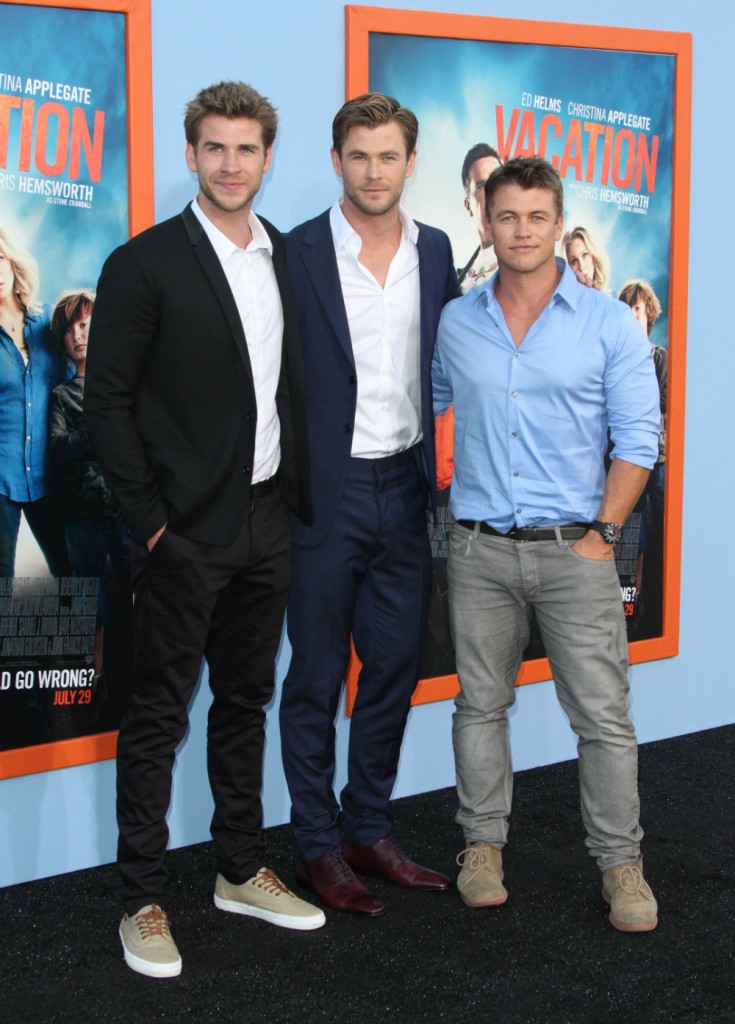 Before there was the "Who is the Best Chris" debate, there was the "Who is the Hottest Hemsworth" debate. Camps were bitterly divided and things only got messier when big brother Luke entered the race because he genuinely seems like a real sweetheart. And just when we all agreed to disagree, the crown was snatched from all the boys – by their own father.
On Wednesday, Liam posted a nice photo of himself and his folks hiking (which, to me, looks like Charmlee Wilderness Park in Malibu). Liam captioned it with a clever comment about hiking with "the oldies" and then spoke of rattlesnakes and how he'd misled his brother (I assume Luke, who lives in CA like Liam). But nobody read the caption because they couldn't get past how well-built Craig Hemsworth is:
Followers went a little nuts for the photo with comments like, "Your dads a tank!" and "Hot damn! Thor who?? Lol" to "Gee I wonder where you get your guns from… "
We don't know exactly how old Craig is. His oldest son Luke will be 38 this year so he is somewhere in the range of 58-90. My guess is somewhere around the 60-70 range. He's incredibly fit. Of course, mom Leonie is equally fit. I want to say it's something in the water but I'm sure it's some nonsense about working out, eating right and taking care of yourself and all of that other stuff "they say" works to maintain a healthy body. Some people *cough My Very Jealous Husband cough* suggested Craig's arm might have been Photoshopped but I see similar definition in this photo of him and Chris surfing. Not to mention I don't think any of the Hems boys are that gifted in photo manipulation.
Also, WTH about rattlesnakes? You can't walk two feet off a trail in LA without getting a rattlesnake warning. Or maybe the Hemsworth Clan is just Australia-blind to our lesser poisonous snakes. Don't tangle with those, son – that is one painful recovery. And watch those pups.
Speaking of Hemsworth and their Arms of Glory, Chris and The Rock are currently flexing on social media over box office totals and thank you videos and I am all in for this:
Avengers now the highest grossing super hero movie of all time, I'll say again thank you thank you thank you everyone for supporting this little community theatre production 😘🙏💪🤙😁⚡️✌️@marvel @avengers @TheRock pic.twitter.com/FNdBFUbnxp

— Chris Hemsworth (@chrishemsworth) May 16, 2018
First of all, of you're truly going to take a page outta my book when shooting gym videos, then you'd be naked from the waist down. Never mind. TMI.
A HUGE congrats to you brotha. You just made history! Very proud and happy for you and the team!! #Avengers #Marvel 💪🏾 https://t.co/cxNlPDAMxa

— Dwayne Johnson (@TheRock) May 16, 2018
Thank you mate, but who says I was wearing pants? You may have noticed I was strategically shooting from the waist up 👍👍👍 https://t.co/hsiP5o1fvP

— Chris Hemsworth (@chrishemsworth) May 16, 2018
Photo credit: WENN Photos, Getty Images and Instagram