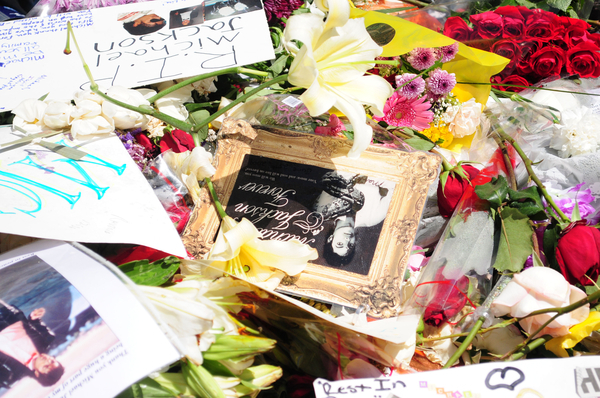 The British newspaper The Sun got their hands on a "leaked" autopsy of Michael Jackson. I'm not sure if this legitimate – but I think there's a good chance at least part of it is. Most of the findings are what you'd expect – supposed evidence that Michael Jackson was some kind of prescription drug addict, Michael had a lot of plastic surgery, and he was very, very thin, between 112 and 126 pounds depending on which account you believe. The Sun also reports on a lot of the bruising and damage allegedly done to Michael's body in the last hours of his life, and perhaps even post-mortem, as the doctors and paramedics attempted anything to revive Michael. I edited it out that stuff, because it seemed really judgy, and we have no real idea what the doctors and paramedics were doing, and if they helped or hurt Michael. If you'd like to read the whole thing, in all of its tabloid-glory, you can read it here. Here are the basics of the state of the report:
Harrowing leaked autopsy details show the singer was a virtual skeleton — barely eating and with only pills in his stomach at the time he died. His hips, thighs and shoulders were riddled with needle wounds — believed to be the result of injections of narcotic painkillers, given three times a day for years. And a mass of surgery scars were thought to be the legacy of at least 13 cosmetic operations. The examination showed the 5ft 10in star — once famed for his on-stage athleticism — had:

*Plunged to a "severely emaciated" 8st 1oz. It is understood anorexic Jackson had been eating just one meager meal a day. Pathologists found his stomach empty aside from partially-dissolved pills he took before the painkiller injection which stopped his heart. Samples were sent for toxicology tests.

*Lost virtually all his hair. The pop pin-up was wearing a wig when he died and pathologists said little more than "peach fuzz" covered his scalp. A scarred section of skin above his left ear was entirely bald — apparently the result of a 1984 accident when his hair caught fire as he filmed an ad for Pepsi.

*The autopsy also found unexplained BRUISING on Jackson's knees and on the fronts of both shins. And there were CUTS on his back, indicating a recent fall.

*The King of Pop's once handsome face bore a network of plastic surgery scars, while the bridge to his nose had vanished and its right side had partially collapsed.

As inquiries into the tragedy last night focused on the star's personal physician Dr Conrad Murray, a source close to the Jackson entourage said: "Michael's family and fans will be horrified when they realise the appalling state he was in. He was skin and bone, his hair had fallen out and had been eating nothing but pills when he died. Injection marks all over his body and the disfigurement caused by years of plastic surgery show he'd been in terminal decline for years."

"His doctors and the hangers-on stood by as he self-destructed. Somebody is going to have to pay."

A second autopsy demanded by the Jackson family was carried out at a secret location on Saturday after the first ruled out foul play. Family friend Rev Jesse Jackson said the family were deeply suspicious about what caused his death.
[From The Sun]
Yesterday, The Mail printed this absolutely horrible story written by Ian Halperin. It seems loosely based on The Sun's copy of leaked autopsy, but taken to a really gross level. Halperin claimed that Michael had lost his voice, he couldn't dance anymore, and that there was no way he could have done one show, much less fifty. Halperin is a wingnut – he runs that horrible "Ian Undercover" site that seems dedicated to promoting the grossest versions of the worst tabloid stories. When Michael Jackson's full autopsy report is released, I'm sure we'll find he was truly in a horrible state – but that's no reason to jump to conclusions about the specific actions of his doctors, his family, and his friends.
Update: According to TMZ, this autopsy story "was fabricated and [is] completely false"
Photos are of the memorial on Michael Jackson's star on the Hollywood Walk of Fame. Credit: PRPhotos