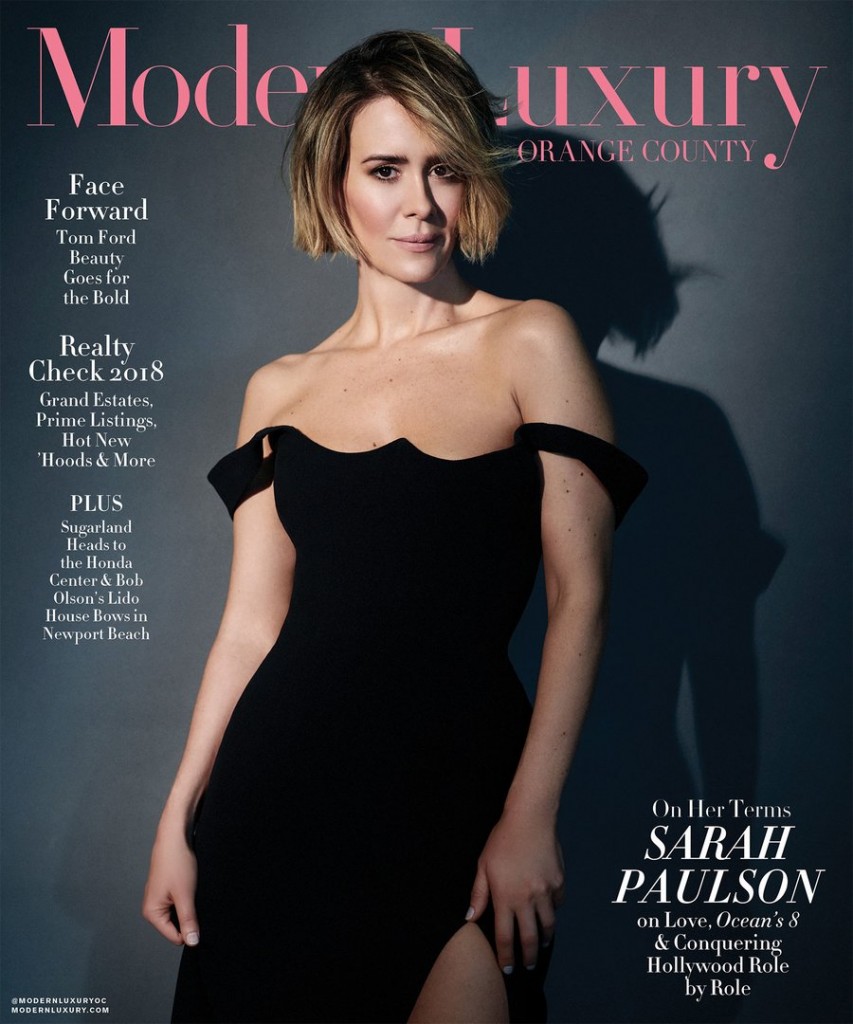 As an acting nerd, I'd really rather hear more about the lovely Sarah Paulson's professional career, but it seems people can't get enough about the 43-year-old actress' relationship with 75-year-old Holland Taylor. Sarah, who is about to grace us with her presence on the big screen in Oceans 8, is the covergirl on Modern Luxury's June issues.
Sarah has never been one to get typecast, partially thanks to her serving as Ryan Murphy's muse. She's played conjoined twins, Marcia Clark and made for a convincing Geraldine Page on Feud. She's also about to play the wicked Nurse Ratched for Ryan's latest Netflix endeavor. Outside of working with Ryan, Sarah has had a hand in comedy. It seems there's not a role she hasn't taken on.
Sarah loves to take on new challenges and transform herself for her craft, telling the magazine, "The more I can look in the mirror and not recognize myself, the more excited I am." Sarah also talks about the concept of beauty in Hollywood, her own muse (the revelation of which makes me love her even more), and, of course, Holland.
Sarah on beauty: "We're constantly faced with all these ideas of beauty—things that Hollywood puts out there for us to gobble up. It's very powerful when I look in the mirror and the first thing I'm thinking isn't, 'Are you pretty? Are you going to appeal to someone?' I can work much more freely when I don't have to concern myself with my looks."

On her muse, Carol Burnett, who went from comedy to Annie villain Miss Hannigan: "The knowledge that she had been on something else that I watched that was so different, and then here she was playing this mean lady at the orphanage…it was just a wild connective tissue where I thought, 'Oh, my god. This is something that people do.' And the moment I knew you could do it for a living, I never really thought about doing anything else."

On her 12 Years a Slave role: "Likability has never been a word that has resonated with me. I'm interested in playing human beings. And I have yet to meet a human being that was uncomplicated in this life."

On her relationship with Holland Taylor: "If anyone wants to spend any time thinking I'm strange for loving the most spectacular person on the planet, then that's their problem. I'm doing just fine."

On getting older in Hollywood: "If being older means the kind of roles that I'm getting to play now because of all the ups and downs and hills and valleys preceding it, I say bring it on. Every once in a while, I'll go, 'Wow. That's seven years shy of 50.' That's the big five-oh. But then I go, 'Stop running seven years down the road. You have no idea what your life will look like and where you'll be.' And that's just what makes life so sweet. You cross your fingers, take a deep breath and jump. And that's really all you can do."
[From Modern Luxury/Philadelphia Style]
I really love Sarah's body of work, and am looking forward to her future projects. Fortunately, we won't have to wait too much longer for Oceans 8, which hits theaters on June 8. And, as much as I am 100% supportive of Sarah and Holland's relationship, I feel like Sarah is having to spend far too much time defending her union, especially after she's been rather outspoken about paying no mind to the haters. Trust me, I have been in the position of having to defend my dating choices in the past (also a May/December thing, so I really can relate), but I'll be glad when we can all focus on her work.
Okay, rant over. Please enjoy watching Sarah getting the crap scared out of her (again) last week, courtesy of Ellen DeGeneres. There are also photos from the Oceans 8 photocall in New York, where she is looking elegant in a silk blouse and skirt from Michael Kors' Fall 2018 collection. The cast look like they're having fun here, which makes me even more excited for the movie.
Sarah Paulson Claps Back at Critics of Her Relationship with Holland Taylor, 75 https://t.co/Vss8RbWUNq

— People (@people) May 22, 2018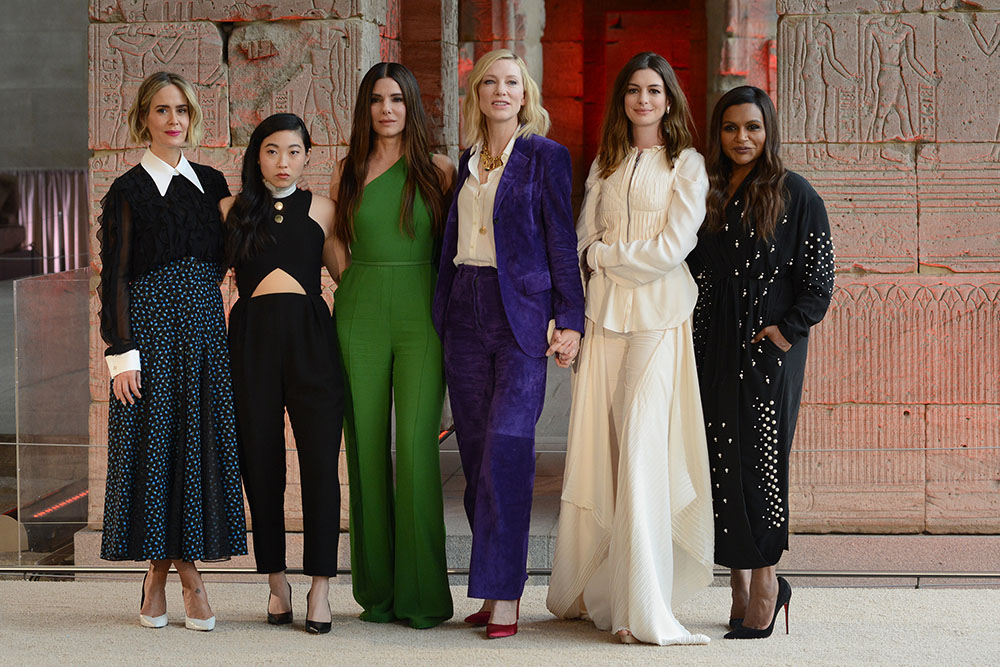 photos: Modern Luxury, WENN.com, Getty Images. The title is a paraphrase of Sarah's quote as the full line would not fit