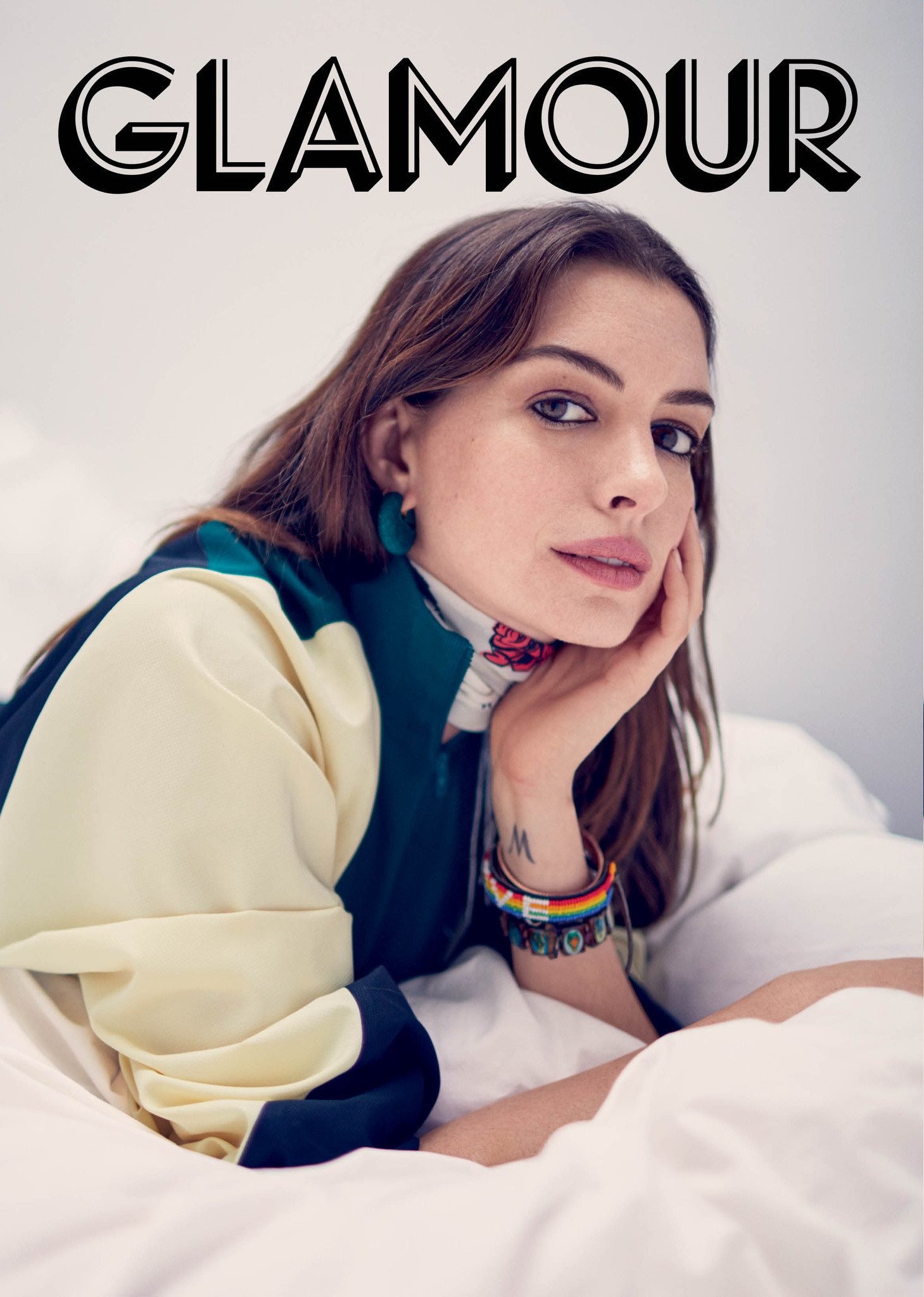 Anne Hathaway is an important part of the Ocean's Eight ensemble – she plays the actress with the diamonds, who may or may not be "in" on the heist. I was really happy to see Hathaway take on this kind of role in an ensemble of women, and it's good to see her play "glamorous," you know? To promote the film, Anne covers the June-July issue of Glamour, and this interview really isn't all that glamorous. It's not bad, really, it just feels like Anne is still thinking about the "Hatha-hate" era of her public life, circa 2013. We've all moved on from that, haven't we? I guess not. You can read the full Glamour piece here. Some highlights:
She doesn't care about the Hatha-hate anymore & she doesn't care if you like her: "I'm interested in living a very honest life. I don't know if that makes me a boring person. I don't really care if it does. It would be easier if I was better at being misleading or sneaky. I know how all that stuff works. I'm not a naive idiot. I know if I was a little bit mean to everybody, people would be like, 'Oh, she's fun. I like her. Come have a drink.' And I'm just like, 'Can we have a drink and not try to tear each other apart?'"

Motherhood & her son Johnny: "How Johnny is going to feel about himself will have so much to do with how I feel about myself in front of him. If I'm feeling insecure, I am very careful that I don't show that. But I also work really hard to acknowledge that place, give room for that place, and then release myself from that place. I'm more loving now, and that includes toward myself."

Abuses within Hollywood: "I've had a 20-year career and I've had some really, really bad experiences, but I've had a lot of great ones too—with members of both genders… While they do not begin to approach the atrocious, galling stories others have shared in recent months, I have had negative on-set experiences, some of a sexual nature. Some are from the beginning of my career, some are more recent—all are unacceptable."

Why she got involved with Time's Up: "But it's not just being an actress. Being a 35-year-old cisgendered woman who has experienced the everyday, abusive imbalance of the world also made me want to be a part of a movement for change…. I know the world can be far worse for others than it has been to me, but I suppose, like most everyone who has been hurt, I want to protect others from going through the worst of what I experienced."

Dealing with men in the industry: "I think that there's got to be some guys who get high off the power. But in a lot of cases, it's an echo chamber. Most guys have never seen anything different."

On trying to get ahead of Bump Watch: "I didn't feel like dealing with the pregnancy rumors. I find it bizarre that there's a storm to get ahead of, but I have a history of being shamed and humiliated, for a lot of different reasons."

A history of rage: "I have a history with rage. I used to do this thing where I was like, 'I'm nice 29 days out of 30, and then I give myself complete permission to be a bitch to anyone, about anything.' I realized that if I could actually move away from the judgment and deal with my emotions in the moment, I didn't actually need the extra day. Rage doesn't lead you to a place of peace. And for me the goal is not happiness. The goal is peace."
I can't even imagine saving up my anger for 29 days and then unloading it on one day on any given month. Unless I'm crazy PMS-ing, in which I case I'm screaming at everyone and everything. But really – who does that? Who saves up their anger like that? It doesn't seem healthy, so I'm glad she's no longer doing that. That being said, Anne's all over the place – she talks about rage, but at the beginning, she's basically saying that she's not going to be mean or bitchy just to be cool. Like, she thinks her biggest problem is that people think she's too nice?
As for the rest of it… Anne doesn't owe us her stories of abuse and harassment throughout her career. Some women wanted to talk about it and some women didn't, and that's completely their choice. But I still feel a little bit iffy about all of the CAA actresses (which Anne is) going all-in for Time's Up. Time's Up is fine, and hopefully it will do a lot of good. But it also feels… like CAA, as an agency, is covering their own complicit asses and using actresses like Anne as a shield.
Cover courtesy of Glamour, additional photo courtesy of Getty.